The great thing about Firehouse 51 is that there's always somebody to have your back, no matter the situation. 
Daddy issues were definitely a theme of Chicago Fire Season 6 Episode 7. Gabby may have been dealing with her father and how he's let her down for a year now, but Boden's reminiscence came out of nowhere. But the 51 family was there for both of them as they struggled through. 
The stuff with Boden's father definitely came out of left field. At first, I wasn't thrilled with this little story, touching as it was. What's the point? There should always be a why to a story. 
But the more I thought about it, the more it grew on me. Grief is a funny thing, and anybody who has ever lost somebody they loved knows that it can surprise you at the strangest moments. 
Three years isn't really that long, and with Ramon in the hospital and then finding that musician....it clicked. I got it. And the why became clear too. It might not have been the most graceful execution, but it worked.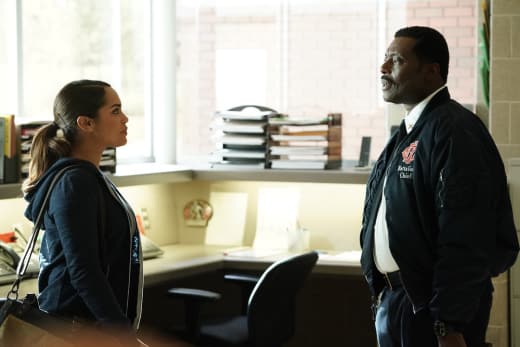 The way that Boden was able to try and support Gabby even as he was working through some of issues about his own father was especially touching. As chief, he is the obvious father of the 51 family, but that usually leaves him a little remote from the rest of the team.
But he still reaches out, still tries to guide them and give them comfort. That's why we love him. Sometimes he has to make the tough call, or be the disciplinarian, but he also takes the time to check in on his people. 
The only thing that really was surprising about the hospitalization was that there was no scene between Herrmann and Gabby.
Matt: Woah, are those Cindy Herrmann brownies?
Kelly: *Annabelle* Herrmann brownies.
Matt: Are these...gummy worms?
Kelly: Yep.
Herrmann and Cindy are definitely Matt and Gabby's marriage and parenting role models, and because of Herrmann's special bond with her, I kept expecting him to pop up and give her some advice. 
While I'm curious about what he thought about the whole situation, Gabby did need to work through some things on her own, and in the end, the only person she needed input from was Ramon himself.
Personally, I'd still caution her to be wary of her father, but Ramon has her pegged. Her big heart means that he's forgiven through and through, and that he'll always have her support, even when they fight. I'm happily surprised that he was able to recognize that. 
No, it was just a moment. A quick decision. I know that that doesn't change who I am. Now you... You're there, you're there for people even when they're at their worst. Like me. You know, all last year. I was a mess. Your brother and your mother wouldn't even talk to me, but, uh, you, my love, you were always there. That's, uh, that's who you are. You're the real hero. My hero.

Ramon [to Gabby]
But please god, let this be the end of Ramon. The moment with Gabby was super touching, but I'm not sure how much character development it provided. The only forward momentum to come from his reappearance was that Antonio and Brett are back together.
Here's hoping those two can work things out this time. The fact that Antonio won't be switching jobs so he can be one of the leads of a new, poorly conceived show should be a plus this time around. 
My only disappointment with this relationship is that Sylvie was an obvious choice for a Chicago Med cross romance. I'm consoling myself with the thought that she and Gabby could be actual family.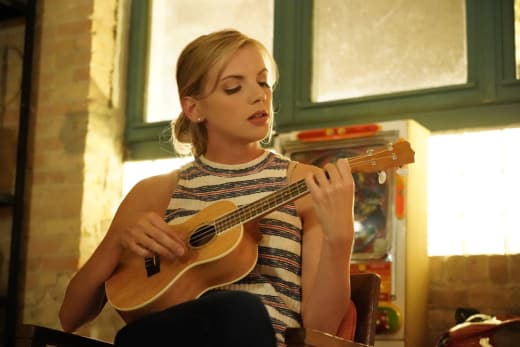 Thank god for Otis, always lightening things up even when things are going poorly for him. Was I the only one who wanted to punch that DJ in the face?
I don't understand how Stella could go on a date with him after that, but she must be really desperate to get Kelly out of her system. 
As hard as Otis makes everything for himself, it's reassuring that he always lands on his feet somehow. Maybe it's not quite how he envisioned, but he's always left standing.
Stella: C'mon, it wasn't a total bust.
Otis: It's not a good promotion if people didn't even hear the name of the bar over ALL THE FART NOISES!
And he might even pull off his wooing of Lilly. Sure, that kiss might have just been a friendly thank you, but this girl seems smart. It's about time that somebody saw what a great guy Otis is and didn't just immediately friend-zone him. 
I do worry about a workplace romance for him, but Otis is the type who's in for the long haul. Lilly better not go breaking his heart. That would be a messy breakup.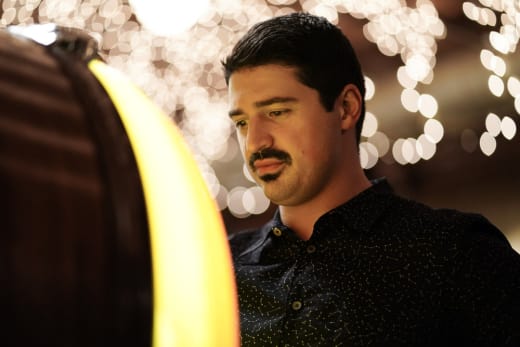 Otis will be too busy trying to find out who Stella's "mystery man" is to worry about that on Chicago Fire Season 6 Episode 8 though. I'm not really sure why she and Antonio are keeping things on the DL, but watching Otis and Cruz play P.I. should be a riot. 
The girl Gabby covered for at the clinic will be back, and if she doesn't end up being a potential foster kid for the Casey's, I'll be shocked. She was taking the drugs for her dad, who clearly won't be considered a fit parent by the couple or by DCFS. 
And Donna will be back, which should cheer Boden out of his funk. Except that, uh oh, her brother's visiting. The chief isn't too thrilled to be sharing his castle with a freeloader.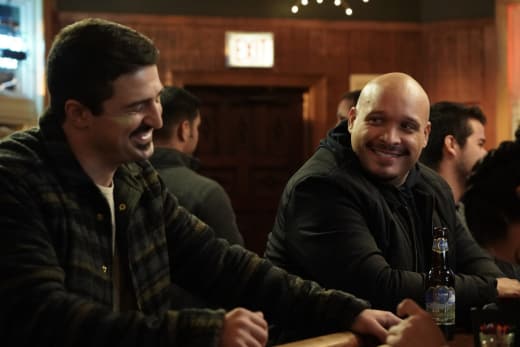 What did you think of "A Man's Legacy?" We want to know! Was Molly's North everything you hoped it would be, or was it just another bar? Should Gabby have forgiven Ramon so quickly? Will Sylvie and Antonio make it? 
Join the conversation in the comments section and let it all out!
You can always catch up by reading our past Chicago Fire reviews, or you can watch Chicago Fire online.
Elizabeth Harlow was a staff writer for TV Fanatic. She left the organization in October 2018.