Lethal Weapon Season 2 Episode 14 Review: Double Shot of Baileys

Lisa Babick at . Updated at .
There was a flicker of the old spark between Riggs and Murtaugh, and it was great to see.
I was worried when Riggs and Murtaugh teamed up separately with Bailey and Bowman, but by the end of Lethal Weapon Season 2 Episode 14, it was almost like old times.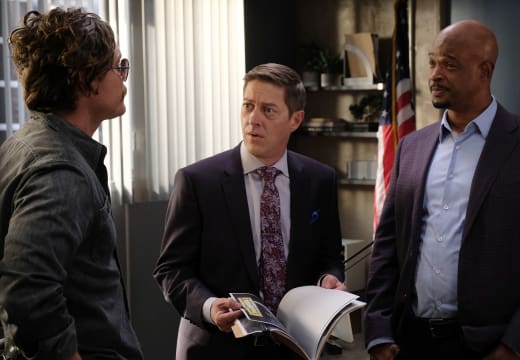 The only thing I would change about this episode was the amount of time we spent in flashbacks about Riggs past. I get that there was a correlation between Riggs losing his truck and the opportunity to delve further into his childhood, but all it did was drag the story down.
This could have been a really fun hour, but every time we circled back to Riggs and his lost truck the momentum was lost.
Did anyone else feel that or was it just me?
I didn't like that Riggs, once again, sunk to rock bottom and that it was all related to his childhood and his dad. And, once again, I say enough is enough with it all.
After all his craziness on Lethal Weapon Season 2 Episode 13, you'd think there would be an additional concern for a guy who got so drunk he couldn't remember what happened to his truck. 
IA calling for a restraining order is not a good thing, yet it was tossed off like nothing. Murtaugh holding back about the truck until Riggs opened up to him was sweet, but obviously, he knows his friend needs help.
Why isn't anyone helping this guy? Riggs' sessions with Cahill are not working because he keeps doing the same stupid things over and over. And yet, there are no consequences for anything he does.
Going through a car wash over and over to get his head right is way over the top crazy. Even though we didn't see it happening, just hearing about it was insane. 
Riggs cannot possibly do his job with all this jumble in his head. The best bet would be to hit the restart button on his story. Let his dad die in prison or something and let's move forward.
Bring Molly and Ben back into the picture. Let Riggs lean on Trish and Murtaugh again. What happened to the dinners they used to have? I want to see more of that. 
If Riggs wants to get drunk, let him get drunk with Murtaugh. Remember the rib scene back on Lethal Weapon Season 1? That was a lot of fun. I want to see more of that.
I'm tired of Riggs' dad. 
What I do get is how the story established the reasons for Riggs' reluctance to ask for help, but he's been around Roger and Trish long enough to know he can trust them and that they will love him no matter what.
There is no reason to continue to have Riggs so distant from Roger. I feel like a broken record because I'm saying the same thing week after week.
But it did seem like the two were starting to get back to what we once loved about them. Riggs doesn't have to tell Roger everything, but something would be nice.
Still, Riggs deserves some credit because he has been opening up to Cahill and that's a huge step forward. I just don't like that every time he makes progress with Cahill, he then slips into some sort of funk and gets all nutty again.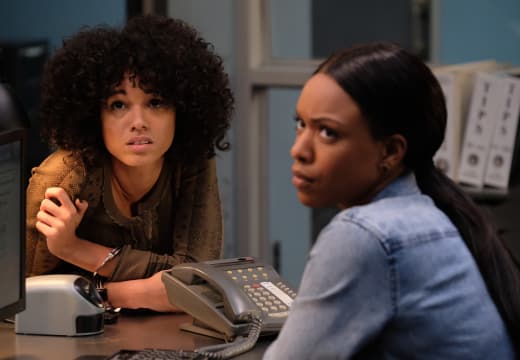 Let the guy have some peace. He deserves it. Heck. Let the audience have some peace. We deserve it.
I loved seeing Bailey get some significant screen time, and I enjoyed how protective Riggs was of her after he learned of her sister's involvement in the case. I hope her extended leave of absence isn't real and that it was just a way for her to cope with the situation.
Lethal Weapon without Bailey is not going to be fun. Who will keep Murtaugh and Riggs in line if she's gone?
I'm still not a big Bowman fan, but I appreciated his willingness to help Murtaugh out with Riana. It was a cute side story, and I always love the dynamics between Roger and his kids.
Roger is such a great dad, and he tried so hard to help Riana get through her heartache. He's a sensitive guy, and sometimes he doesn't get the credit he deserves when it comes to his kids.
What did you think of "Double Shot of Baileys"? Are you tired of the flashbacks into Riggs past? 
Were you glad to see the old spark start to flicker again between Riggs and Murtaugh?
Hit the comments and share your thoughts.
If you need to catch up, you can watch Lethal Weapon online right here via TV Fanatic.