Scorpion Season 4 Episode 14 Review: Lighthouse of the Rising Sun

Allison Nichols at .
The pirate hat returned to us in all its glory!
On Scorpion Season 4 Episode 14, a good bit of Team Scorpion had romantic plans for the weekend, and they got ruined almost immediately. Romance isn't an easy path, that's for sure.
Now, did I ever expect to see the pirate hat appear in a weird, sexual role play scenario? No, no I did not. It's strange that this somehow isn't really weird for Quintis.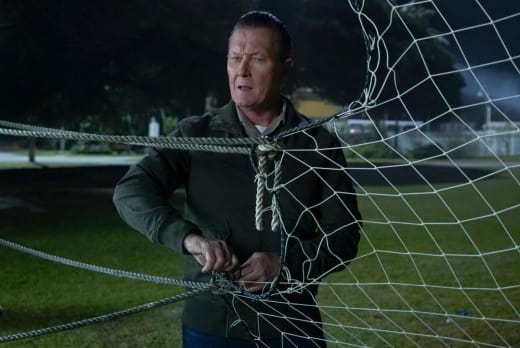 It's nice to see Quintis and Cabe and Allie (Callie?) take on a more prominent focus. We were given a brief respite from the Waige drama, and the other couples were allowed to shine.
After Scorpion Season 4 Episode 13, the expectation was that the fallout from the Florence dream kiss would be front and center. Instead, Paige was stewing about it on the sidelines.
It was still addressed, but it did not dominate the episode, which was a relief. We watch Scorpion for the humor, not the angst.
Sly: I have one in the garage under the ramp in my solar storm go bag which next to my earthquake go bag and my financial collapse go back.
Ralph: I'll get it.
Toby: Hey Sly, remember our talk about the difference between obsession and preparation? Guess which way you're leaning.
Sly: Do you want a ham radio or not?!
Plus, aside from Happy's confession that the fact she hadn't conceived yet was weighing on her, the issues facing both couples and this important weekend were a little more fun than Paige trying to process that Walter dream kissed Florence.
The lighthouse weekend debacle also allowed for Cabe and Happy to open up to each other, which is always enjoyable and heartwarming. Their friendship is something I never knew how much I needed until it happened.
Cabe and Happy need to spend more time together. Next time let's not have them experience any foreplay related trauma, okay? Cabe's probably never going to recover from seeing Toby in his skivvies.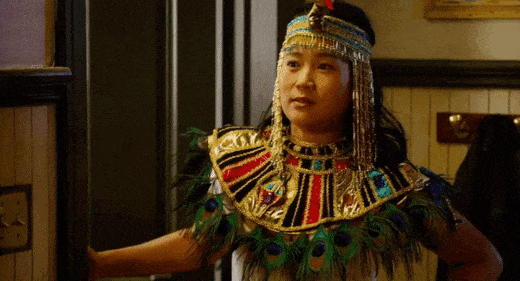 As soon as it was revealed that the people aboard the missing plane were teenagers, the assumption was that these were rich, spoiled kids who would end up being annoying and aggravating. There may have even been an eye roll whenever they first popped up.
Thankfully, that was not the case at all.
Rachel and Griffin ended up providing some comedic relief as well as being all around adorable. They've been best friends since they were six!
That's cute in and of itself, and then you add the budding romance element to the mix, and we've got ourselves a ship-worthy couple.
Griffin: Rachel, you've been my best friend since we were six-years-old. I've been in love with you since we were seven. If we're going to die, I don't want to die without you knowing, so now you know.
Rachel: I've known since we were six. I love you too.
Rachel and Griffin also ended up being yet another couple (or almost couple) that had their plans for the weekend absolutely ruined. They nicely tie into the theme of couples powering through awful weekends, and they get Cabe to finally tell Allie he that loves her.
There were definitely tears during that conversation between Griffin and Rachel.
I hope they enjoyed the part of the first date where they were safely on the ground while it lasted because Griffin's phone call to his dad about how he "borrowed" and crashed the plane will kill all the romantic vibes.
Paige: You okay?
Sly: We convinced two healthy kids to jump out of a plane. Is that even legal?
What did you think of Griffin and Rachel? Did you find yourself shipping them too?
Admittedly, it was disappointing when it became clear that Walt's Whiz Kidz would not be the focus of the hour, as they deserve to be, but they managed to make due with their limited screen time.
The fact that Walter got stuck in the garage was amazing. Being on babysitting duty, alone, was even better. Out of all the geniuses, he's probably the least equipped to watch children by himself, don't you agree?
Remember if you have a science problem, don't take any old kid along with you to help, take a whiz.

Walter
Meatball, obviously, is most enjoyable Whiz Kid, but that's mainly because he saved the day in the end, and he's the only kid we got to know. Everyone else was just there. 
Walter and Ralph have always been two peas in a pod.
Ralph has learned a lot from all the Team Scorpion members, but Walter, in particular, has become Ralph's mentor. He's learned a lot from Walter, and they always seem to be on the same page about things.
Ralph and Walter arguing a bit was a long time coming, and it was perfect that this was happening because Ralph wanted to impress Patty.
Walter's a terrible wingman. Yeah, okay, Ralph did mess up when he flew the drone, but Walter should have tried to help Ralph out a bit more instead of shooting him down.
Luckily for Ralph, Sly came through big time.
Team Scorpion helping Ralph is always sweet, and it's a nice change of pace to see them helping him out in the romance department, even though it's not their expertise. Are you excited to see Ralph and Patty spending more time together?
Ralph: I mean something to really help with the case. Patty has me playing art class with Meatball. I need her to see me as a man.
Walter: But you're not a man. You're thirteen.
Ralph: Please, I'm dying over there.
What did you think of the episode? Would you tune into an episode of Walt's Whiz Kidz? Leave your thoughts in the comments below.
Remember you can watch Scorpion online anytime via TV Fanatic.