The Brave Season 1 Episode 10 Review: Desperate Measures

Lisa Babick at .
The Brave is back!
The tension was not lacking on The Brave Season 1 Episode 10 as the team had to work fast to save Jaz from an ultimate death at the hands of the Iranian captors.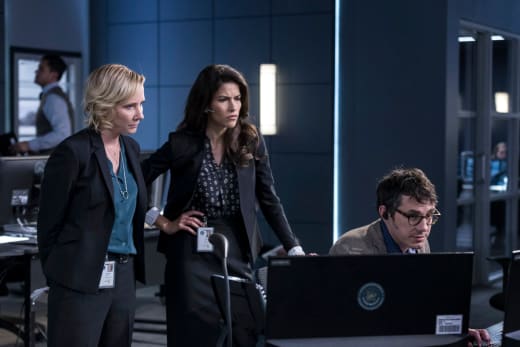 When we last left Jaz, she got caught before she could escape out the window. Dalton and Preach were waiting for her, and what I loved about the opening scene was Dalton's reaction. He could not believe what had happened, and the impact was captured perfectly. 
Even though we didn't hear him screaming, the silence of the scene said everything we needed to know as to how he was feeling. Shock. Fury. Fear. Desperation.
It would have been too easy (and unbelievable) if Dalton would have gotten his wish and the car would have started, so he could have saved Jaz before she left the garage with her captors. Even though we knew he wasn't going to be able to save her, the tension in the scene was still excruciating.
I could feel every ounce of Dalton's shock as he watched Jaz and her captors drive past him. 
And it only got more intense from there.
The white torture room was extremely disconcerting for me merely as a viewer. I can't even imagine what it felt like for Jaz being in the space. The bright whiteness of it almost seemed worse than a room that was pitch black.
For as young as Jaz is, she handled herself perfectly. She used her bitch face at the right times to show her captor she wasn't afraid. How terrifying for her to be in that situation from beginning to end, but she held her cool.
The only time she faltered was when he put the bag over her head and shot the gun, but who wouldn't be afraid of that?
She had no idea if he was going to blow her brains out. How terrifying to be in total darkness and hear the gun hammer being pulled back only to have it shot right in your ear so you can imagine the full force of what could have happened to you?
I've never been tortured nor do I ever want to be. If it wasn't realistic, it certainly seemed so. Knowing how The Brave strives for authenticity, I would have to say they scored an A+ on the fear factor for all the white chamber scenes. 
Dalton wasn't going to let anything deter him from saving Jaz, and I liked that the entire rest of the team was behind him. He would have been entirely prepared to go it alone, but I would have been surprised if any of the rest of them would have backed out.
At the same time, in Washington, Patricia made a choice that might cost her her job. She gave Hannah and Noah the option of removing themselves from the situation, but they, like their field counterparts, didn't back down. There wasn't even a moment's hesitation.
Every member of this team is all in, and that's what makes it work so well both in D.C. and on the field. Think about what would have happened if one of the guys said he wasn't having any of it, that he wanted to go home, that he'd had enough. 
Morale would plummet. Trust would cease to exist. The team would get torn apart. If you're part of the team, you have to be willing to live and die by the team. If I were on the team, either in Washington or on the field, those are the people I'd want around me. People I could trust with my life.
Jaz had to know she wouldn't be abandoned. She worked with Adam and the rest far too long and knew they wouldn't leave her behind. It was probably what was keeping her sane. She knew it would be over soon enough.
She saved a big surge of energy when the time was right and used it to kill her captor. It was slightly unrealistic to me that the main captor didn't have any guards with him in the back of the truck.
It seemed like he was a big wig so I can't imagine that he would have been all alone. I also had a hard time with the soldiers in the cab of the truck just sitting there. I would think they would have been more aggressive when they started getting attacked.
That's my only issue in the entire episode and the first time I've felt something wasn't authentic.
Everyone put themselves at risk for one member of the team. Patricia may be in deep water, but I have faith she'll be swimming back to shore shortly, and that Dalton, Jaz, Preach, Amir and McG will be home soon.
Over to you. What did you think of "Desperate Measures"? Did it match up to previous episodes? What did you think of the white space torture chamber?
Hit the comments and share your thoughts. You can watch The Brave online anytime right here via TV Fanatic if you need to catch up!