The Blacklist Season 5 Episode 13 Review: The Invisible Hand

Lisa Babick at . Updated at .
Liz got closer to the truth on The Blacklist Season 5 Episode 13, but Red made it very clear he is not going to tell her what she wants to know.
And if Liz doesn't get to know about the bones, then I guess neither do we.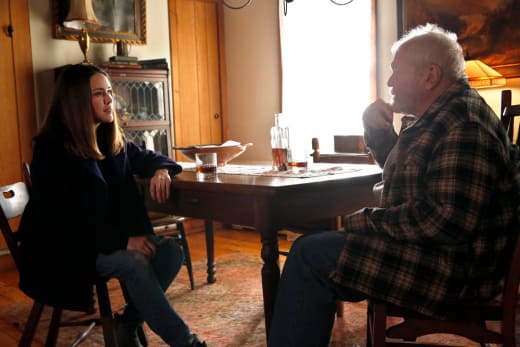 It's easy to get annoyed that Red is yet again holding on to truths, but tagging along with Liz as she works to unravel his truths is exciting. It's like our very own treasure hunt.
I just hope the mystery of the bones won't be as long-lasting as the mystery of Red's real relationship to Liz.
I can't even imagine what Liz would have thought if Dom told her who he really was. It's not clear, and maybe I don't remember, why he just didn't tell her who he was. He doesn't like Red, so why keep the truth from her?
There's a bigger mystery here, and it makes me wonder if Dom knows the truth about the bones. I'm guessing he does. He knows, or at least he believes that Katarina is dead, and he believes that Red is responsible for her death. 
I bet that Red made it possible for Dom to come to the U.S. and was the one responsible for providing him with a new identity. Perhaps that's why Dom tolerates Red.
There is a reason Dom is helping Red. It's just not something we're going to be privy to anytime soon. But that's what makes us keep tuning in week after week, isn't it?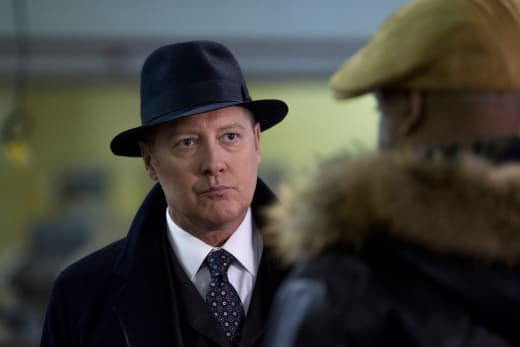 It won't surprise me if Ian Garvey figures out who Dom is and ends up killing him. If he "knows the truth," it will eventually lead to Dom. Dom's quiet days are over. 
Ian Garvey being a cop is an interesting twist. The fact that Mr. Detective is working for him is another fascinating layer. What doesn't make sense is what they want with Liz, and why they are letting her live.
Garvey knows Liz is after him, so why not just have Mr. Detective take care of the problem? What is Garvey's end game, and why is he playing so many games anyway?
Garvey may be a smart guy, but Liz is smarter. Liz can play games with the best of them. In a not-so-surprising move, she went back to work for the Task Force. The only way she'll be able to fight a cop is by being a cop. And it's about time she took her badge back.
I just hope she doesn't become so entrenched in Task Force cases that she loses sight of the big prize.
Red is probably hoping going back to the Task Force will distract her from seeking the truth. We know it's not going to happen that way.
I was surprised that he admitted to her that he had a secret. I wasn't surprised when he told her he couldn't tell her what it was. He has to realize that she isn't going to stop until she finds out the truth. Part of me wonders if that's what he wants. Why tell her anything?
Red is a complex creature, isn't he?
He's mellowed out so much since we first met him. Losing everything has humbled him. He could have ignored Anthony's dilemma, but Anthony was vital in helping him rebuild his empire, and Red won't forget the little people.
Not this time, anyway. How sweet was it that Red brought Anthony a blue get-well balloon and directed the doctor to take care of Anthony's lipo sculpture? Red has become quite the softie.
Has anyone else noticed that as Red becomes softer, Liz becomes harder?
The best part of the whole hour was when Anthony told him about Big Willie, and Red waxed poetic about the drug dealer's name. 
Imagine the confidence a man has to have in his own genitals to take on a nickname like Big Willie.

Red
What was even funnier was that Big Willie didn't look anything as I expected. Weren't you expecting someone different? Someone bigger and more foreboding? 
What did you think about "The Invisible Hand"? Why didn't Dom tell Liz who he really was? Were you shocked by the detective's affiliation with Ian Garvey?
Were you surprised that Liz returned to the Task Force? Will Liz figure out Red's secret?
Hit the comments and share your thoughts.
If you need to catch up, you can watch The Blacklist online right here via TV Fanatic.
What could be so horrible that Red feels the need to hold the truth from Liz? And why does he always need to have a secret anyway?