The Librarians Season 4 Episode 12 Review: And The Echoes of Memory
Dale McGarrigle at . Updated at .
What is life without curiosity and imagination?
That was the question pondered on The Librarians Season 4 Episode 12.
Based on this season finale, I'd have to say it sucks.
All four Librarians (yes, including Flynn) and their Guardian Baird were all trapped on a gray Orwellian but surprisingly comedic world.
And, yes, we finally got to see Nicole's abduction of Flynn, which had a definite Loony Tunes feel to it. A bowling ball to the head. Between that and the shock therapy, no wonder he seemed a little off throughout the episode.
It all came down to Eve, not the big brains usually around her, to save their world.
She's certainly learned some things being around Flynn and the others through the years. One skill Flynn taught her, a memory palace, helped her hang onto her memories of The Library for as long as she did.
Baird managed quite a bit with just Flynn's tethering ring as a clue. That led her to Flynn's recorded message, which frankly provided her with little that she hadn't already pieced together.
Jacob as a car salesman? That was an interesting contradiction. The most forthright of the Librarians finding himself in such a dubious occupation. No wonder he was so willing to chuck it all to go with Eve and follow his dreams.
Same with Cassandra, who was stuck as a cog in the machine (a stapler?). She recognized Baird and Jacob and instinctively knew she didn't belong there. She used her brains to create a diversion which allowed them to escape from the Company Men.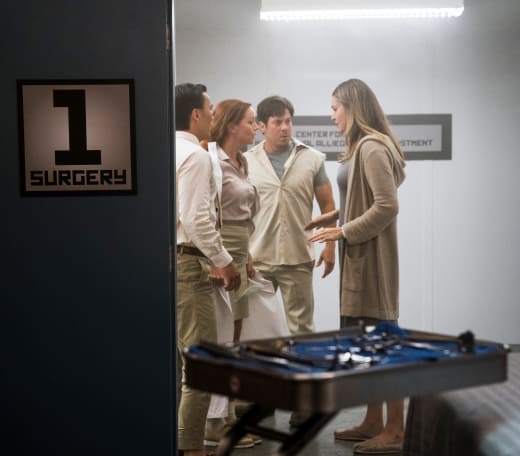 As usual, Ezekiel proved to be the troublesome Librarian.
A thief should be comfortable operating in the shadows. But Ezekiel seemed very comfortable in the spotlight, as the host of "I Fell Down," which appeared too close in content to the odious America's Funniest Home Videos and its ilk.
It was obvious that being the center of attention appealed to Ezekiel. His unwillingness to step away as Librarian was certainly part of the mess in which they now found themselves.
Nicole certainly manipulated all involved after she kidnapped Flynn.
While all three of the junior Librarians are certainly capable, none of them was the right person to be tethered with Eve to The Library. The competition brought out the worst in all of them, even Baird, who was off-balance following Flynn's supposed betrayal.
Anyway, Ezekiel's reticence to let go of being the star is what directly led to Eve's being captured by the Company Men. She knew she needed all the Librarians, and she wasn't willing to leave before she accomplished her mission.
But fate was on the side of the Librarians.
An amnesiac Baird got sent to an insane asylum, where those with curiosity were imprisoned. But fortunately, it's also where a particularly wacky Flynn resided. The two were thrown together and started to remember their world.
Then came the crucial moment when Eve snuck into Flynn's room, where she discovered his memory wall. Then the pair kissed and they were back at the Library, for a moment.
That didn't last, as Nicole and the Company Men broke in and sent them off for lobotomies.
Fortunately, Jacob and Cassandra kept working on Ezekiel until he threw in with them and they went to rescue Baird (since they didn't know Flynn was there as well).
It was fascinating as they all recovered their skills during their escape. Then Eve showed her leadership skills as she led each of them to recreate their portion of The Library.
And it wouldn't an episode of The Librarians without some obscure artifact being pulled out to save the day. This time, it was the untested Toaster of Albuquerque. It really sounds like something that would be found in Warehouse 13, doesn't it?
Flynn naturally found a way to allow Nicole to redeem herself. He gave her the book of her life story, telling her to follow it up until the point when she started her crusade against The Library.
I felt all along that Nicole as villain rang kind of hollow. She would never have been chosen as a Guardian if she wasn't inherently good. So it didn't take that much for Flynn to lead her to the conclusion that she was meant to be The Library's Guardian. 
Sure, her changing history probably violates a dozen Library rules/policies, but for the greater good, don't you know.
So they jumped back in time to the Tethering Ceremony rehearsal. So everything was back where it was at the beginning of The Librarians Season 4, including Jenkins being alive and puzzled at all the affection he was receiving.
Rather than tempt fate, Flynn moved up the Tethering. Now, if The Librarians Season 5 happens, Flynn and Baird will be immortal and have a full staff of Librarians and Jenkins back.
To take in the whole season again, watch The Librarians online.
How did you like this season? Was the finale essentially just a reset? Where does The Librarians go from here? Comment below.
Dale McGarrigle is a staff writer for TV Fanatic. Follow him on Twitter.