Lucifer Season 3 Episode 16 Review: Infernal Guinea Pig

Carissa Pavlica at .
Lauren Lapkus didn't have a lot of time to make an impression as Abel on Lucifer Season 3 Episode 16, but her comedic skills brought an unexpected edge to the murdered "good" brother during her short stay.
I don't know about the rest of you, but if both Cain and Abel wound up in Hell, I'm no longer feeling any pressure to do, well, anything according to the good book. I don't give fruits, veg,  or slaughter animals in the name of God, and I often use his name in vain. 
Cain may still have hope for himself and his curse, but my hope for humanity as a whole is gone after "Infernal Guinea Pig." Roll up the red carpet to the pearly gates because nobody down here is stepping up. We're all going down.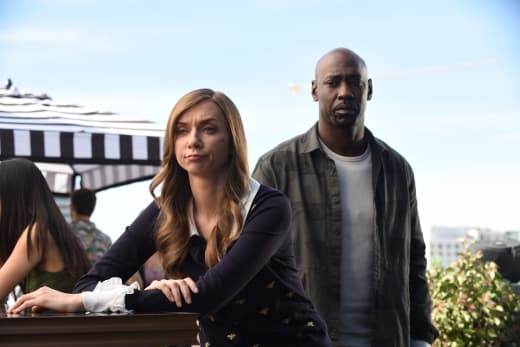 You guys, Charlotte was sent to hell for being a defense attorney. We all make jokes about attorneys, but the basis for almost every legal system in the world is to give someone the benefit of the doubt and consider them innocent until proven innocent and have a good defense.
Wasn't that a bit heavy handed? Are we to glean from Charlotte's hell loop that we need to wade through shades of gray now and determine with all of our moral fortitude what should be granted a thorough legal defense and what shouldn't? Eff off. 
I'll stick to Investigation Discovery when I need my legal fix.
Related: Lucifer Season 3 Episode 15 Review: High School Poppycock
While I was on board during Lucifer Season 3 Episode 15 to kick Chloe and Lucifer's story back into gear, I didn't feel the heat carry on anywhere else but inside Lucifer's head. 
Hey, he may consider that the best place to have heat for Chloe, but I need more. Isn't it all about me, the average viewer? Maybe the story about Bree and what's her face and the bomb and the drug cartel got overpowered by Abel dropping into Bree's body.
Abel, the first murdered man, was inside the victim's body.
Who cares about Bree at that point? Drug cartel schmug schmartel. It was in one ear and out the other. Until Lucifer was worried Chloe was going to explode with what seemed, in the end, like an English Christmas Cracker instead of a bomb, I tuned out of the entire story.
I lost track of how Amenadiel got wind of Abel's resurrection and why Amenadiel wasn't a bit more annoyed that his brother was plucking the first soul out of Hell instead of trying to send Abel back straight away.
It was also interesting that Abel had no idea who Amenadiel was and that he was such a sharpshooter. There were many amazing moments to be seen that seemed out of place and fantastical (says the girl/woman/whatever writing about Lucifer, Cain, and Abel as if they're humans).
I wouldn't have pegged Abel to be an alcohol-swilling womanizer, either, but Maze said he was all about boobs and booze. I want to know if that was Hell behavior or if he landed in hell because of that behavior. 
Do you know how many times I've tried to tell people, "Abel is the asshat."? Nobody ever believes me.

Cain
Maybe Abel was sending up all of his best animals to God because he was such a jackass himself. Maybe Cain, who would one day become a police officer, was always a good guy and didn't see the need for extravagant sacrifices to God because he was just a genuinely good guy.
Related: Lucifer Season 3 Episode 14 Review: My Brother's Keeper
We don't get to play this kind of fun talk on Lucifer because they skim the surface of the deep conversations until something dramatic happens. It seems too much went unsaid to get us where we were with Cain and Abel.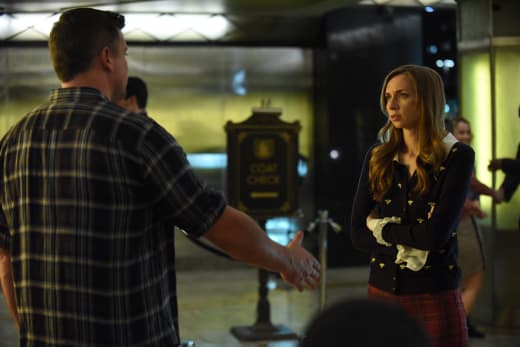 The same can be said for how quickly things are moving again with Lucifer's feelings for Chloe. What's changed? Why is he suddenly all squishy inside for her again when he was barely paying attention to her for months?
Wasn't it on her birthday he had the woman with the whip waiting for him in his bedroom after he had given Chloe the bullet necklace?
Lucifer: I know I promised to help end your curse, but I'm afraid we need to dissolve our unholy alliance.
Cain: Why?
Lucifer: The risk is too great. I mean, I don't mind putting myself in danger, but the Detective? If she had died, it would have been my fault.
Cain: But you're the Devil. You always keep your word.
Lucifer: I do. I hope you understand how difficult a decision this was, and yet, probably the easiest I've ever made.
There needs to be a little bit more explanation about what is happening rather than so many sudden moves without cause. By explanation, I mean scenes. Everything doesn't have to be said out loud, but there could be a few more scenes dedicated to the devil and the detective to get us back on track organically.
Heck, even Maze and Amenadiel are arguing in words over their feelings about Linda. Maze is holding on a lot tighter to what she had with Amenadiel than I expected, but I still think it's due to the lack of time she's spent understanding her soul.
Related: Enjoy UNLIMITED access to thousands of Movies and TV shows with Amazon Prime Video. WATCH ANYWHERE. CANCEL ANYTIME!
Feelings are very new to Maze and the more complex they get, the more difficult they are to process. She will find a place in her heart and mind that meets and gives her peace with Linda and Amenadiel dating.
Well, I'm not done. Abel's how my curse started, he's gotta be how it ends. As long as he's alive, I still have hope. [Abel is struck down by an ambulance.]

Cain
Now that Abel was squashed by an ambulance (if he survives that, it's only with Lucifer's help, which he just pulled from Cain), what does it mean for Cain/Pierce? 
Without Lucifer's help scorning his father, it seems pointless for Cain to remain in LA with the gang unless he's ready to give up, which he clearly is not. Was that the end of the road for the character on Lucifer or will he stick around until the end of the season?
I can't think of any reason for him to stick around as a plain ol' lieutenant. The mystery of Cain is gone, the appeal of Pierce is gone, and Lucifer is back on the hunt for a something with Chloe.
What about you? Do you think that's all she wrote for Tom Welling on Lucifer? 
For the best of Cain and Lucifer, you can watch Lucifer online. Get it all while it's hot!
Carissa Pavlica is the managing editor and a staff writer and critic for TV Fanatic. She's a member of the Critic's Choice Association, enjoys mentoring writers, cats, and passionately discussing the nuances of television and film. Follow her on Twitter and email her here at TV Fanatic.