Rise Season 1 Episode 1 Review: The Best New Show of The Season?
Paul Dailly at . Updated at .
If you had asked me a few months back if I would be watching NBC's Rise, I would have probably laughed in your face. 
I can't be the only one who pegged it as the next Glee.
By that, I mean a light, fluffy show filled excruciating performances that served very little to the overall plot.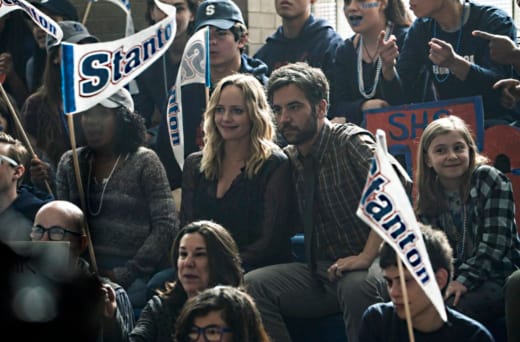 NBC's relentless promotional campaign and the added benefit of it coming from the people who brought us Friday Night Lights made me give the show a shot. 
And boy, I am so thankful I did. 
Rise Season 1 Episode 1 successfully introduced us to a brand new band of characters who are, like, some of the most relatable on all of television. 
Josh Radnor stars as Lou Mazzuchelli, a down on his luck English teacher who is bored with his job at Stanton High. Having him turn to the theater program would have been out of the left field if I did not know what the show was about. 
There's something about Lou that keeps Rise grounded in reality. He wants these kids to do well, and that means helping them reach their full potential. 
It was expected that Lou would want to make his mark on the theater group, and that's why nobody should have been surprised when he changed the musical to Spring Awakening and gave some of the lesser represented stars a time to shine on the stage. 
Yes, it created some animosity between him and Tracey, but there was no way these two were going to see eye-to-eye off the bat. 
Related: Rise Trailer: The New Friday Night Lights?
Tracey had been well and truly blindsided by the news that Lou was taking over the reigns, and that's why she resorted to asking what the budget was. 
She knew she was great at what she was doing and that she had invested her life and soul into the theater group. The duo may be adversaries right now, but they will build a strong bond. 
If they are going to make the theater group a success, they are going to need to stick together like glue and put on more of a united front. 
I laughed out loud when Tracey went off on Lou because he wanted to poach Robbie from the football team to take up one of the bigger roles on the project. 
Related: Enjoy UNLIMITED access to thousands of Movies and TV shows with Amazon Prime Video. WATCH ANYWHERE. CANCEL ANYTIME!
Her reaction was priceless. It showed how important and highly regarded the sport was as opposed to the theater group in the school. 
The subsequent back and forth with the principle and the coach over what was going to happen made for some exciting scenes. 
Lou knew he needed Robbie in the stage play because it would help change the way some of the other popular kids felt about the theater group. 
While Robbie seemed on the fence about the theater group initially, it did present him with an opportunity to get closer to Lilette, who is struggling to keep her mother from making bad decisions. 
When you sang at the pep rally, I saw you. I saw you come alive.

Lou
Lilette's mother had a thing with the coach aka Gwen's father, and, well, things are pretty darn awkward. Lilette's mother acted like it was all over between her and the coach, but Lilette did some digging of her own and now has very little trust in what her mother says. 
Related: This Is Us Review: Vegas, Baby!
The great thing about this show is that all of the characters have engaging storylines that are just waiting to be told. The cast is enormous, but the pilot managed to introduce everyone in a way that helped leave me wanting more. 
Lou's home life is not the best, and that's because his son Gordy is going through something, and the rest of the family is on edge just waiting for something to go wrong. 
Lilette: I want more for myself. I want to get out of this stupid town.
Lilette's Mother: You gonna be a movie star now? Is that it?
All things considered, Rise is up there as one of the best new shows, and that's down to the first class acting, relatable characters and an exciting subject matter. 
If you thought about overlooking this show, you should give it a shot. You will not be disappointed. 
Okay, TV Fanatics! 
What did you think of the series premiere? Do you like the storylines? Who is your favorite character?
Hit the comments below. 
On Rise Season 1 Episode 2, Lou will struggle to make ends meet for the theater group when the production budget is slashed in the aftermath of the kids burning the Pirates of Penzance props. 
How will he and his group manage to right the ship?
Tune in next Tuesday when Rise moves to 9/8c!
Paul Dailly is the Associate Editor for TV Fanatic. Follow him on Twitter.