Scorpion Season 4 Episode 18 Review: Dork Day Afternoon

Allison Nichols at . Updated at .
I don't know about you, but I'm definitely sticking to ATMs from now on.
On Scorpion Season 4 Episode 18, Walter managed to screw things up, yet again. You couldn't have gotten money out after dropping Toby and his sperm off at the clinic? Seriously buddy, what was the rush?
The best part about this case is that it's really about delivering Toby's sperm to the clinic. The bank robbery was just a bump in the road. Every Team Scorpion case hits at least one bump, usually five if we're being honest.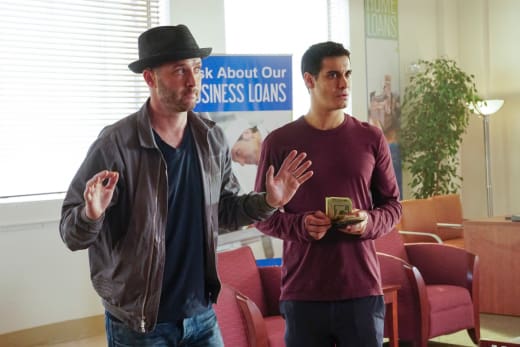 All the investigative work regarding the robbery happens fairly quickly. Toby figured out that it was happening within maybe a minute, and then it wasn't hard to uncover the non-important motive.
There's no heavy lifting done here because the bank robbery wasn't the focus, getting Happy pregnant was.
Related: Enjoy UNLIMITED access to thousands of Movies and TV shows with Amazon Prime Video. WATCH ANYWHERE. CANCEL ANYTIME!
We're invested in this case, as is all of Team Scorpion. We've watched Toby and Happy fall in love, get married, and we've been cheering them on for a while now as they try to conceive.
This case is personal to us, which makes the whole thing even better.
There are actually hold your breath moments because you're concerned that things might not go Quintis' way. Usually, you can tell when the show wants you to be on the edge of your seat, but it doesn't always mean that something will be suspenseful.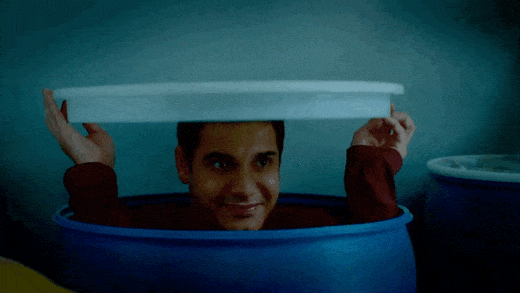 This time, it did. Between Walter slowly making his way out of the barrel to the lobby and Toby racing towards his sperm, there were moments of genuine suspense.
Watching Toby run towards his sperm was like watching the Olympic Sperm games. There was slow motion and popcorn confetti in the air. He caught the capsule gracefully.
I'd give him an 8.5. He was a little shaky on the landing.
Related: Scorpion Season 4 Episode 17 Review: Dumbster Fire
Now, I'm not entirely sure the logistics of him running from the break room out of the bank to the drive-thru in time, but it was entertaining to watch.
I was super concerned as to who was going to catch the sperm when I realized Cabe was in the group of cops storming the bank lobby.
It's been a while since Cabe commandeered something, and I'm glad that he went with a wiener dog during this case. You never know when a dog will come in handy.
Did you enjoy the case?
Excuse me, sir. On behalf of the United States government, I'm commandeering your wiener dog.

Cabe
After reading some of y'all's comments, I'm now super suspicious of Florence. I don't want her to be in cahoots with Collins! I like her too much (love triangle aside).
I'd like to live in a world where Collins is just gone forever. Poof! Sadly, that's not going to happen, so I'm intrigued by this theory.
It would be an unexpected way for Collins to pop back up, and it would further highlight how devious and brilliant Collins is.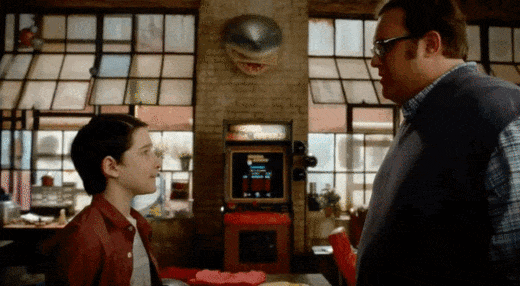 Thankfully, the Walter/Florence/Sly love triangle was absent this hour. Instead, we get more of Ralph being one hell of a wingman! He's got the job down pat.
It's doubtful that he'll ever be asking the guys for dating advice again. They'll all come to him!
Ralph helping Sly out is adorable. Sly gets a chance to be a little more vulnerable with Ralph than he probably would be if Toby, Walter, or Cabe were the one helping him with Paige.
Toby: If I could just plant the seed of an idea here.
Cabe: Yeah, well, if you could plant a seed, we wouldn't be in this mess.
I can't imagine any of them helping Sly pick out a sweater to wear, at least not as seriously as Ralph did. He was spot on with the lilac recommendation.
Plus, Ralph brought up the importance of linguistics when it comes to asking a girl out. You can't be vague and just ask to, "grab a bite." It will backfire on you just like it did Sly.
Related: Get CBS All Access via Amazon Channels for Hit Shows, Exclusive Originals & Live TV!
Thankfully, Sly didn't mope about this for too long, letting it ruin his trip to grab dinner with Florence.
No one needs a guy whining about the friendzone or anything of the sort. Odds are, Sly enjoyed every second of spending time with Florence outside of the garage.
What did you think of the episode? Do you think we'll pick up next time with a pregnant Happy? Leave your thoughts in the comments below!
Remember you can watch Scorpion online anytime via TV Fanatic.