Ash vs Evil Dead Season 3 Episode 10 Review: The Mettle of Man

Steve Ford at .
All good things come to an end.
It's just unfortunate that Ash vs Evil Dead came to an end quicker than we expected. 
If there is a silver lining to be found, it's that Ash vs Evil Dead Season 3 Episode 10 was a marvelous send-off for our beloved chainsaw-wielding, boomstick-firing, Deadite-slaying hero, and provided an epic and satisfying conclusion to this insanely fun and crazy series.
Bruce Campbell recently made it publicly known that he is officially hanging up his chainsaw and is done with the character that bolstered him to stardom. 
I'd like to think that if Campbell was offered the right payday, he'd consider returning to the role. But even if that never happens, I'm thankful that STARZ gave Raimi and Campbell the chance to revisit the franchise and provide us with three glorious seasons.
Fortunately, the writers intended for this episode to act as both a Season and Series finale, just in case the show didn't see a renewal for a fourth season.
If our pal, Ash, was going out, he deserved to go out big. And "The Mettle of Man" didn't disappoint, leaving the series off on a very high note.
Enough! I don't know much about this "Evil Dead" crap, and I know even less about why it chose you, but it did. You're the Savior of humanity, so get on your damn feet and own up to who you are. In the short time that I have known you, I have seen things that I'd never thought existed, seen you do things that I never thought possible. You taught me to trust you, you taught me to believe in you, and I do. So please don't let me down now.

Brandy
Related: Get Starz via Prime Video Channels for Captivating Original Series & Hit Movies!
Ash vs Evil Dead really pulled out all the stops in this final installment, including some epic Deadite kills, a battle with a 60 foot Kandarian demon and gore galore! And while the finale was emotional on many levels, it did enough to pay homage to both fans and the trilogy that started it all.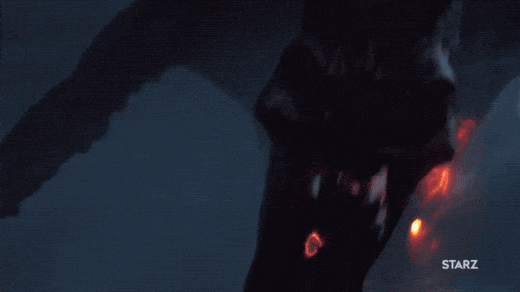 Brandy's encouraging words to Ash was incredibly touching -- a moment seldom seen on this series. It might have come across more emotional than intended as a viewer being this was the series' swan song, but it was incredibly effective.
It was enough to get her father right back on the horse and kick some serious demon ass the only way Ash can. Even if it was without his trust chainsaw, thanks to that dastardly Ruby!
The gang strapping Kelly to a hand truck in order to transport her lifeless body around was hysterical, and it was neat that Pablo realized The Evil saw him as one their own.
Given Pablo's Brujo power, he wasn't affected by jumping straight into the rift. I wish we could have visited The Deadlands again and actually seen Pablo rescue Kelly, but given that this was the finale and with everything else going on within the small runtime, there wouldn't have been enough time to showcase that.
At least Pablo was successful, and once Kelly was resurrected I got a kick out of her reaction to her appearance. Being dead does take its toll on one's appearance.
Had this series continued, I would have loved to explore the extent of Pablo's Brujo power. But I'll have to be content with knowing enough.
Brandy: Is this really the best time to be getting baked?
Ash: I'm not gonna fight that thing with a clear head!
Another touching moment came with Ash saying his goodbyes after he opted to stay behind and take on Kandar. It was a huge moment for him to own up to who he was.
If Ash was going down, he was going down guns blazing. And what better way to do that than in a freakin' tank!? It was awesome seeing Ash duct tape the Kandarian dagger to the rocket.
Duct tape is useful for just about any problem -- including a 60 foot tall Kandarian demon.
Come get some!

Ash
Following the battle with Kandar, I was relieved to see that Ash survived. Initially, I thought it was Brandy, Kelly and Pablo that came back for him and pulled Ash from the wreckage, but it ended up being a Sumeria member -- which was quickly noticeable due to the "KOS" engraving on their ring.
Who it was exactly will forever remain a mystery, but I suppose it's not all that relevant as they likely just ended up dying just like the rest of the members of that order have done so easily throughout the season.
What was most surprising, was Ash being placed into the hibernation chamber and emerging some undisclosed time later with a brand spanking new robotic hand!
Or as Ash would say: "Brand new spanking hand."
My father always said I ran from my fights, Brandy. I'm not running from this one.

Ash
Related:Ash vs Evil Dead Season 3 Episode 9 Review
 
When Ash woke from his well-deserved slumber, we were introduced to a Sumerian android called Lexx, who helped get Ash right back into the swing of things as the Dark Ones we're still on the loose.
While we don't know how much time had passed following the battle in Elk Grove, it was enough time for Ash to get more defined gray streaks in his hair, along with the realization that the world was now in complete ruin.
It really makes me wonder what direction the series could have gone had STARZ given it a renewal for Season 4. Based on the closing moments, they very well could have taken a "Mad Max" approach, which would have been cool as hell! 
Lexx: How do you feel, Sire?
Ash: Groovy.
I couldn't have picked a better way for this series to end than with Ash delivering some final fan service with his quote that started it all. Even though the series was basically left open-ended, it was the perfect send-off.
Seriously though, how insane looking was the decked out Delta? What I would give to see Ash mow down some Deadite scum with that thing!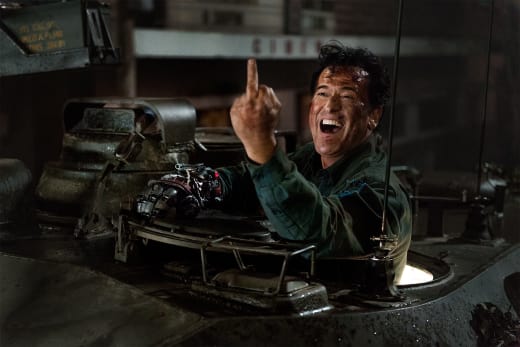 The only real loose end that was left hanging was Ruby's additional page that she inserted into the Necronomicon on Ash vs Evil Dead Season 3 Episode 9. It's something that will be left open to interpretation at this point, as we'll likely never get a definitive answer.
If I may speculate, I'd like to think Ruby found some sort of loophole that could have potentially allowed her to alter time or change events from the past. It's fun to wonder, but it's also a bit depressing to think about what could have been.
Related: Get Shudder via Prime Video Channels for Spine-Tingling & Provocative Films, TV Series, & Originals!
Sadly, all things must come to an end. And while I'm disappointed that this is the end of the road for Bruce Campbell's iconic role as Ash, the last three seasons of Ash vs Evil Dead have been one hell of a fun ride, and I'm damn grateful to have been a part of it.
Stay groovy!
It's time to hear from you Deadite Fanatics one last time!
What did you think of "The Mettle of Man"? Did the series finale of Ash vs Evil Dead provide a satisfying conclusion? Are you sad to see this series end or do you feel it had run its course? Where do you think the series could have headed had it been renewed for another season?
Sound off below and let me know!
Bruce Campbell might have hung up his chainsaw, but his legacy lives on as you can always watch Ash vs Evil Dead online right here at TV Fanatic!
Steven Ford is a staff writer for TV Fanatic. Follow him on Twitter.