Hawaii Five-0 Season 8 Episode 20 Review: Kind Is The Bird of Kaiona
Dale McGarrigle at . Updated at .
Finally, Jerry got turned loose again.
Also, Catherine found a flimsy excuse to come back to Oahu and McGarrett on Hawaii Five-0 Season 8 Episode 20.
Oh, yeah. Adam was around, too, but in blessedly small doses. I like the character, but not the organized-crime task force storyline.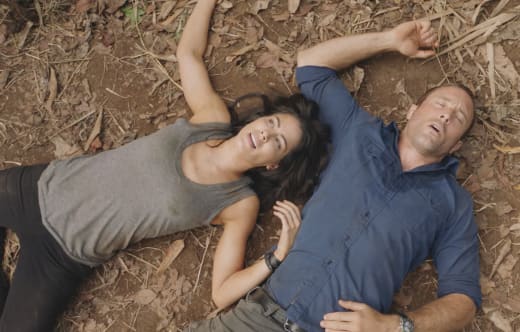 We even got some Eddie, who was the only actual hero in this episode. Granted, Catherine completed her mission, but recovering a cell phone and backtracing calls isn't nearly as exciting as rescuing Junior from a ravine.
Who's a good boy?
This episode was mainly an excuse to give McGarrett and Catherine their long-awaited reunion. Who cares that it was based on the far-fetched concept of a Somali bomb-maker arranging to steal depleted uranium from an abandoned base on Hawaii?
Related: Hawaii Five-0 Season 8 Episode 19 Review: Where the Bodies are Buried
So, after her latest enemy combatant expired before she can pump him for intel, Catherine hopped on a plane and heads for Oahu. After all, why shouldn't she take advantage of Steve's encyclopedic knowledge of the islands?
It was a hoot watching Kamekona prepare a contract for his chopper just like it was a rental car. He certainly knows McGarrett's frightening track record with aircraft.
How romantic to sneak off to a secluded, deserted, tropical island to "catch up."
But man plans and God laughs. Too bad Jerry didn't get that memo.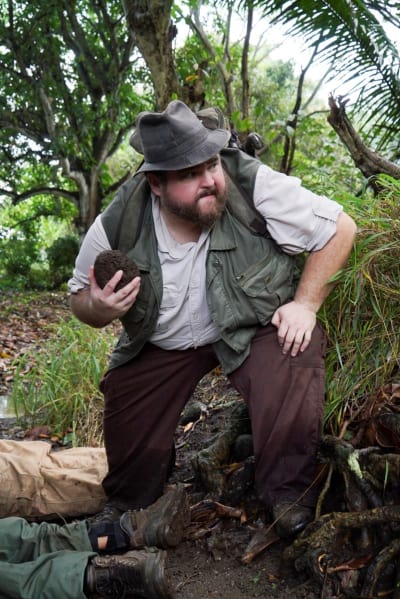 Nope, he was determined that he would find King Kamehameha's burial ground on that island, based on his years of research. So, he bullshitted his way onto the chopper by volunteering to be their guide.
Soon they discovered that this conqueror of feral cats had never been there before.
Jerry was a shining example that God must protect innocents.
Related: Watch Hawaii Five-0 Online: Season 8 Episode 19
He strolled up to the punji pit just as Catherine and McGarrett crawled out of it. While they were chasing a thief with a bomb on his back, Jerry was finding the artifacts he sought, and even putting out a fire he started when spooked by a spider. What an intrepid adventurer!
Meanwhile, Catherine and Steve were rediscovering why they belong together. She really is the female McGarrett. Poor Lynn doesn't stand a chance.
So it was all-out action broken up by awkward catching up and on-point bickering. That's how action-figure couples should behave.
So where do they go from here? That really depends if there's a next season with Alex O'Loughlin, neither of which is a foregone conclusion.
We also got to learn more of Junior's backstory, as he reflected on his life while trapped injured in that ravine. That'll teach him to go running in that scenic countryside.
We found out that he was estranged from the father he grew up idolizing and that his younger sister Maya, who died young, served as the bridge between them. After she died, Junior joined the military, and he and his dad drifted further apart.
Related: Is Alex O'Laughlin Still Planning to Leave After Season 8?!
Junior's time with his photos on his phone allowed him space to think, and it seemed at episode's end that things had taken a better turn with his father.
I did love the Lassie moment of Eddie returning to headquarters for help. "What's that, boy? Junior fell into a ravine and hurt himself? Show me."
It was Tani who actually found him, crisscrossing his usual running routes. But I'm sure Eddie helped.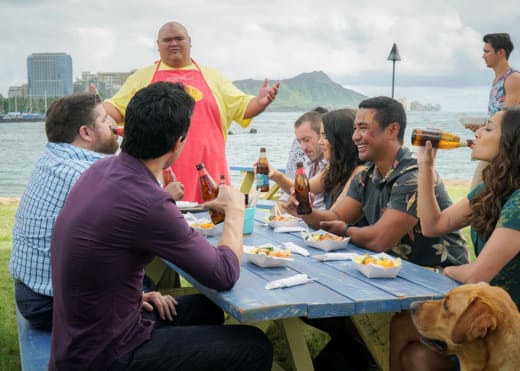 Eddie had more screen time than Grover and the absent Danny, and the episode was none the worse for that.
Finally, Adam came to his sense and decided to head back to the mainland and Kono, leaving the crime solving to the experts.
I didn't understand how Mr. Kimura giving him an alibi would get him out from under his father's debts. I must have missed something there.
Related: Get CBS All Access via Amazon Channels for Hit Shows, Exclusive Originals & Live TV!
But he didn't leave fast enough before Noriko's body washed ashore. Apparently, she wasn't as prescient as she had previously seemed. Also, if she didn't have money to disappear, who does have Adam's fortune?
Now that Adam is just getting sucked into this storyline instead of trying to control it, it's become more interesting again, as Five-0 tries to track down the criminal mastermind.
SPOILER ALERT: But that won't happen on Hawaii Five-0 Season 8 Episode 21, as hunky Harry Langford returns. He's a fun character, but twice in one season? How about a little more digging to find characters to resurrect?
To watch the development of Catherine and McGarrett's relationship, watch Hawaii Five-0 online.
Did you enjoy Catherine's return? Do she and Steve belong together? Did you like learning more about Junior? Comment below.
Dale McGarrigle is a staff writer for TV Fanatic. Follow him on Twitter.