Siren Season 1 Episode 3 Review: Interview With a Mermaid

Yana Grebenyuk at .
Things settle down a little with the rush to find Ryn's sister while Xander and Calvin's mission heats up in contrast.
Pulling back on one story while extending another also helped Ben and Maddie learn more about Ryn's mythology, as well as what they might be up against.
On Siren Season 1 Episode 3, Ben and Maddie spend the day interviewing and filming their interactions with Ryn. This plan turns on them though when Ryn's connection with both of them ends with her sleeping with them in bed for the night. Meanwhile, Xander and Calvin track down Chris and the base that is keeping the other mermaid.
Ryn is picking up the language and her communication skills are only getting better.
But with that comes her curiosity and her incredible strength, two things that run the risk of exposing her. 
Now having the town find out her identity is off the table but why can't she go in the water?
Related: Watch Real Lives, Real Stories, & Real Celebrities on Reelz Channel via Prime Video Channels!
Ryn doesn't want to go back there, which is interesting because she did it before and washed up on shore the next morning again.
The case could be made that she doesn't want to deal with the pain but it isn't like she's not struggling to avoid the water. She needs it and there is more of a risk if she doesn't find her way back to it.
Her need to find her sister won't fade away if she makes sure she is actually capable to keep looking, because soon enough she will be more of a liability than any help to the group.
She almost killed you in the water.

Madi
Maddie's bond with Ryn is captivating me most right now, maybe because I love their chemistry so much.
The moment when she climbs into bed with them though has me asking so many questions.
Ryn has a way of affecting Maddie and Ben, yet they don't seem to mind? Maddie didn't care that Ben was a second away from kissing another girl and this makes me question where this trio is going.
When it comes to Ryn I can't get a good enough read to know if she actually cares for Maddie and Ben or if they are purely a means to an end right now.
Related: Enjoy UNLIMITED access to thousands of Movies and TV shows with Prime Video. WATCH ANYWHERE. CANCEL ANYTIME!
What I do know is that those two are hooked on Ryn and probably one day away from suggesting that they all get together instead of them being a couple separate from her
I would be totally onboard that idea only if Ryn continues to confuse them for a little while longer.
There is just something truly entertaining when she is interacting with one of them and they don't know what is going on.
The way that they become entranced this way by Ryn is also a great reminder that she has a darkness about her that we still haven't explored all that fully. 
You don't know what you are dealing with.

Helen
Ben's story, or more specifically his family has to be the part I don't feel captured by yet. 
His parents aren't as happy as one would imagine and his brother isn't close with him anymore but wants to be. There is also that little mermaid history that is appears in their past but still, that isn't enough.
It isn't enough to capture enough of my attention because his mother has to be hiding something yet if we never find out what that is, nothing will really be ruined.
Ben works best when he has his own arc away from his family, as we saw in this episode when his brother and parents were more distracting than helpful.
Moving forward Siren might find more success in taking a step back because they have something solid with Ben as his own person, his history doesn't have to be explored within his family members because nothing good could come out of this. 
We would like to know more about you.

Ben
Xander and Calvin went on an adventure together and this is a duo I can get behind.
Since Ben thinks keeping Ryn a secret won't come back to bit him later, Xander and Calvin have to be doing their own thing to connect the dots together in the end.
Sometimes though it feels like if everyone was in the know maybe they could figure it out quicker? Just a thought though.
Also I have no shame for starting to ship Xander and Calvin, especially after that scene in the car.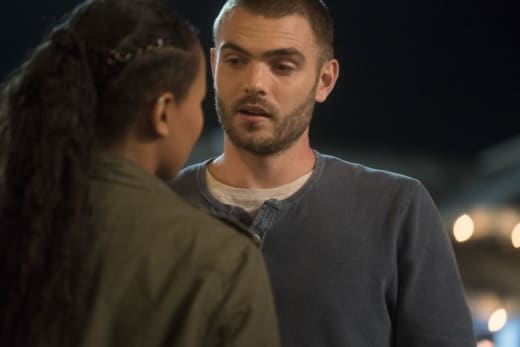 To anyone else it might look like a guy adjusting to his friend getting serious with a girl. But to me it had to read as jealousy because that just makes things even more fun and even more complicated.
Seriously though, Xander and Calvin now know where the base is so they are all really close to getting both Chris and Ryn's sister out of there. Which is why it won't happen that quickly since everything is lining up too well and it feels so easy right now.
That might even explain the side plot with Maddie's dad aka Jacob's dad from Twilight looking for Ryn.
A dead body probably can't go unnoticed but this arc is taking a chunk of each episide up so Ryn is only going to be in more danger as the clues are pieced together.
Related: Get Hallmark Movies Now via Prime Video Channels for Stories with Heart, Captivating Movies & More!
What did you think of this episode? Is Siren living up to your expectations or are they going on adventures you weren't even expecting? What did you enjoy most about this episode? What do you think could have been better? Where do you see things headed after this? Let us know what you think below.
Yana Grebenyuk was a staff writer for TV Fanatic. She retired in April 2021.