On Station 19 Season 1 Episode 6, Jack and Andy take the captain's test, and it doesn't go as well as expected. Meanwhile, Vic's secret is revealed to most of the crew.
Okay, I'm just going to say it. Yes! I'm so glad Andy messed up her test. Her cockiness finally caught up with her. She needed to be knocked down a peg or two. Unfortunately, I don't think this incident will humble her one bit.
I really want to like Andy. I want to accept her as the strong and independent woman I'm sure the writers intended her to be, but I can't.
She comes off as an immature hothead, and that has the opposite effect. It makes her weak! Stop the madness, dial her back a bit and hit reset. What's happening with Andy now, is not working.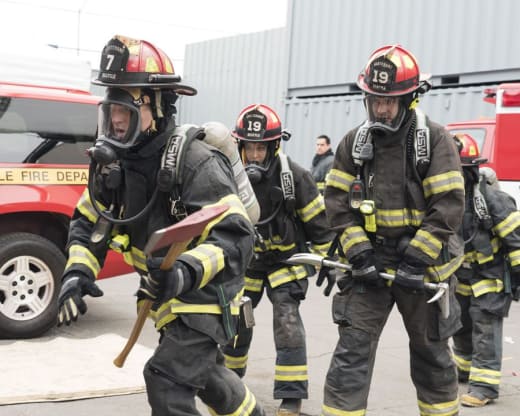 I was just as surprised as Andy and Jack to find out all of those people were competing for Station 19, but all the scenes surrounding the test were meh. I was bored with the two of them and their competition, and this race for captain.
Move on, please.
It was so sweet of Ryan to bring the good luck charm to Andy before she left, though. He is so sweet and way out of Andy's league. It's okay if they're friends, but I no longer want a romance between those two. In my review of Station 19 Season 1 Meet the Crew, I shipped Andy and Ryan together.
I rescind that ship with all the power of my being.
Hey, we do what our captain says. Let's go!

Andy
Ryan needs to find someone who will truly appreciate his awesomeness.  Maybe that's Maya? It's certainly not Andy.
Related: Enjoy UNLIMITED access to thousands of Movies and TV shows with Amazon Prime Video. WATCH ANYWHERE. CANCEL ANYTIME!
Speaking of Maya, it seems that her and Andy's friendship is back on track, but it still doesn't ring true for me. I was hoping these two would carry the Meredith and Christina vibe that I miss so badly from Grey's Anatomy, but it does not. I'm not buying their friendship, much less their BFF status!
Ben: I've been watching you avoiding fires, basically every shift for weeks.
Vc: Yeah, and it's working like a charm. Everything's fine.
Montgomery could not have been more adorable in charge, with his starched shirt and his by the book leadership. If there was going to be a sinkhole, no one was falling in under his watch, damn it!
Miller and Warren were both struggling with secrets they were torn about keeping, but in the end, both secrets came out.
Related: Scandal Season 7 Episode 18 Review: Over a Cliff
I thought they were going to stretch out the fire fear with Vic for a long time and ramp up tensions with Warren. I'm glad I was wrong. Vic was brave, admitting that these people were her family and that losing them, not pride, was keeping her quiet.
It's hard to admit something is wrong. It's hard to ask for help. Although she didn't ask for the help, she was courageous enough to speak the truth, and I admire that.
No. We don't say a word to them, they'll have to report you.

Montgomery
But family does what families always do, and they rallied around her. That was a warm moment. It could've been a scene from any dinner table conversation when a family member needs help. They were brainstorming and joking around. That was the first time I felt their bond.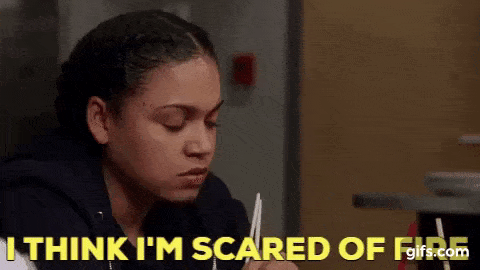 The funny thing is, Andy and Jack weren't there. Coincidence? I think not. They seem to function better without those two knuckleheads around.
I don't want to see someone from another station coming in and taking over. I'm not saying that, exactly. That never turns out well, but there has to be another solution.
That was ridiculous!

Miller
If Jack takes over, there's going to be a lot of tension between him and Andy that will put lives at risk, and if Andy takes over, the whole station's going in the toilet. She's not ready.
Related: Get CBS All Access via Prime Video Channels for Hit Shows, Exclusive Originals & Live TV!
She's going to have her hands full anyway with her father. It looks like he's struggling with his cancer, but at least he has the smarts to get some help. He could've hidden it and kept Miller silent, but he didn't.
I would hate to see the captain go out like that. There's so much they could do with his character, so I hope he sticks around a while.
Looks like he's going to have a fight on his hands.

Over to you, Station 19 fans! What did you think about the captain's test? Were you glad the ceiling fell on the sexist guy? (I was!) Were you proud of Vic for opening up about her PTSD? Let's hear what you think!
If you've missed any episodes, you can watch Station 19 online right here at TV Fanatic and see what the heck we're talking about.
Join in and let us know your thoughts on the show so far. While you're here, you can catch up on all your favorite shows and reviews, and join our TV Fanatic community.
Kim Russell is a staff writer for TV Fanatic. Follow her on Twitter.