The Arrangement Season 2 Episode 7 Review: On Location

Lisa Babick at .
It's getting harder and harder to root for Megan when she won't do anything to change her situation.
I don't know what the repercussions would be for a breach of contract, but whatever they were would probably be much better than continuing to live in Kyle's lie.
On The Arrangement Season 2 Episode 7, he basically told her he wouldn't budge on changing anything in their contract though he relented later on.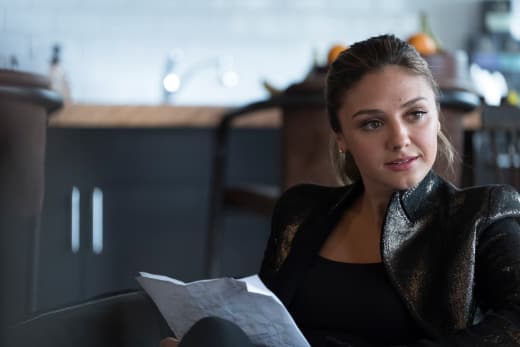 If Megan were smart, she'd realize there's something very hokey about Kyle West. There's a history to Kyle we know nothing about. It's a dark history that pushed Lisbeth away, but whether Megan will learn what it is is anyone's guess.
She's seriously starting to piss me off, and the more this sob story drags out, the less interested I am in her future well being. She's not doing anything to help herself, and it's getting boring.
She had every right to be upset about not getting the role, but to lash out at Kyle about only being his robotic arm piece was incredible. She knew what she was in for when she signed the contract.
Related: Get Showtime via Prime Video Channels for Award-Winning Original Series, Hit Movies, Sports & More!  
She needs to stop playing the victim. And she needs to have her head examined because I can't believe how quickly she got over her anger and made up with Kyle.
Has she no pride?
It seems ridiculous that Leslie wouldn't have realized a non-compete clause would cause serious complication in Megan's career. She may think she's Megan's friend and is looking out for her best interest, but I don't think she is.
Leslie may have seen it as a huge opportunity for Megan, but she also saw it as a massive opportunity for herself. 
It was weird that Deann let Leslie stay on set. Even stranger was Deann and Leslie having drinks and talking about the situation. 
IHM is the reason Leslie is no longer Megan's agent so why would Deann hang out with her? It doesn't fit.
IHM doesn't like their clients to still have connections with people from their past (unless they have converted like Shaun), so what is Deann's endgame by including Leslie in everything going on?
Related: The Arrangement Season 2 Episode 5 Review: You Are Not Alone
I get the feeling that Deann isn't all that into IHM anymore so that may be one reason, but if Terence found out about Leslie, I don't think he'd be too happy.
I'm not even sure what Deann is doing anymore? She was upset that Terence approached Wes about IHM, but then turned around and had sex with him because she was ovulating.
Has IHM messed her up that much that she can't be consistent with her thoughts?
It was ridiculous when Terence told her Wes wanted to know more about IHM. It was an obvious lie. Ordinary people don't start asking about cults out of the clear blue. 
Terence approached him, and Deann knew it. If she were a devout IHM believer, she would have been thrilled, but she wasn't so what's her deal.
Does she know that she can't escape? She has to know the terrible things Terence is capable of so that may be a reason she was going along with the program.
It still doesn't answer why she's willing to have a baby with the crazy man. Why did she even tell him she was ovulating?
Shaun, all of a sudden, taking Zach's words to heart was also odd. She had been high on Terence and IHM for a while now that it seemed out of character for her to start searching for Julie.
I certainly never got the feeling that she was questioning anything Terence or IHM was feeding her.
Related: The Arrangement Season 2 Episode 2 Review: Surface Tension
But maybe this whole immortality thing (which I don't quite understand where this storyline is going) is too over the top for her. Not even IHM's board of directors was willing to fly with that craziness.
And anyone who decides to go along and believes that IHM has the key to immortality is beyond help. There wouldn't be enough reprogramming available to help those individuals so their best bet would be to stay in Terence's cult.
Kyle isn't going to be leaving the cult anytime soon. Neither is he going to be honest with Megan. Whatever he's hiding has to be a doozy, but will we ever learn what kind of crazy is in Kyle's past?
Over to you.
What did you think of "On Location"? Are you still following the story or is it starting to unravel?
Will Megan continue to play the victim, or will she wake up?
Hit the comments and share your thoughts.
If you need to catch up, you can watch The Arrangement online right here via TV Fanatic!