Charmed Star Sarah Jeffery Defends Reboot: It Will Have a Positive Effect!
Paul Dailly at .
We think it's fair to say that The CW's Charmed reboot has received a lot of attention since it was first announced. 
Not all of the attention has been positive, and part of the reason for the mixed response is that the original series was beloved by the fans and everyone involved in making it. 
One of the new stars of the reboot has taken to social media to address the controversy surrounding the reboot being ordered to series. 
"I'm only going to go here once," said Sarah Jeffery as she opened her lengthy post about the reboot. 
"I fully understand how dear the OG Charmed is to many. For very, very good reason. We are so beyond grateful to have the opportunity to bring this reboot to life and bring current, timely themes to the forefront of a show that stars not one, not two, but THREE WOC," Jeffery continued. 
"We regard the foundation that was laid with great respect," she said closing off the first part of the message. 
Related: Charmed Reboot Gets Series Order at The CW!
"But, when my character is challenged, when there is futile yet harmful noise about how we are either incapable or doomed, I will vociferously defend myself and my sisters," Jeffery said following a string of negative comments aimed at her and co-stars, Madeleine Mantock and Melonie Diaz. 
The next part of the message went on to reiterate that the original Charmed is not being touched, and it will remain a great series. 
"The original Charmed will always stay very much intact and will always be widely respected," she continued. 
"I invited you to come on this journey with us to discover more stories within the universe."
"I also respect your declination. But please, let's show up for one another in favorable ways and be kind with your opinions," she said.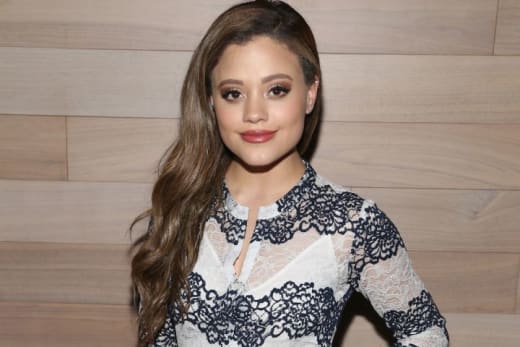 "I know our show will have a positive effect on so many women, youth, and anyone who is receptive to being on the right side of history," the actress said at the end of her post. 
There's no denying that bringing the series back with a reboot is going to be a bitter pill to swallow for many, but the actresses should not be targeted by campaigns spouting hate. 
Related: Holly Marie Combs Blasts Charmed Reboot: Don't Even Think About It!
Jeffery's statement comes a week after original star Holly Marie Combs took to social media with a statement of her own in which she took aim at the marketing of the show as opposed to the content. 
"Let me say first that I appreciate the jobs and opportunities the Charmed reboot has created," the actress begins in a message she shared on social media.
"But I will never understand what is fierce, funny, or feminist in creating a show that basically says the original actresses are too old to do a job they did 12 years ago," she continued.
Related: Charmed Trailer: Can the Power of Three Make This Reboot Thrive?
"I hope the new show is far better than the marketing so the true legacy does remain. Reboots fair [sic] better when they honor the original as opposed to taking shots at the original."
"Reboots also do better when they listen to a still passionate fan base which is what it's all about, isn't it? That's why we do reboots."  
The CW confirmed earlier this month that the series would be part of its fall schedule, and will help launch programming on Sunday nights by pairing up with Supergirl. 
Okay, TV Fanatics!
What are your thoughts on all of this? 
Hit the comments below!
Paul Dailly is the Associate Editor for TV Fanatic. Follow him on Twitter.