NCIS Season 15 Episode 22 Review: Two Steps Back

Kathleen Wiedel at . Updated at .
Well played, NCIS. Everyone knew about Pauley Perrette's departure, which was announced ages ago, but then NCIS Season 15 Episode 22 had to go and give us a double whammy!
Unfortunately, I can't help but wonder whether Clayton Reeves' sudden demise had something to do with the fact that the writers just didn't know what to do with the character.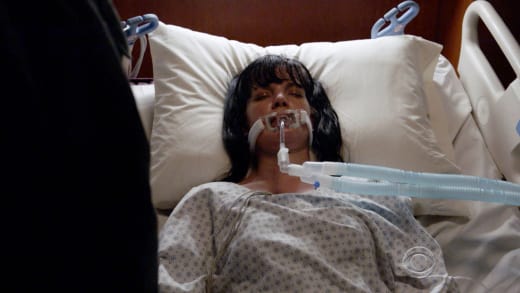 Even now, sitting here and typing out this review, I'm of mixed feelings about "Two Steps Back." Despite the writing staff and other assorted behind-the-scenes folks having ample notice to craft Abby's exit strategy, it came out feeling a bit weak.
I mean no offense to Clayton. It's just that in his time on NCIS, we barely got to know him at all. His devotion to his mother and desire to create a charity in her name only came up in the previous episode.
To be fair, as Abby specifically stated, Reeves saved her life, and she wanted to repay that debt by finishing what he wanted to do. And experiencing a violent crime (and losing a friend like that) is very traumatic.
Related: Enjoy UNLIMITED access to thousands of Movies and TV shows with Amazon Prime Video. WATCH ANYWHERE. CANCEL ANYTIME!
I just wish that this precipitating incident happened five or six episodes ago so we could, perhaps, see Abby struggling over time with the trauma and the weight of her survivor's guilt and knowing Reeves would never get to start that charity.
That possibly may have lent a measure of weight to her departure. The abruptness of it all, occurring in the last ten minutes of this installment, shortchanged both Abby and Clayton.
Perhaps I'm being a bit overly critical about this. One thing is certain: Abby's (and Pauley's) presence will be missed on NCIS. And so will Clayton Reeves.
Losing anyone you know is always difficult. But all we can do now is our jobs.

Ducky
Poor Reeves. I can't recall anyone on the main cast of NCIS being quite as unloved by the writers as him. Theoretically, he worked for MI6, not NCIS, but the writing staff could never figure out anything appropriate for him to do.
So Reeves often found himself, for no discernable reason, investigating crimes for with the MCRT, to the point where someone (Sloane, I believe) actually referred to Reeves as being a member of Gibbs' team in this episode!
Maybe they didn't want to repeat anything they'd done with Ziva, who was also a foreign operative. At least Ziva's presence was hand-waved by her being buddies with Director Sheppard.
Yet many stories during Ziva's tenure also involved some sort of foreign component, something with which she could reasonably lend her expertise, knowledge, and whatnot. Reeves had little such opportunity.
So, what about this particular case? Ignoring the fact that the MCRT shouldn't be allowed to touch this one with a 39.5' pole due to their intimate connection with the victims, let's take a look.
Related: Get CBS All Access via Prime Video Channels for Hit Shows, Exclusive Originals & Live TV
The story opened with probably my favorite scene of the episode, the poker game. The reveal of Gibbs' winning had rocked, especially since it tied in with a longstanding character trait: Gibbs doesn't bluff.
(Except when he does. But he's very good at pretending he doesn't.)
His genuine good cheer and laughter felt very heartwarming; at ease, amongst friends, having a good time. How often do we see that for Gibbs? It's so easy to forget how much he can light up a room when he smiles.
Then he got the call.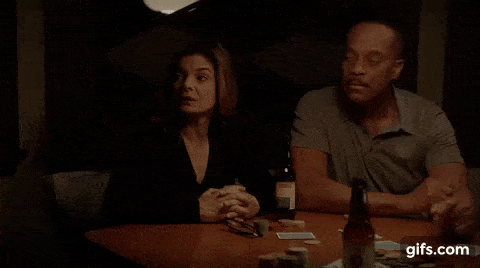 The case that followed actually became something of a trip down memory lane. All three people the team suspected for hiring the hitman appeared previously.
The first suspect, Terry Spooner, appeared in NCIS Season 3 Episode 21; Alejandro Rivera, of course, was the son of the man who killed Gibbs' wife and daughter and attempted to take revenge for Gibbs killing him. It backfired.
Alejandro Rivera: I was always raised to be polite to guests. My father taught me that as a child. Before he was murdered by a coward.
Gibbs: Just like Paloma!
Alejandro Rivera: Do not mention my sister's name again.
Gibbs: Gladly.
Finally, for those of you racking your brains trying to remember that Robert King fellow: he previously showed up as Villain of the Week in NCIS Season 6 Episode 21.
I fully admit to not recalling the guy at all. And I'm still a bit perplexed at how they landed on him so quickly given the literally hundreds of bitter, angry people Abby's helped put in jail.
Related: NCIS Review: Season 7 Episode 24, "Rule Fifty-One"
Numerous flashbacks also peppered the episode to great effect, particularly in Abby's farewell letter to Gibbs:
And now for a more personal note of farewell. I have loved the character of Abby Sciuto since her introduction all those years ago on JAG. She actually inspired my sister to pursue a career in forensic science.
Abby provided a well-rounded character who shattered stereotypes of goths, demonstrated that a scientist need offer no apologies for being religious, and brought sunshine, hugs, and rainbows wherever needed.
I wish Pauley Perrette nothing but the best of wishes for the future, whatever it may hold for her. (Apparently, not a skin care line!)
A few assorted thoughts before I turn the discussion over to you:
Anyone else want to yell out loud that Abby was just leaving her job, not ceasing to exist? Presumably, she'll still be just a phone call or email away, yet they all act as if she's gone forever!
Just to prove my point, they even included a phone call from Tony. Who did not cease to exist when he left the show. And he moved to Paris!
Why wasn't the evidence just sent to, say, the FBI lab for processing? Is outsourcing just not a thing? (I know, need to show how incompetent the agents are with all the science-y stuff.)
Wait, so Abby told Torres that she was going to confront King, then challenged Torres to get in the coffin, and he actually got in? Or did she tell him after she locked him in? I'm confused.
In a strange coincidence, all three suspects first appeared in the twenty-first episode of their respective seasons (three, seven, and six).
Be sure to stop by our NCIS quotes page for some of the notable lines from this episode.
What a way to conclude fifteen years on a TV show! If you want to revisit Abby's last bow, be sure to watch NCIS online.
The season is winding down quickly, and only a couple episodes remain! The next, NCIS Season 15 Episode 23, "Fallout," is scheduled to air on Tuesday, May 15, 2018 at 8/7c on CBS.
Now it's your turn to join in the conversation! What did you think of Abby's swan song? Did it give her and Clayton an appropriate send-off? Did you enjoy the stroll down memory lane?
Let us know in the comments section below!