Take Two Season 1 Episode 2 Review: The Smoking Gun

Rachelle Lewis at .
The unlikely team of the private investigator and the actress are back at it again. However in Take Two Season 1 Episode 2 they discover they might not dislike each other as much as they want to believe.
Eddie is definitely not keen on working with Sam. He lets his cop girlfriend, Detective Rollins, know he is only keeping the actress around to build the business, Then he is going to cut her loose.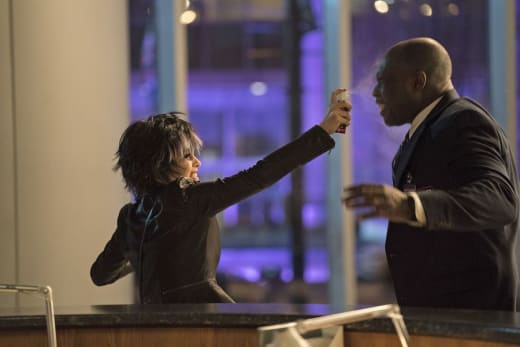 Their case goes from following a cheating husband to murder. Sam believes in their client's innocence, while Eddie does not. 
As with the premiere episode, there are several twists and turns in their case, proving nothing is as it appears. The murder victim turns out to be not an innocent film student but rather a con artist making a living by blackmailing men. 
Related: Enjoy UNLIMITED access to thousands of movies and TV shows with Amazon Prime Video. WATCH ANYWHERE. CANCEL ANYTIME!
Sam's acting talents come in handy in solving the case, when she is a decoy so Eddie can gain vital information about their victim. It all pays off when they discover the victim was really trying to do the right thing and leave her con artist life behind.
In the end, the bad guys get caught, and Eddie is forced to admit Sam was right all along. He even begins to see her in a new light.
The show continues to play Eddie as the cynical heart of stone man, while Sam is the dimwitted actress who trusts everyone. However, by the end of the episode, it becomes clear there is a lot more to each of these characters than meets the eye.
Sam: I am calling Monica unless you want me to call your cop girlfriend.
Eddie: The less she knows about us the better.
Sam: Which part breaking in or you being locked in a closet with me.
Eddie: What you think you're irresistible?
Sam: Well you do seem pretty excited to see me right now.
Eddie: That is my gun!

New characters are introduced including Sam's new assistant Monica. She is a cyber board which proves despite her out-there persona she is invaluable to the company team. Her skills save them more than once when they land in a bind.
Monica catches the eye of Eddie's assistant Berto, setting up a possible romance for the show. Even though she calls him out on liking her, there is a definite connection between the two outcasts.
Eddie: Who hired you?
Max: I didn't learn much from you but I did learn how to keep a secret and I don't talk about my cases or my clients.
Sam: Hey pal this girl is dead. So if you're protecting her killer that makes you an accessory to murder.
Max: That's cute. You know you were a lot more believable on TV. See you around!
Viewers also meet Max, a former partner of Eddie's who is a private investigator as well and stabbed Eddie in the back. There is no love lost between the two men, giving a nemesis for the newly formed team to deal with already.
Related: Hawaii Five-0's Grace Park Books TV Return!
Zeus also used to be Eddie's partner when he was a police officer. He is one of the good guys, and someone Eddie trusts with his life. Zeus is a security guru, so fans can expect to see him help out more in the future. 
The relationship between Eddie and Sam deepens. Viewers are given a glimpse of a growing friendship when Eddie comes to her rescue after she violates her probation. His plea keeps her out of jail but also forces him to accept her as his partner for the foreseeable future. 
It was the moment the show needed to solidify their partnership and their new friendship. Eddie standing up for Sam also lets viewers see he has a big heart despite his cynical personality.
Eddie: Your honor wait.
Judge: Mr. Valetik I haven't seen you in a while. You have something to add?
Eddie: I led her to that bar. We were working a case. No alcohol was consumed.
Judge: I don't care she still violated her parole by missing her court date.
Eddie: She lost track of time because she was gathering evidence to prove our client's innocence. She missed her court date because she was pursuing justice. Those people who took those photos follow her around all day hoping she will screw up. Who could live with that kind of scrutiny? I know I couldn't. Is she disruptive? Yes. Annoying? Yes, but she is trying just about as hard as I have ever seen someone try to turn their life around. Your honor, you have known me since I was a rookie cop, have I ever stood up for someone who didn't deserve another chance?

Sam's character grows as well when it becomes clear she is has gotten a bad rap. Under her girl gone wild actress reputation is a smart woman who cares very deeply about people, especially when it comes to her clients. Even Eddie begins to see this side of her.
Eddie Cibrian and Rachel Bilson's chemistry continues to be the driving force behind the show. They make each of these characters likable and their changing relationship believable. Bilson and Cibrian are very entertaining to watch, which will keep viewers coming back from week to week.
Related: Take Two Season 1 Episode 1 Review: Take Two
Take Two has proven it is a summer guilty pleasure. However, the same formula for the cases is being played out each week. They take a case. The evidence leads them to a completely different case than either Eddie or Sam originally thought. By the end of the episode, they catch the bad guys.
The formula works, but it is already getting a little old, and only two episodes have aired. If the writers want to keep viewers, they are going to have to switch it up a little bit.
Developing the characters is great but knowing how a show will turn out during each airing is boring. Amazing actors and good chemistry won't keep viewers if the story is predictable.
Sam: Nobody ever stood up for me like that before. Thank you.
Eddie: It was a business decision. I couldn't let you make me look bad.
Sam: Of course.
Eddie: If you are done with all this nonsense can we get back to the case?
If you have any thoughts on Take Two Season 1 Episode 2 feel free to share them with us in the below comments section or connect with TV Fanatic on Facebook and Twitter. 
You can watch Take Two online with us anytime you like!
Rachelle Lewis was a staff writer for TV Fanatic. She retired in 2019..