The Originals Season 5 Episode 12 Review: The Tale of Two Wolves
Paul Dailly at . Updated at .
If you've been holding out hope for more from Mystic Falls ever since The Vampire Diaries came to a close in 2017, then The Originals Season 5 Episode 12, was the episode you've been waiting for. 
In what was one of the series' finest hours to date, we were introduced to some new characters while checking in with some old characters who reside in the beautiful town.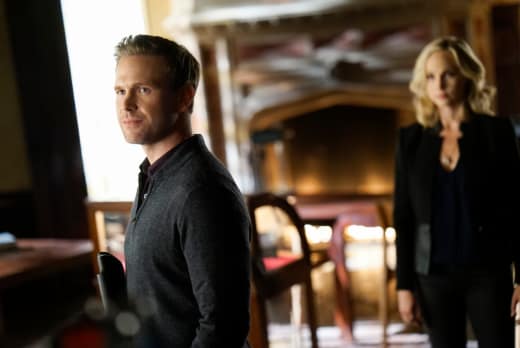 Creator Julie Plec and Executive Producer Carina Adly Mackenzie penned "The Tale of Two Wolves," and it was a genius hour that kicked off the story of new spin-off Legacies while bringing The Originals to its final chapter. 
If you watch The Originals online, you know the series has been filled with tragedy from the get-go. The Mikaelsons may have been horrible at one point or another, but they had terrible beginnings. 
Related: Legacies Trailer: Welcome Back to Mystic Falls!
The biggest positive for me was that Hope and Elijah managed to repair their fraught relationship. There was an excellent chance that they were going never to speak again, but the road trip to Mystic Falls put everything in perspective for them. 
I could not contain my laughter when Hope was opening up about the stories in the school library all painting the Mikaelsons as the villains.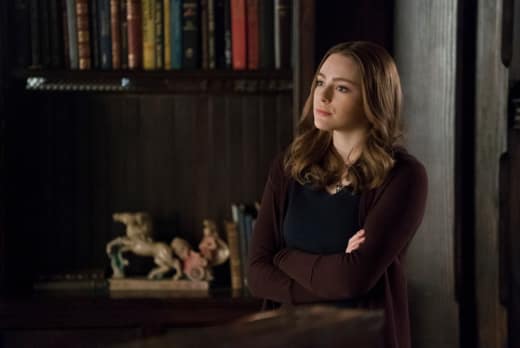 Hope's brush with death allowed her to see her mother one last time, and it made for a beautiful bunch of scenes. Hayley may have been killed off terribly, but Mackenzie was not wrong when she said that Hayley still had more story to tell. 
The meeting between mother and daughter allowed Hope to realize that she doesn't have to wallow in the past. She can move on knowing her mother is happy with her family. 
Excuse me, I just need one minute with this very lost new janitor.

Caroline
It was a poignant way for Hayley to say farewell for good because all she's been looking for since her days on The Vampire Diaries is a family ... a place to call home. 
It was a surprise having Nathan Parsons back as Jackson, but he's part of Hayley's happy place. That's not to say there's no room for Elijah.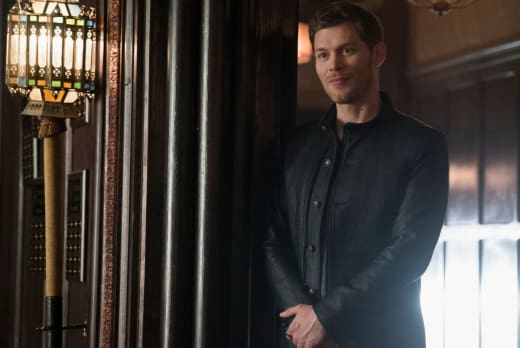 The look of happiness on his face when Hope told him Hayley was still waiting on that dance was perfection, and it explains why he was all too happy to offer himself up for the sacrifice. 
Fans have suspected Elijah will be dying a hero's death as Stefan did on The Vampire Diaries ever since Hayley died and he sided with the villains. 
There is no trick here. She is about to experience her first full moon since she triggered her curse. Every witch that we have consulted has said she won't survive the night. This is terminal, Elijah.

Marcel
As far as Elijah's concerned, his existence has been nothing but pain, but there was a ray of light while he was with Hayley. 
Related: Legacies: Which The Vampire Diaries Stars Will Appear?
Who would have ever thought that Klaus Mikaelson would be offering up his life to save someone? He's come a long way, and Caroline recognized that. 
I've been critical of the way Candice King's appearance have felt forced, but having the gang head to Mystic Falls really worked wonders on this hour. 
Klaroline fans were rewarded by learning that Klaus was never the villain in Caroline's story, and that makes sense. Klaus was horrible to her friends for a time, but there's always been a part of Caroline that had a soft spot for him. 
It could be that Klaus saved her life when she needed it, or it could be that she knew there was someone beneath all of those flaws that could make responsible decisions. 
For the first time in a long time, I felt the chemistry flowing between them, and that almost kiss was perfectly executed. They were caught up in the moment. 
Related: Enjoy UNLIMITED access to thousands of Movies and TV shows with Amazon Prime Video. WATCH ANYWHERE. CANCEL ANYTIME!
Caroline making her exit as Hope transitioned made me think she left because she could not stand the thought of watching Klaus perish. 
Where do you keep the hybrids?

Klaus
I did agree with Alaric that using Lizzie and Josie to siphon the Hollow's power out of Hope was risky. It was not exactly the most foolproof plan, and what plan ever pans out the way the characters expect it to on this show?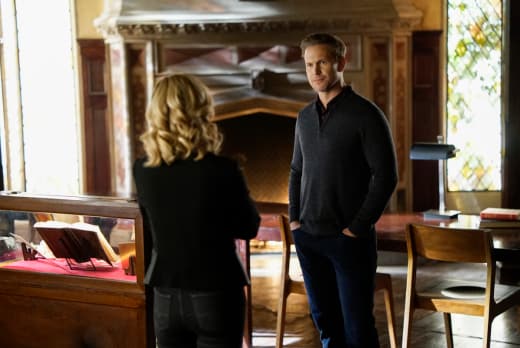 Alaric was on the ball when he pointed out that the ocean was not big enough for Klaus. There had to be something else to make the odds of him leaving this world better. 
Alaric and Klaus have a sketchy past, and there's no way they're ever going to be able to agree on anything. You could tell Alaric was disgusted just having to speak to Klaus as the spell was completed. 
Now, we have to wait to see how it all pans out on The Originals Season 5 Episode 13, but surely neither Klaus or Elijah will die at the top of the hour. 
It was an episode that was true to the characters, and I only wish the rest of the season was as robust as the last few episodes.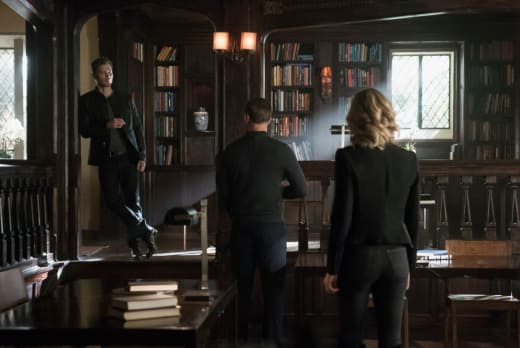 Other tidbits from the episode:
Landon and Hope look like a young Hayley and Jackson. How will Hope be able to keep that relationship flowing when the kid learns she's a tribrid? 
Elena SALVATORE has a medical practice in Mystic Falls. Surely we must be seeing Elena at some point ... even if it's from the back because Nina Dobrev refuses to return. 
I laughed out loud when Klaus showed up while Caroline was giving the tour of the school. "Where do you keep the hybrids?" has got to be one of the most comical lines of the series. 
Okay, The Originals Fanatics!
What are your thoughts on "A Tale of Two Wolves?" 
Did it make you want to watch Legacies, or are you saying goodbye to the franchise after The Originals ends? 
Hit the comments. 
The series finale of The Originals airs next Wednesday at 9/8c. Yes, I did just tear up a little writing that!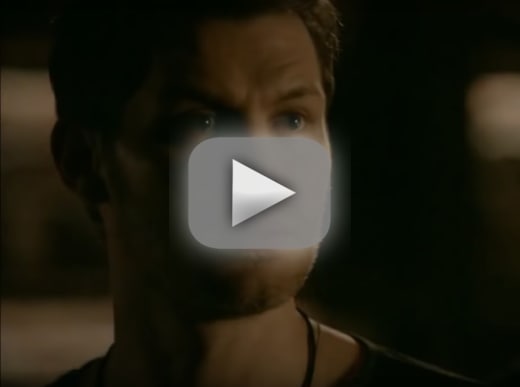 Paul Dailly is the Associate Editor for TV Fanatic. Follow him on Twitter.