NCIS: New Orleans Season 5 Episode 1 Review: See You Soon
Dale McGarrigle at . Updated at .
Whodda thunk it?
To the surprise of nobody, Dwayne Pride survived on NCIS: New Orleans Season 5 Episode 1, even if it was still being hinted at the end that it might not be for long.
No Pride, no show, so I'm not worried.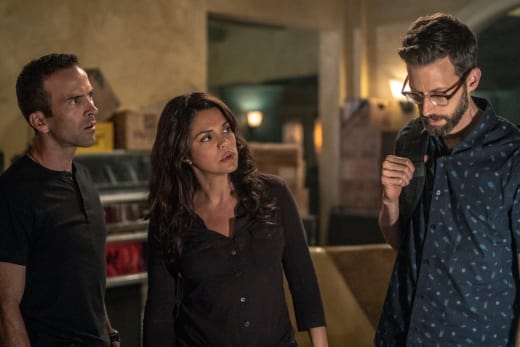 Even if, in the previews, they're already showing his temporary replacement, I am still not worried. More on her later, after I dig it up.
It was an interesting concept to show Pride debating crossing over to the other side with Sutter, the CIA agent killed on NCIS: New Orleans Season 5 Episode 11. 
Related: NCIS: New Orleans Season 4 Finale Review
Well, she's definitely a more attractive Angel of Death than, say, Carl Estes, so it's understandable that Pride's subconscious would go there.
So while she was seducing Pride to let go of all his burdens, everyone else was attempting to keep him alive, with his team working to prevent Parsons from finishing the job while the hospital staff battled his wounds.
It was good to have Parsons' motivations for shooting Pride explained. It didn't make sense that a mercenary would stick around after her employer, Eric Barlow, had killed himself on NCIS: New Orleans Season 4 Episode 24.
No, for Parsons, it was personal.
She blamed Pride for the death of her husband, John Stone, on NCIS: New Orleans Season 3 Episode 24. Heaven forbid she blame Stone for his poor life choices.
That's why she went after Pride. It doesn't explain how she came out of a coma and got out past I'm assuming armed guards so she could shoot Pride. Unlike TV writers, I don't get paid enough to fill in such plot holes. No wonder we were all surprised when the shooting happened.
Related: Watch NCIS: New Orleans Online: Season 4 Episode 23
It's no wonder this female Terminator was able to do so. After all, she got hit by a car, and LaSalle shot her in the gut, yet she still drove away from the scene of the crime in a borrowed car then removed the bullet herself at her hidey-hole and escaped by boat on the river.
But then she actually fell for LaSalle's ruse, kinda.
LaSalle's using Pride as bait was perfectly Pride, as everyone agreed. But how did Parsons know as soon as she heard that it was a trap?
I gathered it had something to do with the cell phone that was serendipitously planted in the ambulance LaSalle and Sebastian were driving to draw out Parsons. And the waitress crashed into the ambulance to save the guy that Parsons had kidnapped?
Now there must have been an APB out on Parsons at all hospitals as well. So how did she get wheeled into Pride's hospital unnoticed? Not the tightest of dragnets, I'll say.
It was not the greatest of episodes for Gregorio. She did give LaSalle a nice pep talk early, then second-guessed him throughout. Pride's last line of professional defense and she got conked on the head with an oxygen tank and was knocked out, giving Parsons a weapon and missing much of the crucial showdown. 
Related: 19 Scientific Sweethearts
It's a good thing Rita was willing to toss off a few rounds in Pride's defense before the cavalry arrived because Miss Loretta was a healer, not a fighter.
LaSalle did a decent job of channeling his emotions while in command. Since everything he learned came from Pride, maybe it's just as well someone else fills in while Pride is recuperating.
Besides, LaSalle is likely to be busy untangling the mess that is his family's oil company, although this episode was too jam-packed to mention that even in passing.
I was kind of hoping that Sydney would ultimately be replacing Percy. The team needs a hothead, besides Pride, and she could fill that role. Granted, there's been no time for that to have occurred since last season. But there's still a chance for that after Pride recovers.
It was enjoyable to see Executive Producer Leroy Jethro Gibbs make a couple of appearances, long enough to pass on crucial intel and dispense some wisdom on LaSalle. He even managed to tack on a followup for NCIS Season 16 Episode 1.
Related: Get CBS All Access via Amazon Channels for Hit Shows, Exclusive Originals & Live TV!
Spoiler alert: Now for a little look ahead. On NCIS: New Orleans Season 5 Episode 2, Necar Zadegan joins the cast as Special Agent Hannah Khoury, who will lead the team in Pride's absence, even though, in next week's preview, he still appeared to be hanging around headquarters.
Coming soon is Reggie Lee (Grimm) in the recurring role of Special Agent in Charge Steven Thompson, who will be the NCIS: New Orleans Season 5 person in authority with whom Pride clashes. Some things never change.
To review what Pride has endured, watch NCIS: New Orleans online.
Did you really think Pride would die? How did his team do in his latest absence? Are you looking forward to fresh blood? 
Comment below.
Dale McGarrigle is a staff writer for TV Fanatic. Follow him on Twitter.