American Horror Story Season 8 Episode 4 Review: Could It Be ... Satan?
Paul Dailly at .
There's something about American Horror Story Season 8 that makes me think the creative forces assembled, and asked, "What would the fans want?" 
American Horror Story Season 8 Episode 4 was an exposition-heavy installment that filled us in on what happened to Michael Langdon through the years he started to realize he had abilities. 
As many predicted, Outpost 3 was not only a school for boys, it was a school for warlocks, and not everyone inside was happy about the Supreme being Cordelia Foxx from Miss Robichaux's Academy.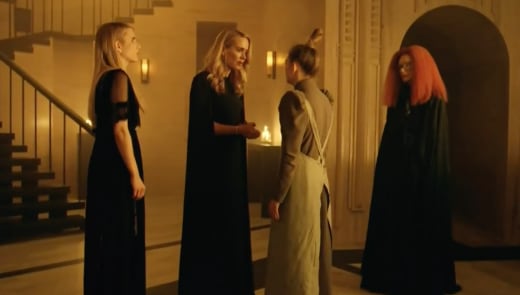 The men at the helm of the school were so desperate to overthrow the Supreme that they brought someone into the fold who could very well be the death of all mankind. 
It was undoubtedly a fantastic way to throw it all back to American Horror Story: Coven and expand on the complicated mythology of that season. 
I can't help but agree with the way Cordelia was so dismissive about performing the seven wonders test on Michael. 
Related: American Horror Story Season 8 Episode 3 Review: Forbidden Fruit
She's speaking from experience here, and prophecy or not, it was a bitter pill to swallow for her that there could be someone who could overthrow her and take over everything she loved. 
The moment her integrity was questioned, I expected her to unleash holy hell on the men, but instead, we got a tearjerker of a flashback. 
The crossover with American Horror Story: Hotel was unexpected, but it would have been silly not to give us an update on Queenie since she was so hastily killed off. 
Cordelia's power may be strong, but she's no match for Michael, and that's why she didn't manage to get Queenie out of the building. 
The acting from Sarah Paulson during the tense scenes of her trying to save her friend was phenomenal. Give this woman all the awards. 
Michael: How can any of you defeat me, when I've already won?
Cordelia: You haven't won.
Michael: Perhaps you haven't noticed the state of the world.
Myrtle: It's almost as bad as your dinner jacket, but at least the world can be saved.
I can't say I'm surprised that Michael was the one who managed to save Queenie. Without a doubt, they had to show us just how this man was different from all the other villains that came before him. 
Hell, he even saved Madison, and that's not something Cordelia talked about attempting to do. Madison is filled with witty one-liners, but beyond that, she's not trustworthy. 
That's why I need to know what happens between Cordelia fainting and her showing up at Outpost 3 with Myrtle and Madison in tow.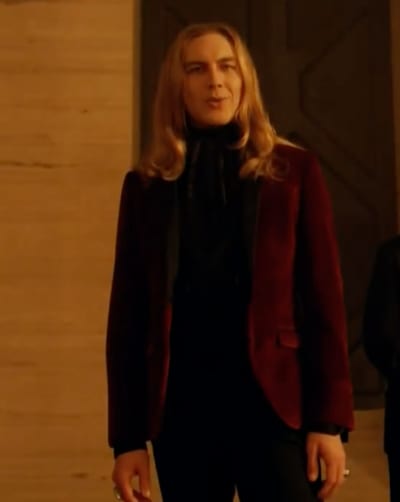 Madison was all over Michael in those flashbacks, and now she's repulsed by the very thought of him. Something must go down. 
The biggest surprise was that Madison walked over to check on Cordelia when she fainted. Did the washed-up actress get some time to reflect while in her own version of hell?
I wonder. 
Related: Enjoy UNLIMITED access to thousands of Movies and TV shows with Amazon Prime Video. WATCH ANYWHERE. CANCEL ANYTIME!
Was anyone else seriously fooled into thinking Miss. Mead was Constance? It was a scenario that was highly likely after American Horror Story Season 8 Episode 3, but we learned early on that she was just a stop on his road to becoming the man he is today. 
Coco: I cannot believe Brock shoved a knife through my head. That fucking bastard better hope he's dead.
Madison: Wow. She's by far the weakest among us and seems to be handling it the best.
Mead knew there was something Satanic about the child, and that's why she wanted to follow him on his road to becoming the man every single person in the world feared. 
We still need to find out what really happened to Constance, but we'll probably find out on American Horror Story Season 8 Episode 6, titled "Return to the Murder House."
Now that we know Coco, Mallory, and Dinah are witches and that their minds were wiped for their own protection, it remains to be seen what they can bring to the table as a trio. 
Mallory already wowed Cordelia and Zoe at the school with her abilities, but how did she find herself inside Outpost 3? 
My best guess is that it was a plan all along for Cordelia to prevent the end of the world. Either that or the Coven is jumping through time to try and repair all of the damage. 
Related: American Horror Story Promo: What Happened to Madison?
Madison was open about Coco being the weakest of the bunch, but if she was in Outpost 3, she must be needed for some sort of spell. 
Mallory: I don't know what's going on.
Madison: Bad news, bitch. You're back from the dead.
All of the scenes in the present were high-stakes, but we need to know what Michael's ultimate goal is. If he knows that much about the witches, then he should have expected them to push back on his plan for world domination.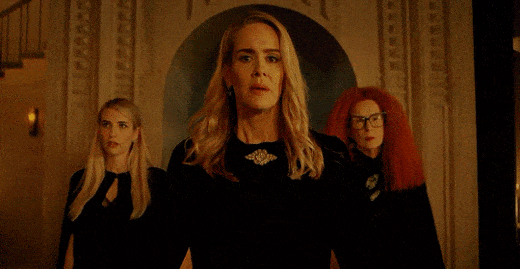 Cordelia is still under the assumption that she can take Michael down, so she must have some sort of incantation or way to harness the magic of all of the witches to wipe him out. 
"Could it Be ... Satan?" was the crossover event fans have been wanting for years, and with the Apocalypse well underway, there's no telling what's going to come next. 
You're a stone-cold bitch and you're exactly where you belong.

Queenie
What are your thoughts on the latest installment?
Hit the comments below. 
Remember you can watch American Horror Story online right here via TV Fanatic. 
American Horror Story continues Wednesday on FX.
Paul Dailly is the Associate Editor for TV Fanatic. Follow him on Twitter.