Madam Secretary Season 5 Episode 6 Review: Eyjafjallajökull

Jack Ori at . Updated at .
One of the things I love best about Madam Secretary is that it provides a global perspective on the news stories viewers hear about day in and day out.
Almost every dramatic television series in the late 2010s has addressed the Syrian refugee crisis, but often it's shown from a US-centric perspective, focusing exclusively on the question of whether the United States should accept more refugees or not.
Madam Secretary Season 5 Episode 6 addressed the United States' level of involvement as only one of many moving parts, as Elizabeth and her staff fought to get Turkey to reopen its borders to millions of refugees fleeing their homeland.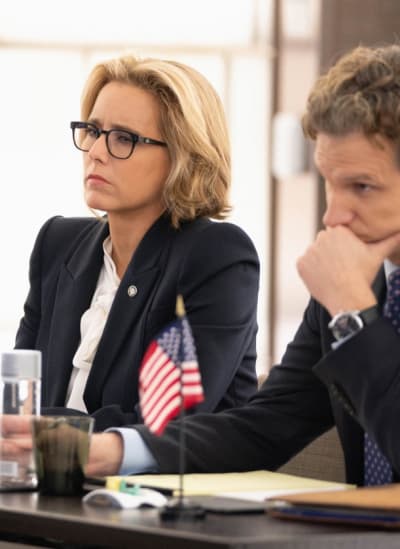 The crisis seemed to be perpetuated by lack of money, which, as Elizabeth pointed out, is at the heart of many problems.
I liked the opening sequence, in which several ambassadors' attitudes boiled down to a belief that the United States is the richest country and had a lot of nerve asking others to contribute instead of coughing up billions of dollars itself, especially when it does not accept as many refugees as many smaller countries.
And of course, the United States didn't have that in its budget either.
The way this was presented, without comment on whether the United States' policy was right or wrong, but instead was just one factor among many contributing to the crisis, was a refreshing change.
In both our politics and our television shows, America in 2018 is a deeply divided country, and it's rare that a show allows viewers to make up their own minds instead of forcing the writers' point of view down our throats.
Related: Get CBS All Access via Prime Video Channels for Hit Shows, Exclusive Originals & Live TV!
I wasn't sure whether I liked what went on in the airport where everyone was stranded, but it all came together in the end.
At first, the turf war between Elizabeth and her staff and the Turkish ambassador and his staff seemed silly.
I know they were all stuck overnight and in bad moods, but I was afraid the entire hour was going to be devoted to Elizabeth and the Turkish ambassador trying to outmaneuver each other for necessities, and it was getting on my nerves.
The United States does not yield to threats, but we do yield to corn beef.

Elizabeth
I should have known better, though. Madam Secretary rarely does anything without reason, and in retrospect, it was fascinating how the war over sandwiches turned out to be opening moves in a long night of diplomatic negotiations.
By the end of the night, Elizabeth and the Turkish ambassador had bonded over their mutual inability to sing, Jay had met a woman who fascinated him, and a chess tournament ended up holding the key to resolving the current crisis in Turkey.
It was nothing short of sheer brilliance.
Jay: I'm sorry, you're one of the best chess players in the world. It's ridiculous for you to even mess around with someone like me.
Chess Champion: I like messing around with you.
Jay's budding relationship with the Dutch chess champion was one of my favorite parts of the story. It quickly went from another argument over who owns a sandwich to flirting over chess, and if I didn't know better, I would have suspected Jay lost on purpose just because he liked the woman.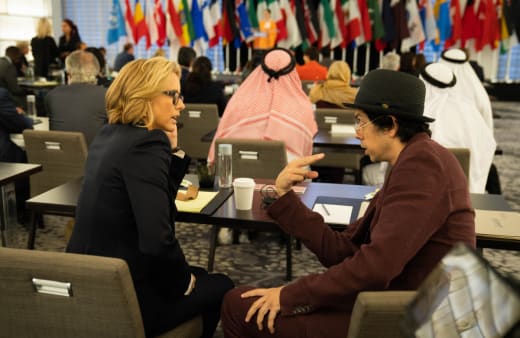 I enjoyed seeing him smile, and the storyline was a nice counterpoint to the seriousness of the Syrian refugee situation. 
Plus his anger that his new girlfriend had gotten cheated out of moving forward in the championship ended up being the key to resolving the entire crisis!
Related: Get PBS Masterpiece via Prime Video Channels for World-Class British Dramas & Award-Winning Series
I'd never have guessed that the fates of millions of people would have come down to stopping Russia from cheating in a world chess tournament.
I'm not surprised, really. One thing Madam Secretary excels at is showing the petty emotions that often govern political decisions, at home and abroad. Every ambassador Elizabeth deals with has his or her reasons for refusing to cooperate, and they aren't always about what they think is best for the world or even for their own country.
It was fitting for chess to be the game that led to the resolution of the problem in Turkey. Elizabeth's whole attempt to solve that problem seemed to be like a real-life chess game, as she had to keep thinking ahead and trying to trap the various ambassadors into giving her some of what she wanted.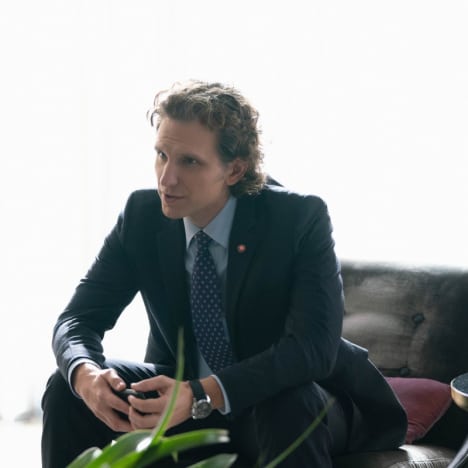 Elizabeth worked to interfere with the Turkish ambassador's attempt to get Turkey a seat on the UN Security Council, strategically seized all available electric outlets, so he was forced to give her staff sandwiches, bonded with him over an inability to sing, and tried several times to convince him to open his borders.
And that was before she got home!
She questioned whether she would have been able to get Turkey to reopen its borders if fate hadn't grounded all the planes, but I tend to agree with Henry that she would have found a way to get it done one way or the other.
Given how hard she was working and how willing she was to use anything she could to her political advantage, I have no doubt she'd have found a solution sooner or later.
Russia beat us to putting a man on the moon, and now the only thing they're first in is cheating.

Henry
Incidentally, I loved Henry's impassioned speech about how Russia has fallen from grace to become a country that now wins by cheating. All the talk about Russian collusion in the 2016 US election and the dubious nature of Donald Trump's relationship with Vladamir Putin focuses on problems on the world stage.
Henry talked about those problems but also talked about some of the positives in Russia's history -- something that is not often mentioned. I thought it was an interesting, more balanced perspective.
It's also why Henry is my favorite character. He's equally knowledgeable and passionate, and while it doesn't always serve him or Elizabeth well, this time it worked to his advantage.
Related: Explore Hundreds of Hours of Curated Historical Videos with History Vault via Prime Video Channels!
If there was one thing I didn't like, it was the home front drama.
Alison's lament that monogamy was too stressful and her insistence that Henry was more or less a dinosaur because he didn't think you could know what your partner wants out of a relationship without communicating didn't make for interesting drama.
She's becoming more and more a walking stereotype of the far-left millennial kid who rejects everything in the name of dismantling hierarchies and achieving greater equality.
Neo-Victorian? Labels of the patriarchy? I 'm Neo-offended.

Elizabeth
She might not believe in monogamy, but I'm confused as to how she found Henry's romantic story of being so determined to be with Elizabeth that he drove 11 hours to see her for one to be "stressful." 
Maybe I'm just getting too old to relate to this kind of nonsense, but she seemed overly immature. Without Stevie or even Jason to balance her out, her views and the way she expressed them were grating.
I loved Henry's speech, though, especially his reflection on how he and Elizabeth had reversed roles now that he was the one stuck at home while she traveled far away to sometimes dangerous places.
I was surprised there wasn't a more prominent acknowledgment of veterans since this episode happened to air on Veteran's Day, but I did think that Henry's remarks about maintaining a relationship while separated due to deployment were poignant and an aspect of military service that is not always discussed.
What did you think, Madam Secretary fanatics?
Were you satisfied with watching Elizabeth and her staff try to resolve a crisis while stuck in an airport, or would you have preferred a more typical story?
Did the way the crisis got resolved ring true to you?
Am I the only one who found Alison's rants hard to take?
Weigh in below, and don't forget you can watch Madam Secretary online if you missed anything.
Jack Ori is a senior staff writer for TV Fanatic. His debut young adult novel, Reinventing Hannah, is available on Amazon. Follow him on Twitter.