The Last Ship's Adam Baldwin Q & A: The Series Finale, His Steadfast Character & More
Dale McGarrigle at .
The Nathan James will soon complete its final mission.
The Last Ship, which features the destroyer Nathan James and its crew, concludes its five-season run Sunday night.
It's safe to assume the TNT war drama won't go quietly into that good night.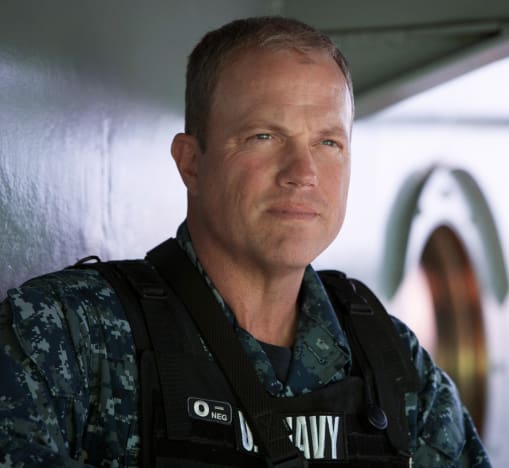 To get an updated briefing on the war against Tavo's Gran Colombian forces, TV Fanatic talked with Adam Baldwin, who plays steadfast Navy officer Mike Slattery.
Slattery has played several roles during the run of The Last Ship. He started as Tom Chandler's executive officer, then became commanding officer of the Nathan James and has since been promoted to admiral. Whatever needs to be done, Slattery is there to pitch in.
Among Baldwin's memorable roles before Slattery were Casey on Chuck and Jayne on the criminally short-lived Firefly.
Baldwin spoke not only about the season finale but also about his dedicated character and the impact of The Last Ship.
How long did it take you to capture the essence of Mike Slattery?
[Laughs] Two minutes. [Laughs some more] I didn't serve in the Navy or the military. My father was in the Naval Air Corps toward the tail end of World War II.
Related: The Last Ship Season 5 Episode 9 Review: Courage
He sort of grew me up on what he'd like to call "shoot-em-up" movies. We'd see "The Guns of Navarone" and "The Sands of Iwo Jima" and "Sand Pebbles" and he would take my brothers and me to movies like that. So I kind of got it into my blood at a young age.
When I grew up, we had camp, with riflery, archery, canoeing, sailing, and baseball. It got into my blood early. So what better fit for me than Mike Slattery?
Mike has lost so much and yet he keeps striving. What drives him?
The motto of the Navy: honor, courage, and commitment. He's made a commitment to the men and women of the Nathan James and the country, and he is going to survive and serve as best he can.
At this point in Season 5, he's come to the acceptance that his family has been lost. He's given up the ghost on that.
So who does he have left except his crew? So that's what drives him – these young men and women who are serving aboard and serving the country – and he tries to keep them safe.
He screws up a couple of times because nobody's perfect. But you wouldn't have a TV show if there weren't screw-ups, right?
What is it about Mike that enables him to take on whatever role is needed in a given situation?
Training. You go back to training. He's been in the service for a long time. He has some police training as well. You rely on the fundamentals. Just go back to basics.
Also the friendship he's had with Tom Chandler. They have sort of a friendship equals mentorship relationship that they're able to bounce ideas off of each other, and he doesn't want to let Tom down.
What did you enjoy the most about the final season?
Closing the loop on all the characters. I love the way that Chandler's growth inspires Slattery and all the other characters along the way. The device they use of his flashback into closing the loop on those characters and how each and every one of those folks have contributed to the survival of the country and the ship and the world.
Related: Watch The Last Ship Online: Season 5 Episode 9
It was a masterful bit of writing, the complexity, the different pieces of the puzzle that Steve Kane and the writers had to keep going. It's way above my pay grade. I was happy to be riding along.
What can viewers expect in the finale?
Explosions. They can expect emotional appeals. They can expect some sadness, some heroism. They can expect devastation and redemption. You'll see massive conflict between good and evil.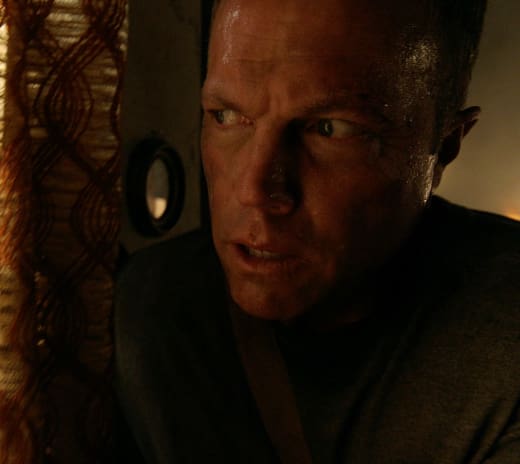 What did you take away from your Last Ship experience?
It's been one of the most profound experiences of my life. I've ridden aboard Navy ships. I've been able to observe up close sailors and Marines operating these gigantic platforms of war, with age ranges averaging between 19 and 23 years old in charge of these massive floating cities.
It's been very humbling for me to appreciate how little I know, how ignorant I am of what it takes to sacrifice your families, your friendships, your private lives, the peace and prosperity you could otherwise have in the private sector. That's why I still forever be grateful for the men and women of the armed services.
The Last Ship's Bridget Regan Q & A
You've landed some great TV roles through the years, including Mike, Casey on Chuck and Jayne on Firefly. What's your secret for finding such plum roles?
[Laughs] Whenever I come home, I just tell my wife "I tricked them again." I don't know. I feel blessed to have been given the opportunity to play fun characters. There have been some in past years that have not been as flamboyant or have the depth of character of those.
I've been doing this since 1979. The key is to just stay patient and to keep your expenses low. It's not about what you make, it's about what you spend. You stick around long enough in this business, and you work hard enough at it, the good roles are going to come along.
Which of your many roles is closest to the real you, and why?
It's just a conglomeration of all of them. The Jayne character, he's like the Eli Wallach-Warren Oates characters from old Westerns I tried to portray. Casey was like my brother, in some aspects, and my father. Slattery has a lot of my father in him. I just try to emulate the good aspects and the imperfect aspects as much as possible.
What's next for you?
I worked on three projects this year. We closed up "Ermey's Gunny Time." He passed away suddenly. There were four of us who got together to do a "celebrity edition" of "Gunny Time": Robert Patrick, myself, Clifton Collins Jr. and Randy Couture. It's basically you go out to the desert and shoot guns and blow shit up.
Related: Enjoy unlimited access to thousands of movies and TV shows with Amazon Prime Video. Watch anywhere. Cancel anytime! 
I did a Western with Vincent D'Onofrio, who I knew from "Full Metal Jacket." He directed a Western called "The Kid." I'm not sure when that's coming out, maybe next year sometime.
Then I did a show for The Inspiration Network called "The Legend of Five Mile Cave," which is a good, solid family Western. It's a beautiful little story.
We're coming into the holidays, my wife and I are celebrating our 30th anniversary, so we're going to go to Hawaii, man.
What would be your dream project?
That's a tough one. Serenity 2?
That would be a lot of viewers' dream project.
The beautiful thing about The Last Ship is that we've had five seasons and we're closing the arc and the story is complete. Same thing with Chuck. We knew it was coming, we knew it was the end. Firefly never got that. They got a movie, but that still was open-ended as well.
The Last Ship concludes at 9/8c Sunday, Nov. 11, on TNT.
Dale McGarrigle is a staff writer for TV Fanatic. Follow him on Twitter.