Legacies Round Table: Was Jo's Return Worth the Wait?
Paul Dailly at .
Oh, mother. 
Legacies Season 1 Episode 6 brought Jo Laughlin back to the land of the living for a short time, and it gave our panelists a lot to discuss. 
Below, TV Fanatics Celester Mejia, Justin Carreiro, and Paul Dailly discuss whether the big return, Alaric's new mission, and so much more.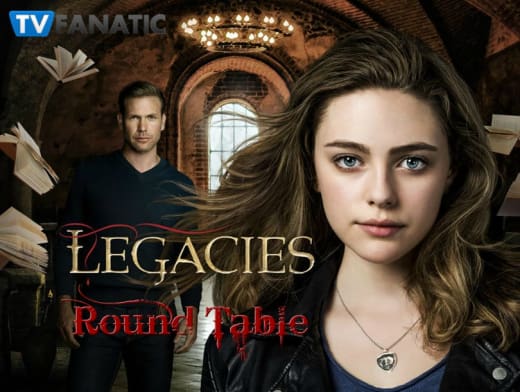 Was Jo's return a gift, or did it open up old wounds for Alaric, Lizzie, and Josie?
Celester: Both. Jo is a beloved character from The Vampire Diaries who never got the chance to meet her daughters, so it was both a blessing and a curse for her. Curse, because she had to come back as a zombie instead of being able to relish being with her family.
The Saltzman family are all mourning again, but they're luckier than most to be able to spend a day or two having the real and whole biological family together. 
Justin: It's a little of both. Her returning finally gave her daughters the chance to have some type of memory with their mother. They got to hear her voice, see her being, and experience a moment of happiness.
Though, it was definitely a curse. They thought they had their mother back, but it all turned out to be a lie. 
Related: Legacies Season 1 Episode 5: Malivore
Paul: Yeah, it was both. The twins heard so much about their biological mother, so it was great that they got to meet her. It was only natural for them to have a flurry of emotions in the aftermath. 
Down the line, I'm sure they will all look back on it and think about how it was a gift. 
Alaric has a new drive to find and kill the creature now. Are you on board with him?
Celester: Definitely! Whoever tries to play with the matters of heart is more than evil and it would be fun to see the Alaric we came to knew before he was Headmaster/Dr. Saltzman—a supernatural hunter.
Justin: Oh yeah. The creature struck first and went low with this trouble. Alaric is going to bring the pain.
Paul: Yeah! He's been so dead set on keeping the school safe that he never thought Malivore would start using psychology to get through to him. 
Alaric is the last person you want coming after you when he's pissed.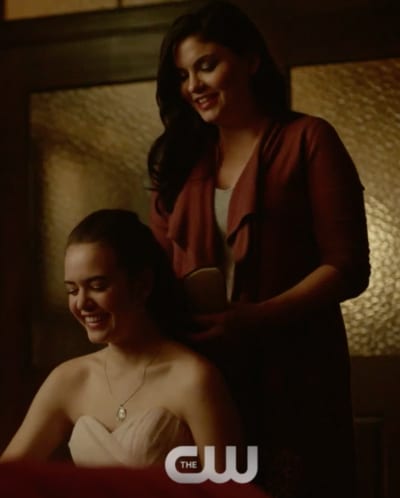 Rafael finally told Lizzie that he was just not that into her. What are your thoughts on this?
Celester: Better have the worst timing than give out false hope. I love how he handled it with care. That said, Lizzie is so fragile, handling her with care is not gonna be an easy task. So, kudos, Raf!
Justin: I'm not surprised. I never figured them to be a long-standing ship, so I didn't put much stock into them. However, we'll need to see how Josie reacts going forward. She could be mad if he moves on fast.
Paul: I loved this! At points, The Vampire Diaries and The Originals followed relationship drama a little bit more than they should have. 
The powers that be have learned from that, and didn't want to give this 'ship false hope.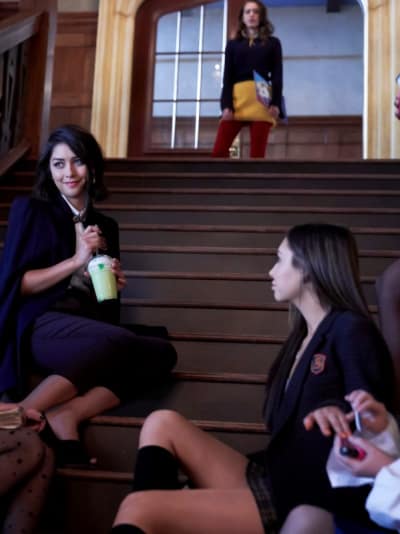 Is Penelope right that Josie needs to start doing things for herself?
Celester: Yes. She needs to be more self-centered rather than think about everybody else. I love the Penelope character. She's a total foil to Josie's character. 
Justin: Definitely! Josie can't let people push her around or succumb to their needs. If she starts focusing on herself, great things will start happening for her.
Related: CW Confirms Midseason Schedule
Paul: It's a full house! Penelope is one of the best characters, so everything she says has to be correct, right? Josie puts on a brave face, but really she's being overshadowed by her sister, and she's enabling it.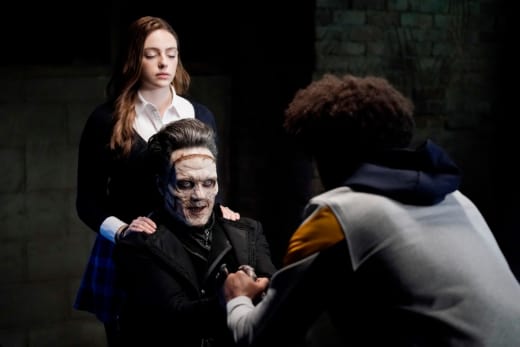 The necromancer is in Mystic Falls. What do you want to happen?
Celester: For him to die? Seriously, he needs to die—unless he can bring back familiar faces from the two predecessors of Legacies, then a necromancer is no good!
Justin: I want him to bring back some fallen friends or foes. Mystic Falls is a plethora of victims, so literally, anyone could return. I'm crossing my fingers for some random blast from the pasts.
Paul: Yeah, I want some more old faces to pop back up!
What are your hopes for the midseason finale? 
Celester: For us to get a glimpse of how these gifted children get to use their powers and abilities outside their school. And for Caroline Forbes to finally show up!
Justin: A shocking cliffhanger? Give me something I haven't seen before. The Vampire Diaries and The Originals dropped our jaws to the floor with some past shocking moments. I want to see what Legacies can bring to the table.
Paul: I would love if it helped Hope finally come to terms with the loss of both of her parents. Based on the previews, it looks like that is going to happen. 
If the necromancer pushes Hope to the brink, then the youngster will likely find herself with power she didn't even know she had. 
What are your thoughts on all of this? 
Hit the comments below. 
Remember you can watch Legacies online right here via TV Fanatic. 
Legacies continues Thursdays on The CW. 
Paul Dailly is the Associate Editor for TV Fanatic. Follow him on Twitter.