Crazy Ex-Girlfriend Season 4 Episode 13 Review: I Have To Get Out

Yana Grebenyuk at .
It all comes back to happiness, no matter who is involved. 
Rebecca once again learns that everything will fall into place once she chooses her own happiness first, whether it is romantic or professional.
But Josh also learned that lesson when he reassessed his relationships, to some quite surprising results. 
During Crazy Ex-Girlfriend Season 4 Episode 13, Rebecca was trying to figure out what her dream might be for the future. But this also included embracing her treatment and facing what will happen with her and Greg.
They choose to stay friends, which makes Josh and Nathaniel happy when they find out the news. Josh realizes that he still likes Rebecca, around the same time that he comes to terms with the fact that he and Greg aren't the same kind of friends as they used to be.
Meanwhile, Paula gets to take the bar exam, and Darryl gets to meet someone he likes in the hospital waiting room.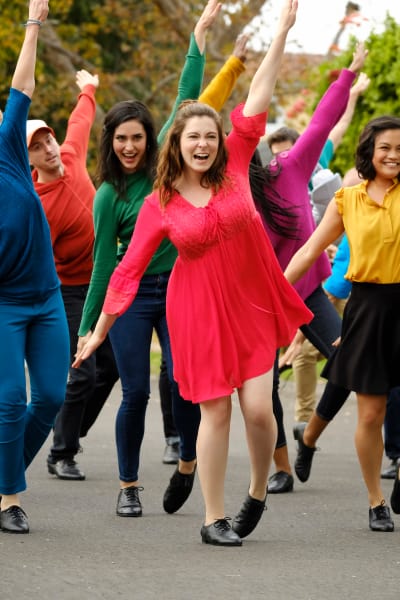 "I Have To Get Out," written by Rene Gube, explores different characters figuring out not only where they stand with each other but also with themselves. There were revelations happening left and right, even if they weren't that surprising to us.
Rebecca's happiness and the various romantic mixups were a long time coming, even if not all of them are the best idea. 
At some point, the back and forth romantic feelings around Rebecca are getting to be too much. No one seems to know what they want, and there is always this moment where someone starts to feel things even if it doesn't make sense for them to explore them. 
Related: Crazy Ex-Girlfriend Season 4 Episode 12 Review
Rebecca and her Future 
The true love story of the show is the happiness that Rebecca will find with herself. She is working on her health, and with the messiness that comes with romance, it only makes sense for her professional life to be the next choice to reexamine and improve. 
She never wanted to be a lawyer, and for a second we all thought that pretzels made the most sense for her. 
She poured so much love into the food and the attention that it takes to reflect her emotions in them. 
Maybe she could keep both this pretzel place and go out there and do theater as well. 
It isn't clear yet what she would do; maybe she could do theater in town or teach it or something else that hasn't been identified. But the way that she is thinking about it and exploring is progress that is always necessary for Rebecca.
Especially with the way that her romance with Greg fizzled out.
Josh: He had sex with a bush.
Greg: In my defense, it looked like a lady.
There is still a chance; those two liked and still like each other too much not to give it another shot when they are both in a good enough place. But Rebecca needs to figure herself out in a way that Greg already had time to do. 
It felt like maybe they could do it while they still dated, but Rebecca must have known all along that she didn't want to talk to him because talking would become a break-up.
And there isn't exactly a time stamp on them getting together, but there kind of is.
I love being the chosen custodian of your dream.

AJ
If Greg isn't careful, he will turn around for a second and Rebecca will be ready to date and someone else will swoop right in.
There are already two other guys waiting in the wing for Greg to break his leg, and now they just need to be tagged onto the stage as her male counterpart. 
Both of them were too happy with the news for them not to try to make a move again in the near future. 
Related: Crazy Ex-Girlfriend Season 4 Episode 11 Review
Nathaniel and Josh and Greg, Oh My! 
It has to be said, are love triangles being explored too much right about now?
At first, it made sense for Rebecca to look at the people in her life and try to figure out who she likes. Josh was out of the running, and it was an entire arc for her to figure out how to separate herself from her perception of her future with him. 
Then Nathaniel didn't understand what she needed to do for herself; they were at different points in their lives.
Then Greg appeared and he was everything that could have been, except now it was the right time and the right space for them both.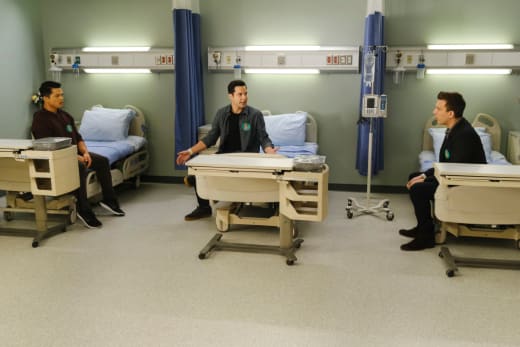 But then that became Rebecca liking all three, and then she chose Greg but was also still interested in the options she left behind. Then Josh randomly decided that he liked Rebecca because she kissed him and Nathaniel was holding on this whole time.
It just feels like too much time is now spent circling this square where everyone wants Rebecca, and she has feelings for them all too. 
Josh was the issue though because so much of this decision of his has to come from the fact that he has nothing going on, that we know of.
Paula: Good morning, Dr. Roth.
Dr. Roth: It is before noon.
There are references made to therapy which is great, but outside of that he isn't doing much, and so he is around just at the right time to be roped back in.
Rebecca's biggest issue was Nathaniel and Greg and not knowing what to do there, so making that choice with Greg should have been it.
And what happened to Nathaniel realizing that he needs to move on? No one budged in any direction beyond what they already were.
Greg: I think he is going to figure it out.
Nathaniel: Hold on, anything could be happening up there.
The worry becomes how will this all finally end. Unless they all get together, they need to have two of the three guys walk away which they aren't planning to do.
It is in the scenario where Rebecca chooses one of them when she could choose herself instead. 
If Rebecca focuses solely on herself, then all these guys will have to deal with the fact that they are waiting for her even though they might not get what they think they will.
It is a confusing situation that this season is possibly suffering from if not executed well because right now it appears as if almost every episode ends on a tone of someone realizing they like the other person or someone waiting around for another relationship.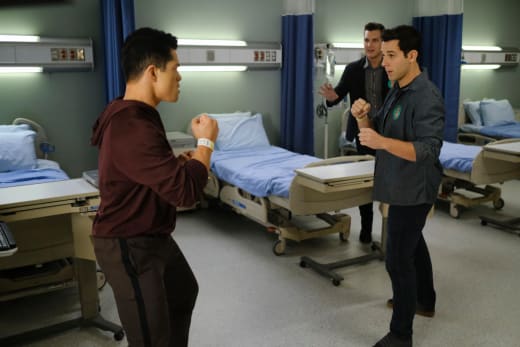 It always goes back to that, and it might be getting old before it gets better.
The best part of this quarantine was the fact that Nathaniel, Josh, and Greg might end up in some perfectly dysfunctional friendship that had to happen. 
It was all that truly mattered while they all keep moving on while just hanging out in the same place that they were before. There are no steps forward, only steps back. 
What did you think of the episode? Are you upset that Greg and Rebecca can't make it work? Are you excited that now Nathaniel (and Josh?) might have their chance? Or are you over the back and forth with the relationships and love triangles?
Paula has to pass the bar exam, right?
What do you think Rebecca's dream will become? And were you rooting for Darryl and April? Let us know what you think below!
Don't forget that you can watch Crazy Ex-Girlfriend online, right here on TV Fanatic!
Yana Grebenyuk is a staff writer for TV Fanatic. Follow her on Twitter.