A Million Little Things Season 1 Episode 17 Review: Goodbye

Jasmine Blu at .
And with that, we say goodbye to the hottest new primetime soap opera of the season. 
A Million Little Things Season 1 Episode 17 promised us answers, and it delivered them, but were they the type of answers that we wanted? It's hard to say. 
We finally know the truth about Barbara Morgan's identity and her connection to Jon, and it was tragic.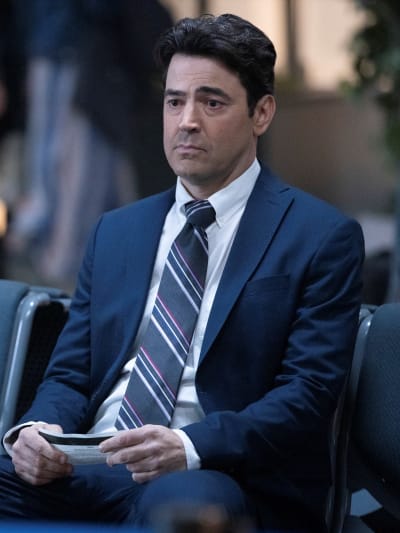 There were a few 9/11 theories out there, and if you were one of those people who came up with the connection, congratulations! 
So, Barbara Morgan was the spouse of Jon's best friend and old roommate Dave. The apartment that Jon kept all of those years was his apartment from college which he shared with Dave. 
After the loss of his friend in such a horrific and traumatizing way, he couldn't get rid of that apartment. It almost served as a shrine to Dave. It was where Dave still lived in spirit and where the happy memories lingered. For nearly 20 years, he kept that apartment in memory of his friend. 
That day at the airport when you told me to find something to live for, I did. Delilah was the love of my life, for 17 years she gave me more than she ever could know. I just couldn't tell her.

Jon
Jon's depression had layers. It wasn't just depression, but he suffered from Survivors Guilt. 
He was supposed to be on that plane with Dave. He was supposed to die on 9/11, too. It was a bottle of wine and, we'll say luck, that he got to the plane a minute too late and Sophie prevented him from boarding. 
Sophie saved his life without knowing it, and he honored her by naming his daughter after her. It was moving when the camera zoomed in on her name, and without having to spell it out for us, it was evident what happened. 
Jon's world came crashing down around him that day, and he never recovered from it. It's awful that he carried that guilt and pain with him for so many years. He blamed himself for something that was out of his control. 
Related: A Million Little Things Season 1 Episode 16 Review: Rosary
It's awful that he was so deep into blaming himself that he didn't realize just how much meaning his life had in the aftermath and the extent of the people whom he touched in the years to come. That had to count for something, right? 
On top of losing his friend, he lost Barbara too. It didn't seem as though they were as close as one would think based on how they interacted, but the context was limited. 
So that's why in the letter he said he was broken long before he met me.

Delilah
Jon was stuck on Dave's death nearly a year later, but he couldn't understand how Barbara was able to move on so quickly. She was pregnant with Dave's child, and she met, fell in love with, and got engaged to Mitch, a first responder during the attacks. 
It's not fair, and it's judgmental, but I understood why Jon was so upset. To him, she moved on too fast, and she, I guess, couldn't handle raising a baby on her own and needed the help. The parallels between Barbara and Delilah were striking as Delilah has been the same in the aftermath of Jon's death. 
In fact, this is the first time in the entire season that her grief for Jon felt real and raw. She mourned him especially since she had a better understanding of him. It's odd that it took all of this to get her to that point.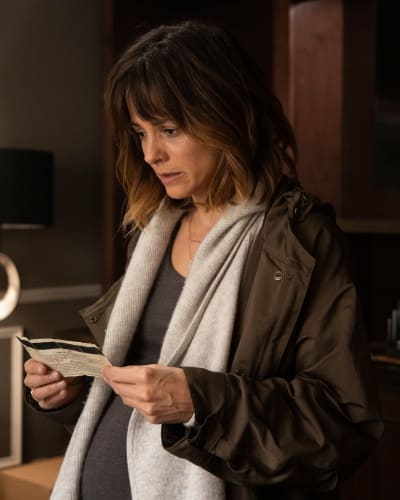 Honestly, I doubt this is the intended effect, but the more flashbacks and background information on Jon, the more difficult it is to enjoy Delilah in general. 
That day, he met Delilah. She even wrote her number on his plane ticket. She was his saving grace during the darkest time in his life. For the next 17 years, she and their family kept him above water. 
Related: Grey's Anatomy Season 15 Episode 15 Review: A Historic Milestone
It couldn't last, but it lasted long enough to matter. Every time we learn something new about Jon, the affair is like a sledgehammer to the feels. He was in so much pain already, and no one saw it. 
It's unfortunate that he kept so much from everyone, including Delilah. What did they talk about together? What was their relationship like during happier times? How did they sustain it so long? 
Jon had an entire life before Delilah and their friends that they weren't privy to at all. Did he not have family or other friends? We found out all of these connections, and we learned so much about him, but he's still an enigmatic character. 
Also, is it weird, that I miss the guy even though we only see him via flashbacks and didn't know him like the others? 
Delilah got her answers, but it still doesn't make sense why Barbara was stalking Delilah, and why she and an irritating Mitch were so adamant about keeping these secrets. What are they trying to protect him from if Dave's his father? 
Unless Dave isn't his father and Jon is his father. Barbara and Mitch keeping things from PJ have already made matters worse. PJ saw the video of Jon, and he probably suspects that Jon is his father. 
Because of course, PJ is also the same teen that Rome met at the hospital and who Rome referred to Maggie. It's such a tangled web of connections on this series. 
There must be so much more to this Barbara, Jon, and Dave story, and it doesn't feel complete. It's surprising that Delilah didn't push for more information or the full tape Jon sent Barbara. What if he said more than we saw?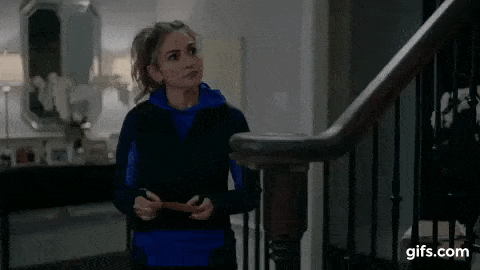 It did lead to Delilah having a better understanding and appreciation of Jon that we haven't seen before, and she seemed more remorseful than ever. The shots of her looking at some of his belongings -- the jersey and getting emotional was a refreshing change of pace, especially when she was giving his stuff away moments before that.
Speaking of that moment, maybe it will only bug me, but how did Maggie get a special Jon memento despite not knowing him, but no one thought to give Katherine shit?
If Katherine and Jon were close, and she said he always made her feel included, why wouldn't they include her in the process when giving away his stuff? It's what he would've wanted.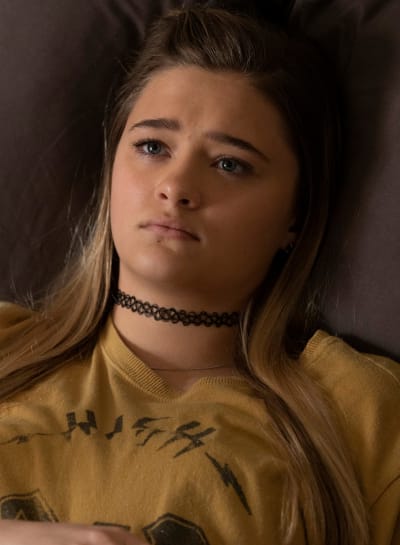 Nevertheless, you could tell this secret is eating Delilah up when she went into labor, and Sophie kept speaking about the baby and Jon. 
When the truth comes out, it's going to be a mess. Now that Eddie is presumably doing the honorable thing and spilling the beans to Katherine, it's only a matter of time. 
Related: Whiskey Cavalier Series Premiere Review: Do Not Empathize!
Katherine and Eddie can never make it work even when they try. The chemistry between the two is much preferable to Eddie and Delilah, and Eddie has been more consistent with liking Katherine instead of bouncing back and forth. 
Do you think they can make things work once he tells her about the baby? My guess is that Katherine will be hurt all over again. It took a lot out of her to come around to the affair with her friend, but a baby is permanent and affects all of them. 
I respected Katherine for putting herself out there and putting feelers out. I suspected she didn't file the paperwork after their near-kiss. I also respect Eddie for knowing he had to tell Katherine the truth if they stood a chance of starting over on solid ground. 
Katherine: What's going on? What is it?
Eddie: I want to come home. There's nothing I want more, but I promised you no more lies, so there is something I need to tell you.
His talk with Gary put that into perspective. I'm starting to wonder if Delilah lied about not sleeping with Jon, though. 
She emphasized that the baby was four weeks early. It could have been all the stress, but what if the baby isn't Eddies as suspected, and he blew up his second chance at getting his family back on a child that isn't his? 
It's a twist one would expect from this series. 
Another twist was that Maggie was OK. Her tests are clear, and she's doing well. She and Gary are happy and living together. It seemed too good to be true. 
Gary crying happily and Maggie laughing after they heard the news was a cute scene, and the two of them are an adorable couple. 
The best Gary scene was when he said goodbye to Jon at the cemetery. Thankfully, Maggie spoke to him about his following in Jon's footsteps to his detriment. It was a conversation that was long overdue. 
Even after all this, you're still my best friend. Jon, you used to say that everything happens for a reason which I thought was ridiculous. But I found that reason. You would have loved her. Maybe she's right. Maybe I tried to save her like I couldn't save you. I wish I could have saved you. I'm sorry I didn't. I just want to say the one thing I never got to say. Goodbye.

Gary
The parallels between Gary and Jon never end. Jon blamed himself for Dave's death, and his guilt drove him to give his all to his other friends, and Gary blamed himself for not seeing the signs with Jon, and it has driven him to be the rock for everyone. 
Gary had to forgive himself and move on fo his health. James Roday has killed it this entire season, and his performances have been out of this world. The goodbye scene at the cemetery is one more on top of many others. 
It took the finale, but the child issue came out into the open with Gina and Rome. It was evident Rome changed his mind about kids a while ago, and Shelly was urging him to talk about it a few times. 
His face, when Sophie hugged him, spoke volumes, and his response to PJ did too. He likes kids, and he wants them in his life. Unfortunately, Gina does not. 
It was refreshing to have a couple who didn't want children on television. You don't see that often, especially not on a family drama. However, now we have another case of a couple who have differing opinions about kids, and I don't know how this is supposed to play out. 
I really want to raise a person with you.

Rome
Someone will be disappointed and deprived of their needs or forced to compromise something they shouldn't. It always works out that way. 
Gina is adamant about not wanting kids, and Rome has a sudden change of mind and somehow thinks that Regina should be open to changing hers too. That's not exactly fair. 
He also seems to give off the impression that children are emotional band-aids that will fix things, and that is not how it works.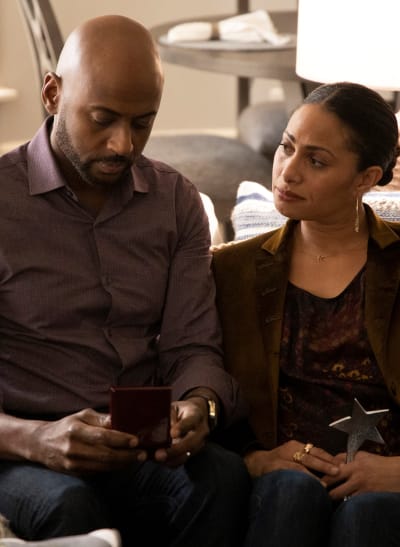 I understand Gina's concerns with his depression, as well. Overall, I think Rome should consider mentoring or something to get a feel for it or get it out of his system because I don't think Regina is caving on this. 
-Related: Get CBS All Access via Prime Video Channels for Hit Shows, Exclusive Originals & Live TV! -
Gina did make a point about a new baby on the way. Delilah has a new baby, and we all know she requires a village. Rome can get his feet wet with that baby, and Theo, and Danny, and Sophie too to get a feel for kids of all ages.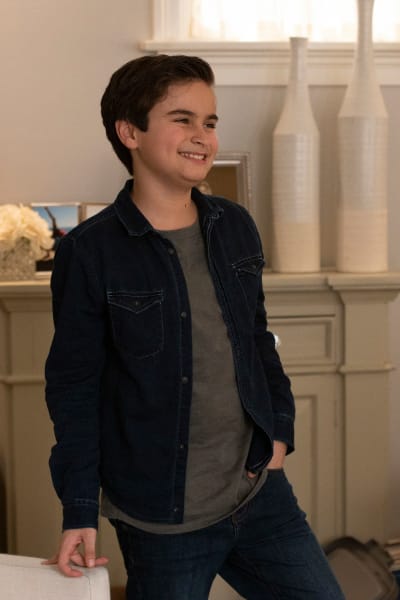 If he still feels the same way after that, then he and Regina have some talking to do. 
Overall, it was a very understated finale. Do you think there is more to Barbara Morgan and PJ's connection to Jon? Will Katherine and Eddie still be able to work things out after he tells her about the baby? Is the baby Eddie's?
Hit the comments below with your thoughts, and if you want to experience the season all over again, you can watch A Million Little Things online here via TV Fanatic! 
Jasmine Blu is a senior staff writer for TV Fanatic. She is an insomniac who spends late nights and early mornings binge-watching way too many shows and binge-drinking way too much tea. Her eclectic taste makes her an unpredictable viewer with an appreciation for complex characters, diverse representation, dynamic duos, compelling stories, and guilty pleasures. You'll definitely find her obsessively live-tweeting, waxing poetic, and chatting up fellow Fanatics and readers. Follow her on Twitter.