Blue Bloods Season 9 Episode 16 Review: Past Tense

Jack Ori at . Updated at .
Raise your hand if you DIDN'T peg Margo as a killer or, at least, as a suspect before Danny did.
Blue Bloods Season 9 Episode 16 started with her hiding in a closet and claiming to have been terrified of a killer. I thought she should have been ruled out before the cops went on a wild goose chase for other suspects.
It turned out I was right, but that's okay. Danny and Maria were fun to watch, and there were plenty of other stories to hold my interest.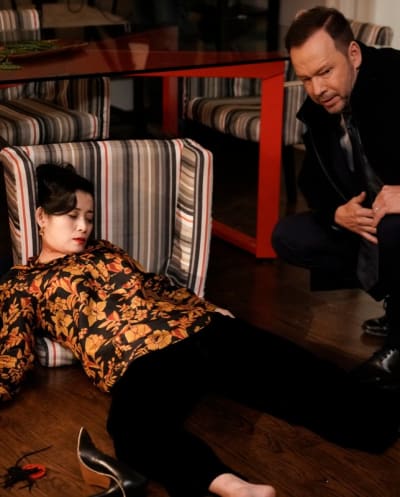 Danny is normally the most cynical Reagan, if not the most cynical detective in all of New York City. So what made him overlook such an obvious suspect?
I guess he felt a kinship with Margo because she acted like a daughter drowning in shock and grief. Maybe that reminded him of how he felt about Linda's death.
Or maybe she reminded him of Sean because she wasn't much older.
Either way, I knew Danny was crossing a line when he asked Margo if she'd eaten and promised to take her to lunch.
Related: Blue Bloods Season 9 Episode 15 Review
There was no way this could end well. All things considered, Danny was pretty subdued when he confronted Margo -- at least by Danny Reagan standards!
Fortuna Gebrselassie did a terrific job selling Margo as the innocent victim when she was anything but, but the only possible twist in this story was her being guilty.
Margo: So what happens now? He killed my mom so you can go arrest him now, right?
Baez: Unfortunately we don't have enough for what we call probable cause.
Danny: But we're getting closer, thanks to you.
The scariest thing about it was how easily she got her neighbors whipped up into a frenzy and ready to kill Conrad!
The cops fell for it too, or at least Danny did. It took quite a bit of convincing for him to agree with Maria that there was any chance Conrad was innocent.
I have to wonder what happened to poor Conrad after he was released. Did the neighbors believe he was innocent or were they waiting with torches and pitchforks?
I guess they didn't do anything since the cops showed up at Margo's apartment to arrest her without dealing with a mob, but it was a real possibility!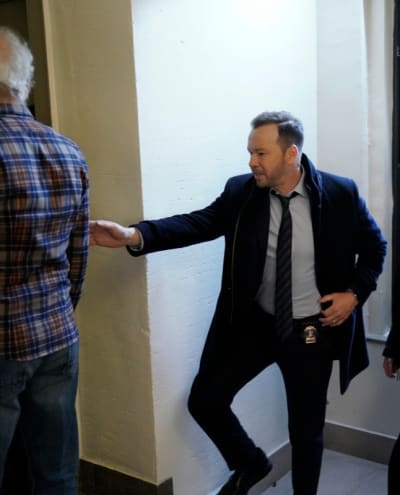 Jamie and Eddie's issues with an anonymous enemy were interesting, but did antagonizing their suspect accomplish anything productive?
How can I forget the two pricks that ruined my life?

Don
Even if he'd been guilty, Vorhees would never have confessed just because Jamie and Eddie showed up on his doorstep!
They just got him riled up, and they were lucky that all he did was file a bogus complaint. He might have decided to launch a copycat campaign against them just to get even.
Frank: What is it? Early onset Alzheimers? Vascular dementia?
Gormley: I don't know. He won't see a doctor.
Frank: And if he quits now, that leaves a lot on the table. No medical benefits either.
Gormley: We're just trying to get him over the finish line.
Frank: And now your career lies in the balance.
Gormley: Nothing we did was a violation!
Frank: You lied to me twice.
Gormley: I shouldn't have done that. I put Doug first.
Frank: I'm reopening the investigation into the bodega shooting.
Gormley: You think I lied about that too? Come on! I don't care about me, but Doug's a good guy. Have a heart.
Frank: How about this? You don't tell me to have a heart and I don't tell you to use your head. You don't lie and you don't mislead your boss. Not now. Not ever.
Far more moving was Doug Lynch's story.
Sid's heart was in the right place. He wanted a cop who had dedicated the best years of his life to serving the city to go out with dignity.
But a cop who was suffering from dementia had no business being on the streets. Frank had to do something about that no matter how Sid felt about it.
Plus, trying to pull the wool over Frank's eyes never works out well, and Sid should know better.

Related: Blue Bloods' Frank Reagan: Grumpy Curmudgeon or Man of Principle?
If Sid had told Frank what was going on in the first place, Frank probably would have arranged the same pension for Doug without butting heads with his advisor or having to visit Doug to test his mental condition himself.
But then again, there's no drama in that.
Frank acted tough with Sid but showed his softer side by dealing with Doug's condition compassionately and even giving Sid credit for it.
I hope Sid doesn't screw up like this again, because Frank means what he says and I'd hate to see Sid go.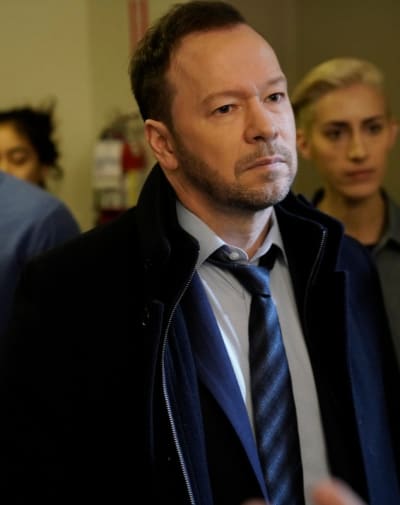 The Erin/Anthony story had some good comic lines. I especially liked Anthony's introduction to his half-brother Leo.
Anthony: First off, tell me what this crap is about you being my brother.
Leo: Half-brother, actually.
Anthony: Then you're only half insane.
And the discussion during the family dinner about whether or not people would appreciate random relatives they never knew about showing up was hilarious.
I guess the Reagans don't watch soap operas since that happens all the time on soaps!
Anyway, it seems like Erin/Anthony is the same thing week in and week out.
There's always some falling out over Anthony disagreeing with the way Erin does things or vice versa, followed by some silent treatment and finally an apology.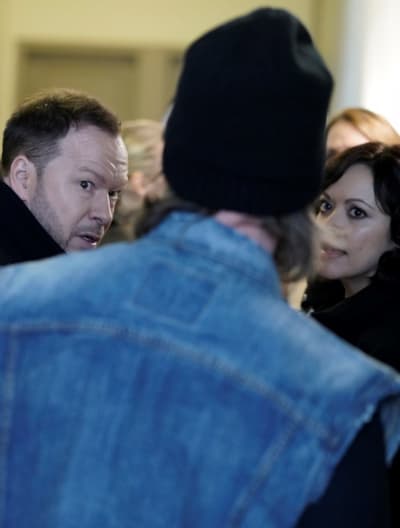 That gets old after a while. I'm almost missing the days when Anthony was a thorn in Danny's side. Almost.
Related: Get CBS All Access via Prime Video Channels for Hit Shows, Exclusive Originals & Live TV!
In any case, while Erin might have crossed an ethical line by getting DNA samples without permission, she was right that Anthony needed to know the truth.
Anthony seemed quick to defend Leo, and if it turned out the guy wasn't even related to him, that would have sucked.
I'm glad that Anthony held onto the DNA test and doubly glad that it turned out Leo was telling the truth.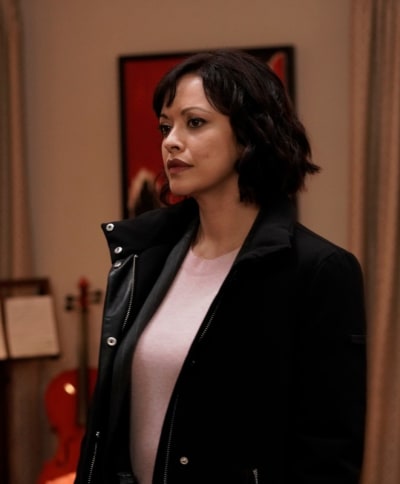 The best part of the hour was Eddie and Erin's conversation in the kitchen.
It felt entirely natural. I especially loved Eddie's feeling that the women needed to stick together.
Erin's shock at getting a real apology without any additional comments explaining why the apologizing party wasn't guilty was also done well.
Eddie fits into the Reagan family nicely, too.
I can't wait for her and Jamie's wedding!
Your turn, Blue Bloods Fanatics!
Did you guess Margo was the killer? Which storyline was your favorite?
And did anyone see any point to the way Jamie and Eddie were approaching Vorhees?
Watch Blue Bloods online if you need to catch up and then hit the comments below!
Jack Ori is a senior staff writer for TV Fanatic. His debut young adult novel, Reinventing Hannah, is available on Amazon. Follow him on Twitter.