Good Witch Renewed for Season 6 - Who Isn't Returning??

Carissa Pavlica at . Updated at .
If you're like me, you've been watching Good Witch since it's first movie premiered in 2008.
You probably know the characters like the back of your hand.
That's why I'm thrilled to share that Good Witch Season 6 is a go at Hallmark! There is some less-than-stellar news to report, also, though. Someone won't be returning when the sixth season begins.
Catherine Bell has starred as Cassie Nightingale since the series began, but Cassie's life looked a whole lot different when she first got to Middleton.
She was a mysterious newcomer with a surprising family connection to the town, and she was also single and ready to mingle!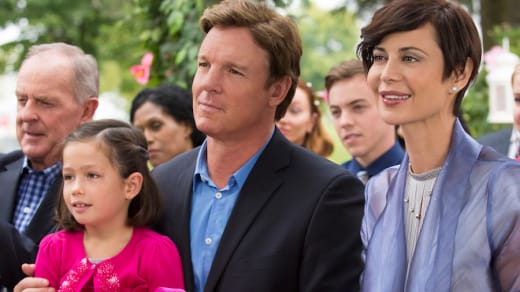 Throughout the Good Witch movie franchise, we got to know Cassie and followed her life as she met and married Jake Russell, father of two to Brandon and Lori.
Cassie was a wonderful mother, so we were even more excited when she got pregnant and gave birth to Grace.
Good Witch Review: The Forever Tree Pt. 1
To continue the franchise successfully and move on from the movie format to television, all of the actors had to be on board. Chris Potter, who played Jake, was tied to another successful TV show in Canada, and the decision was made to leap in time and lose him as a part of the family.
The good news is that without that, we'd have never met Sam and Nick, and Grace might not have been aged and the role taken over by Bailee Madison, who is an absolute delight.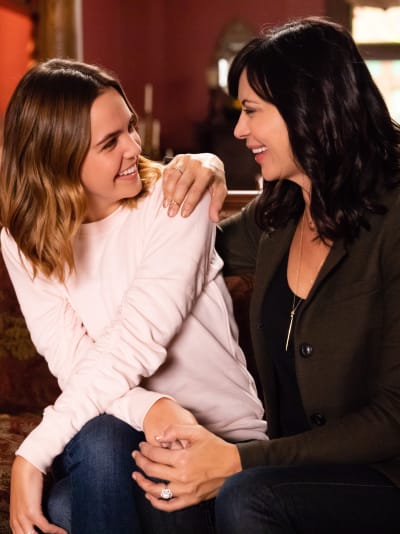 She was a stunning addition to the cast and along with Desperate Housewives alum James Denton who plays Sam, created an entirely new and lovely extended family for Cassie's charming interactions.
With the full Radford family now truly united after the marriage of Cassie and Sam, and Sam and Nick moving into Grey House, the circle is complete.
Good Witch Review: The Forever Tree Pt. 2
But not so fast! After all, life goes on.
That means one of the family members will not be returning leaving a hole in Grey House the size of...
Bailee Madison?? No! 
But yes, Grace has been consumed with her visions of the future and her college years, so her high school graduation is a natural way for Madison to move on to new projects.
Good Witch Review: The Honeymoon
Dan Jeannotte, who plays Brandon, has also graduated from the series, but he's also come back for special occasions to make sure the family is still whole even though the characters have moved away from Middleton.
That's how it is in real life, right? So we're hoping that Grace's college years don't mean that Maidson will never return for even the most special Merriwick/Russell/Radford family events.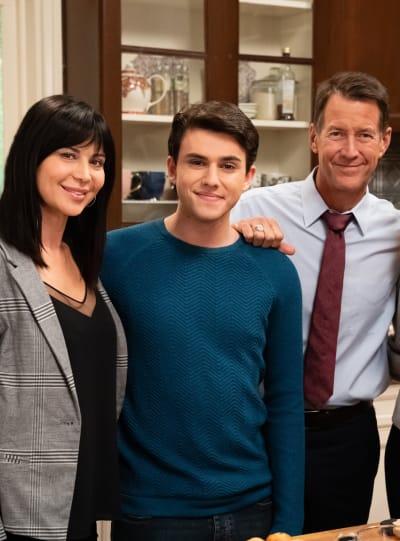 "Once again, being the number #1 series in cable, we are thrilled to announce a season six pickup of Good Witch," Michelle Vicary, EVP, Programming & Publicity, Crown Media Family Networks, said in a statement to Deadline.
"Bailee Madison will always be a beloved member of the Hallmark family."
Madison has been in a lot of holiday movies, and once in the Hallmark family, always in the Hallmark family.
I feel assured we'll see her again.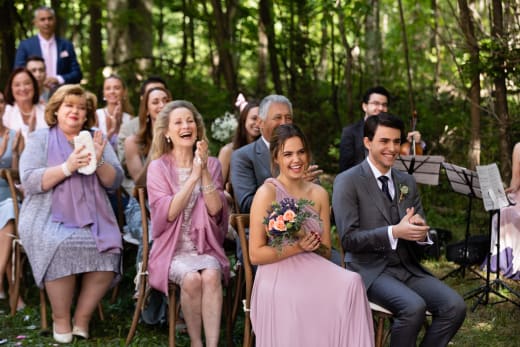 We'll enjoy her until then, and we have so many other amazing characters to take our mind off of the loss.
Abigail and Stephanie are always up for intrigue and romance, and Martha -- whether 1.0 or 2.0 -- has been with us since the very beginning. Their stories are only getting started!
Nick, too, is set to go to college far away, so it will be interesting to see how Rhys Matthew Bond continues to be a part of the series.
Other stars of Good Witch include Sarah Power, Catherine Disher, Kylee Evans, Anthony Lemke, and Peter MacNeill.
What do you think of the news?
Are you totally down for another season of Good Witch?
Get Hallmark Movies Now via Prime Video Channels for Stories with Heart, Captivating Movies & More
How do you feel about Madison's departure and the status of Grace leaving Middleton?
As always, I want to know what you're thinking.
You can watch Good Witch online right here via TV Fanatic.
But leave your comments down below, first!!
Carissa Pavlica is the managing editor and a staff writer and critic for TV Fanatic. She's a member of the Critic's Choice Association, enjoys mentoring writers, conversing with cats, and passionately discussing the nuances of television and film with anyone who will listen. Follow her on Twitter and email her here at TV Fanatic.