American Horror Story Season 9 Episode 6 Review: Return to Camp Redwood
Paul Dailly at .
There's a lot more story to tell!
American Horror Story Season 9 Episode 6 was a pivotal installment of this FX hit.
It had to prove that there was enough juice in the tank to finish out American Horror Story Season 9, while also tipping the hat to the episodes that came before it.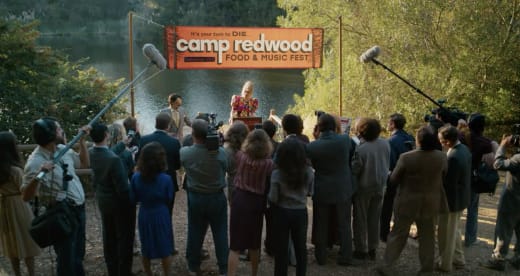 As the 100th episode of the series, there were some easter eggs thrown in for fans. Thankfully, they were done in a way that didn't take away from the overall theme. 
Margaret went from being a serial killer to a businesswoman. Purchasing locations that had been at the center of some of the most heinous crimes and making them into businesses was not a bad idea.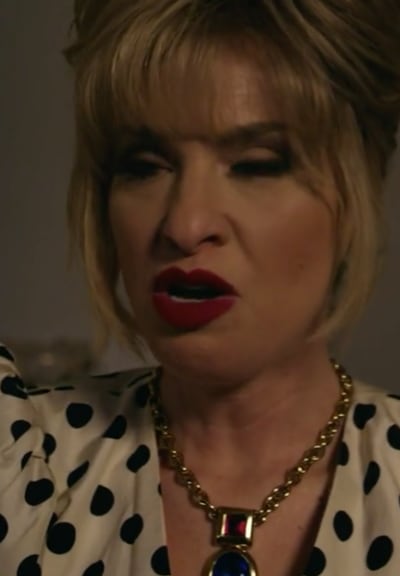 There will always be people out there that would visit these tourist attractions. It's just a shame nobody visited Briarcliff Manor on "Episode 100." Still, it was great to know that Margaret is utilizing that building for something. 
Woman: Hello? Your music is very loud. We have to wake up early for Disney Land. Please turn it down.
Night Stalker: Idol only plays one way. Full throttle. What, you don't got Billy Idol in France?
Margaret has proven to be a crafty individual who knows how to manipulate people. She managed it at Camp Redwood on two different occasions, and now she's taking the world by storm. 
Related: Enjoy UNLIMITED access to thousands of Movies and TV shows with Amazon Prime Video. WATCH ANYWHERE. CANCEL ANYTIME!
Her reign of terror could have quickly concluded if Trevor went to the police.
He made some great points about how Margaret would have evaded justice. Despite thinking that Brooke should have been set free, he's pressed on with this life of luxury. 
He says he hates Margaret, but they seem made for one another. Attending the execution just to watch Brooke being put to death was heinous.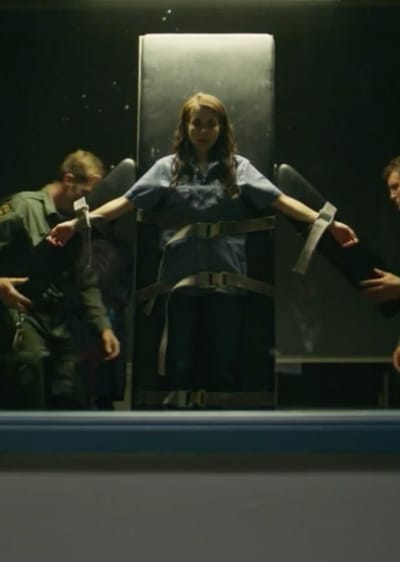 Then again, Margaret probably couldn't sleep at night wondering if Brooke was going to find a way to escape and take her down. 
Throwing the food and music festival at Camp Redwood was typical of Margaret. She wants her brand to be associated with death and thinks it will keep her business flowing. 
Little does she know that there are a LOT of people conspiring against her. There's no way she's going to escape the final three episodes in one piece. 
Counselor: So gross. Aren't you bored of this by now?
Counselor #2: Seriously. I haven't wanted to touch a living person since 1972.
Brooke's predicament was heartbreaking. Even though she knew she was innocent and only killed Montana for trying to kill her, she accepted that the world wanted to make her pay for something she didn't do. 
She had the opportunity to join the Night Stalker as a servant of the Devil, but it was fantastic that she stuck to her guns, ready to pass on to whatever awaited her after death. 
It was a stroke of genius  that Donna faked Brooke's death. Her whereabouts after the Camp Redwood incident were unknown, so returning in the nick of time to save Brooke was a positive development in my book. 
Night Stalker: You're starting to be a real drag, you know that?
Benjamin: I've been your little sidekick for a year. I'm tired, I don't like your music, I don't like living like an animal.
Night Stalker: It's not so bad.
Benjamin: And I've had to watch you kill. Do you even keep track? Because I do. 11. It's a start. I see their faces, I see them all. I can't do it anymore.
Night Stalker: That's not your decision to make, Satan gave you life. You serve at his pleasure. That's the deal. If you break that deal, if you bail, there will be hell to pay. Literally.
Whether they will both be able to prove Margaret's murderous tendencies, I don't know, but it's going to be a whole lot of fun watching it all play out. 
Related: American Horror Story Season 9 Episode 5 Review: Was That the End?
Camp Redwood being a purgatory for past counselors was also handled very well. Ray has a good heart, even if he did some terrible things while he was living. 
But the truth is, he's had time to think about his actions, and the thought of Brooke getting killed was difficult for him. He knew that murdering more people would raise questions, and that's why he covered up some of the murders. 
Xavier and Montana love purgatory a little too much. They don't seem to understand that there could be more to the story than they think. Ray is thinking of the bigger picture while those two are acting like they don't have a care in the world. 
Ray and Chad will likely team up with Brooke and Donna when they inevitably show up to crash the event Margaret has planned. 
Montana: Take a picture, it'll last longer.
Photographer: I'm sorry, I didn't mean to.
Montana: Relax, I'm just teasing. You another one of those true crime tourists?
Photographer: Oh god, no. I'm here for the waterfall. This lake is a rest stop on the pacific flyway. Ducks migrate from as far as Patagonia.
Montana: Neat.
Photographer: Yeah, hoping to catch a green wing teal with my new lens. It was a birthday present.
Montana: Happy Birthday. There's no ducks around here, but you can take my picture.
Photographer: Um, sure.
Montana: Top on or off?
Photographer: Um, you shouldn't. I'm here with my girlfriend.
Montana: I won't tell if you won't. What's this?
Photographer: My fanny pack.
Montana: Can I unzip it? Mmm, that's nice. You wanna stick it in me, birthday boy?
Photographer: Oh God, yes.
Montana: Me first.

Benjamin was all about putting the past behind him, and that included getting away from the Night Stalker. He spent years in the asylum thinking he'd committed some of the vilest crimes in history, but he wanted more out of life. 
There was no way his life was going to be as simple as having a family and working at Videoshack. Benjamin was desperate to distance himself from anything associated with serial killers, and he was doing the same thing for customers. 
Swapping out the videotapes with anything but horror movies is NOT a good thing.
There's no telling whether Benjamin will return home for his son down the line, but for now, he's off to Camp Redwood to dole out some good old revenge. 
It really is going to be like a war ground when everyone gets together for the final fight. We don't quite know whether the last three episodes will all be set at Camp Redwood, and American Horror Story Season 9 has been playing with expectations. 
Related: Sophia Bush to Recur on Love, Simon Sequel
One thing we do know is that the Night Stalker is going to kill his way to the top spot. Zach Villa perfectly embodies this evil character who wanted to be remembered for all of eternity. 
As a whole, this was a solid episode. Previous seasons are usually well off the rails by this point, but the storylines in this 1980s-set edition continue to evolve. 
What did you think of those Briarcliff mentions?
Hit the comments below. 
Remember, you can watch American Horror Story online right here via TV Fanatic. 
American Horror Story airs Wednesdays at 9/8c on FX. 
Editor's Note: Our system got updated! Now, you'll be able to scroll through many articles at once. That required a bit of a change to the comments, though, and now you have to click the blue "comments" bar at the bottom of an article to access them.
There are also two segments to comments now. You can either comment using Facebook or Disqus. Either way, you can SEE both types of comments. We hope that will be more inclusive of our community at large and that the conversations will grow as a result.
Paul Dailly is the Associate Editor for TV Fanatic. Follow him on Twitter.