Days of Our Lives Spoilers for the Week of 5-29-23: With Two Secret Pregnancies Coming Out, Are We In for a Baby Switch?

Jack Ori at .
Two pregnant women are about to have their lives turned upside down.
Sarah skipped town several months ago so Xander wouldn't learn she was having his baby. We all knew that would blow up in her face sooner or later!
Bonnie will learn the truth on Days of Our Lives during the week of 5-29-23, just as EJ and Eric learn that Nicole is pregnant. These two similar stories coming to a head simultaneously can't be a coincidence, right?
Neither Nicole nor Sarah has had any luck in the pregnancy department. Nicole's last two babies died, one very late in the pregnancy, and Sarah's baby was killed in a car accident.
Both women have also been involved in baby switches. And since Anna helped kidnap baby Sydney for EJ, could her involvement in Nicole's current predicament telegraph a new story of this nature?
It feels like these stories have to be connected. They're too similar and happening at the same time.
If someone switched their babies, it would be karmic justice for Nicole and Xander. Xander switched Sarah and Kristen's babies after Sarah's died, and Nicole was involved in the biggest baby switch of all time.
Dr. Raynor is long gone, but that doesn't mean someone else won't switch babies. The only questions are who and why?
Usually, these baby switches involve one baby being sick or dying. Of course, someone with nefarious intentions could switch the babies this time to cause trouble.
Since EJ angrily demands to know if Nicole's baby is his, he might decide to switch hers and Sarah's -- though his brand of vindictive behavior leans more toward letting Nicole think her baby died.
We already did that with Holly, though Xander was behind that scheme, so a baby switch may feel fresher even though it's often been done before.
Salem is known for unrealistic tropes such as DNA switches, but surprisingly, it doesn't seem we're going that route this time. According to the spoiler video, Sloan attempts to get Eric's DNA rather than substituting her own or Colin's. So there has to be a different twist.
Please scroll down to check out the complete list of Days of Our Lives spoilers for the week of 5-29-23.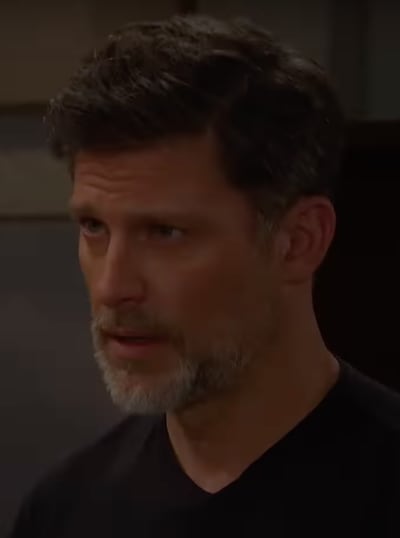 Nicole and Sloan cover when Eric finds them conspiring.
Eric'll believe them -- but not for long.
According to the spoiler video, he later confronts Sloan, demanding to know what she and Eric are up to.
Sloan is a good liar, but she will tell Eric the truth. Is it because she doesn't want to lose him, or does she have a plan in mind to keep him and Nicole apart forever?
Anna fears Tony will reveal Nicole's pregnancy secret.
I love Tony, but this isn't his business. Nicole's pregnancy news is hers to tell or not tell, not his.
Usually, when someone has a secret to tell, they change their mind by the time the next scene rolls around, but will this be the exception to the rule?
EJ seems to know Nicole is pregnant during the spoiler video -- will it be because of Tony or someone else?
Gabi and Stefan do their best to sway Megan to their side.
Oh, come on! Megan is delightfully evil, but she can't save this story.
I'd rather she wreak havoc elsewhere, especially since we know this story is going nowhere.
With Camila Banus leaving Days of Our Lives, it hardly matters if Gabi and Stefan wrest control of the company from EJ. So let's move on already.
Leo asks Johnny for the scoop on his family drama.
We've had a nice, long break from Leo, but now he's back.
Johnny won't give him any info on his family. According to spoilers, he and Leo will get into a fight.
Of course, if Leo can help Johnny get Wendy away from Tripp, that could change. And Leo is the devious type who'd offer that to get his scoop.
Bonnie discovers a very pregnant Sarah at Rex's.
Sarah was stupid to think she'd get away with this. It's not like Rex has no family who might visit!
It would be more fun if Kate were the one to discover Sarah's secret. She's far more cold-hearted than Bonnie these days. And she has every reason to visit -- she needs to celebrate her miraculous return to the land of the living with her son!
Still, Bonnie won't keep her mouth shut long, so the whole town will know as soon as she returns to Salem.
Jada questions if Talia was a victim of emotional abuse.
It's about time someone recognized this for what it is.
Talia should be held accountable for the crimes she committed for Colin's sake. But now that nearly dying and getting arrested hasn't changed her interest in Colin, she needs an intervention!
Now that Deidre Hall has surpassed 5,000 episodes, how about Marlena's next story involves helping a resistant Talia face the truth about this unhealthy relationship?
Sloan blasts Rafe for allowing Colin to escape.
Just as we thought we were rid of Colin, he manages to pull off an 11th-hour escape.
I know the security at the hospital is almost as bad as at Statesville Prison, but come on!
Most viewers want Colin GONE. Let's ship him off to jail and be done with it already rather than letting him loose to wreak more havoc.
Abe goes missing from the hospital.
Abe's in bad shape -- earlier in the week, he mistakes a similar-looking nurse for Paulina!
So when he disappears, most of Salem will probably assume he wandered off in some concussion-caused fog.
But since Colin's also in the wind, I'd bet anything that he has Abe and thinks he will use the mayor as leverage to get himself out of trouble. And since security details for mayors aren't at hing in Salem, he might get away with it, at least temporarily.
Your turn, Days of Our Lives fanatics. Hit that big, blue SHOW COMMENTS button and let us know your thoughts about these spoilers.
If you'd like to chat about already-aired episodes of Days of Our Lives, check out the latest Days of Our Lives reviews and Days of Our Lives Round Table discussions.
Days of Our Lives streams exclusively on Peacock. New episodes drop on weekdays at 6 AM EST / PST.
Jack Ori is a senior staff writer for TV Fanatic. His debut young adult novel, Reinventing Hannah, is available on Amazon. Follow him on X.