What to Watch: The Lazarus Project, Cruel Summer, The Crowded Room

Carissa Pavlica at .
Happy June to you all!
We kick off the week with Hallmark June Weddings movie Wedding Season, and get a little darker as time goes on.
We have several new series on the horizon, and we've got episodic reviews lined up for a good deal of them, including but not limited to The Lazarus Project, Cruel Summer, and The Crowded Room.
Carry on reading below to see what else is coming your way and be sure to check out TV Fanatic daily for news and reviews of all of your favorite shows and movies.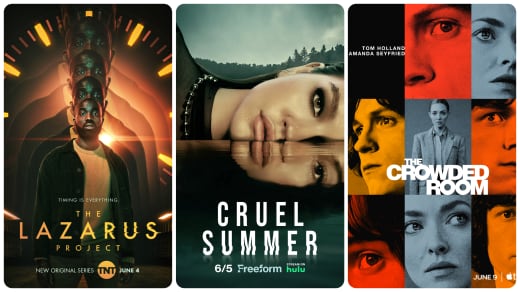 Saturday, June 3
8/7c TLC Forever (Lifetime)
For all the '90s R&B fans, you'll love diving into this documentary about one of the greatest selling girl bands of all time.
T-Boz and Chili come together with other industry giants to discuss TLC's impact, how they broke boundaries and the mold with their music, style, and messages, and how they'll forever leave a mark on the industry.
Join them as they chronicle their impressive journey filled with highs and lows and honor late band mate Lisa "Left Eye" Lopes.
8/7c Wedding Season (Hallmark Channel)
The Hallmark Channel kicks off their June Weddings film series with Wedding Season, starring Stephanie Bennett and Casey Deidrick.
Bennett stars as Trish a journalist who's an overworked bridesmaid in three friends' weddings and Deidrick plays her best friend's brother Ryan who bails her out when things go awry.
Join Trish on her personal journey as she begins to understand more about love.
Sunday, June 4
8/7c Danger Below Deck (Lifetime)
We're not saying that it's fun to watch social media influencers face some holy hell and repercussions for some of their actions, but we're also not saying it won't be entertaining.
TV Fanatic favorite Kat McNamara stars in this flick about a woman and her best friend who join a luxury cruise through the Caribbean for kicks.
Except things go terribly wrong.
9/8c The Idol (HBO)
She's here!
Euphoria creator Sam Levinson's collaboration with pop star Abel "The Weeknd" Tesfaye will finally be available for the masses.
The already controversial show will bow in on HBO, and like all of you, we are also excited to see what the fuss is all about.
You can bet we will have episodic reviews, so don't forget to check them out.
9/8c FROM (MGM+)
The morning after Ellis's stabbing finds the clinic folks trying to figure out what to do with Smiley.
Can Boyd and Kristi use his body to make some discoveries?
Elsewhere, Jim finds an ally in Randall, but will their new partnership come with strings attached? You'll have to tune in to find out!
It's the gift that keeps on giving. 🩸 pic.twitter.com/s5SJoKe4bZ

— FROM on MGM+ (@FROMonMGM) May 30, 2023
9/8c The Lazarus Project (TNT)
TNT, a network that gave us hit shows we loved like Rizolli and Isles, The Closer, and Animal Kingdom, finally sets a semi-new series (it's a UK acquisition) to air on the network.
The Lazurus Project follows a secret organization that prevents mass extinction events by sending the world back in time, leaving only a few people with the knowledge of why.
The series stars Paapa Essiedu, a breakout star and Emmy nominee from the limited series I May Destroy You. We're excited to watch this sci-fi action thriller unfold on our screens!
Monday, June 5
8/7c Stars on Mars (FOX)
We have absolutely no idea what to expect from Stars on Mars. There weren't any screeners to be had, so it could be a fun space camp-type simulation or more akin to the 1996 flick Bio-Dome with Pauly Shore.
Some of the "celebrities" suggest the latter, but then we have the host with the most, William Shatner. The man is a living icon who has actually been to space, and his reverence for the subject after that experience could be beneficial.
The bottom line is that I'm interested enough to take a gander. The question is whether you will follow suit!
8/7c American Ninja Warrior (NBC)
American Ninja Warrior Season 15 kicks off in Los Angeles with a two-hour premiere, pitting veteran ninjas against youngsters who weren't even BORN when ANW began.
Will it finally be Joe Moravsky's year to reach the summit of Mount Midoriyama? Can Jessie Graff fly any higher? Who will be the new Kid to beat?
With the biggest warped wall in history, a new opening obstacle, and head-to-head competitions for every semi-final spot, it's time to pull up your armchair and prepare yourself to cheer on the most exciting athletic competition on television!
8/7c The Rising (The CW)
Neve's only asset right now is her alcoholic father, who can see her but is still having a hard time wrapping his head around the fact that he can see his dead daughter.
As Neve adjusts to her new reality, she and her father must go to work to figure out what really happened to her and who could be responsible for killing her.
This supernatural mystery is full of intrigue, so dive right in!
9/8c Cruel Summer (Freeform)
Freeform's drama anthology series returns for a second season!
In Summer of 1999, small-town computer genius Megan resents the arrival of outgoing and mysterious foreign exchange student Isabella. Little does she know, her life will change by Summer of 2000.
Now the series is set in an idyllic waterfront town in the pacific northwest, and we can't wait for all the dramatic reveals!
Days of Our Lives (Peacock)
Now that Nicole's baby secret is out, the next step is to find out who the father is. If Eric's not a DNA match, is it because EJ is the father or because Sloan played tricks rather than getting the sample from him?
Just as importantly, will the father-to-be and the disappointed almost-father come to blows in the hospital lobby?
Meanwhile, Nurse Whitley continues to play her twisted game with Abe while Leo fears for his life after his run-in with Colin. It doesn't look like either of these stories is anywhere near over, so you better buckle up for this bumpy ride!
Tuesday, June 6
Burden of Proof (MAX)
True-crime aficionados will appreciate this new documentary filmed like a docuseries about a man, Stephen, who relentlessly pursues the truth about what really happened to his sister, Jennifer Pandos, a 15-year-old who went missing in 1987.
As he edges closer to unraveling many secrets, he may discover that his parents aren't who he thought they were, as their excuses about her running away decades before unravel and threaten to tear the family apart in the present.
As new evidence comes to light, viewers are along for the ride, shocked by every twist and turn every bit as much as Stephen. Check it out!
Wednesday, June 7
Somewhere Boy (Hulu)
This "bold and beautiful drama about a sheltered teenager thrust into the world" could be either terribly painful or soulfully enlightening. Guess we'll soon find out.
Danny was just a baby when his mother was killed, and his grief-stricken father locked him away to keep him safe.
But when Danny turns 18, everything he's ever known explodes in an instant. Suddenly he has to come to terms with a whole new world he didn't know existed.
8/7c Nancy Drew (The CW)
Nancy told Ace that they were cursed! (Yay!) But Ace still thinks she's holding back some info. Will she spill all of the details with Ace and the rest of the Drew Crew?
But these two aren't the only ones with relationship issues. Bess is determined to make a good impression with Addy's parents, and Nick plans his first date since his breakup with George.
And there are still those pesky reanimated dead bodies wandering around town. You'll want to check out the next Nancy Drew.
8/7c Masterchef (FOX)
Is West the Best? It's the West Coast's time to burn in the kitchen and impress the judges!
Susan Feniger guest judges as the audition process carries on, and the next region on lock for the competition is the West Coast.
Hopefully, they're bringing some of that Cali flavor along with other things as we get a feel for what that region brings to the table with culinary cuisine.
Sign me up for more American food hot takes from our judges all season long. 🔥 #MasterChef pic.twitter.com/GGBDfHp2QU

— MasterChef (@MASTERCHEFonFOX) May 29, 2023
10/8c It's Always Sunny in Philadelphia (FXX)
Everything is inflatable.
Sunny is back, and the gang has had a rough past couple of months as they also deal with economic inflation and literal inflation.
In the two-episode premiere, Frank shoots Dee and Denis, while Mac and Charlie travel with their moms to get their inheritances. What could go wrong?
9/8c Gordon Ramsay's Food Stars (FOX)
The competition is heating up with this version of Hell's Kitchen meets The Apprentice, and boy, is it getting harder to find a single person to root for here.
But the drama is so delicious that you cannot turn away!
We have some world-class wine experts guest judging as Ramsay puts the teams to the test, encouraging them to create, market, and brand-themed wine boxes. Grab a glass while you watch!
Wishing you the best of luck with Confetti Cakes, Elisa! ❤️ #FoodStars pic.twitter.com/KS9Nd1LGqa

— Reality Club FOX (@RealityClubFOX) June 1, 2023
Thursday, June 8
Based on a True Story (Peacock)
A dark comedic thriller about a realtor, a former tennis star, and a plumber who seize a unique opportunity to capitalize on America's obsession with true crime.
If you think this is circling what has already been done with Only Murders in the Building, think again.
The show takes a few steps in one direction and pivots boldly to tell a much different story. If this wasn't dropping all at once (a huge miscalculation by Peacock not to, you know, seize a unique opportunity to capitalize on America's obsession with true crime), we'd be covering it episodically. Alas. All episodes dump today.
Never Have I Ever (Netflix)
It's senior year, and there are a few changes in Devi's life. For example, she lost her virginity to Ben Gross, and everything became awkward.
Everyone has to make decisions about what they want for their future after graduation, and two people realize that they are headed on very different paths.
Paxton made it to college but is all it's cracked up to be?
My Fault (Amazon Prime Video)
Who doesn't love a forbidden love story?
If you're a guilty pleasure Wattpad fan, if you know, you know… then you'll absolutely devour this forbidden teen romance about a teen, Noah, who is not enthused when her mother moves them into a newly affluent, luxurious home with her wealthy new hubby.
Of course, that's until she meets her hot stepbrother, Nick.
They hate each other, but we all know there's a thin line between hate and, well, lust, so expect the heat! We're not judging… out loud anyway.
9/8c Alone (HISTORY)
The History Channel's infamous survival show returns in its' 10th season as the contestants are dropped in Northern Saskatchewan, Canada.
They'll have to battle frigid temperatures and vicious creatures like black bears and wolves to become the last person standing and win the $500,000 prize.
This may be the hardest season yet since they're only allowed 10 survival items and a camera. Who will survive?
10/9c The Blacklist (NBC)
You can never stop someone on a righteous cause, especially if their instincts are spot on. Red and the Task Force might have won the battle, but Hudson's war is still going on, and this time, he recruits someone from inside the FBI. Will they beat this one?
The Other Two (Max)
Fame is not everyone's cup of tea, and maybe the universe had a great idea to deny Cary fame.
After his disastrous role as Disney's first gay glob, he alienated all his friends, but those were the only people who stood by him when he was interviewing celebrities for feet pics. It is only proper that the scales are balanced, and he needs to get his manners handed back to him.
Friday, June 9
The Crowded Room (Apple TV+)
In his first major television role, Tom Holland stars in this thriller.
The story takes place in the summer of 1979 in Manhattan. A young man commits and is arrested for a gruesome crime, and an unlikely investigator is tasked with solving it.
The show boasts a star cast of seasoned actors. Check out the trailer below, and return to TV Fanatic weekly for full episodic coverage of the show!
Flamin' Hot (Disney+ & Hulu)
No tellin' tales here. I have never heard of Flamin' Hot Cheetos. That doesn't mean I'm not interested in a story about the American Dream!
This is the inspiring true story of Richard Montañez (Jesse Garcia), the Frito Lay janitor who channeled his Mexican American heritage and upbringing to turn the iconic Flamin' Hot Cheetos into a snack that disrupted the food industry and became a global pop culture phenomenon.
Eva Longoria directs with a pretty impressive cast bringing the movie to life, including Tony Shalhoub, Dennis Haysbert, and Matt Walsh.
The Lake (Prime Video)
This sleeper hit on Amazon Prime is back for its sophomore season, and it promises to be more chaotic than The Lake Season 1.
Justin and Riley are finally trying to make their relationship official, but when Justin seemingly screws up, he has his work cut out for him rebuilding the lakehouse and getting back the man he loves.
Meanwhile, his daughter returns for a week's vacation that may change when she's potentially stuck in a love triangle.
While Julia Stiles' Maisy-May deals with the force of nature that is her mother (Lauren Holly)'s return.
Aurora Teagarden Mysteries: Something New (HMM)
When Candace Cameron Bure left Hallmark for another network, she seemingly took with her one of Hallmark Movies & Mysteries' most successful movie franchise characters – Aurora Teagarden.
Hallmark didn't look at her departure as a loss but rather an opportunity, and with Skyler Samuels now in the titular role, the franchise continues!
In her exciting return, young Aurora Teagarden returns home to Lawrenceton after college to pursue her post-grad degree and finds herself embroiled in a mystery involving her friend Sally's fiancé.
We can't wait to watch!
Carissa Pavlica is the managing editor and a staff writer and critic for TV Fanatic. She's a member of the Critic's Choice Association, enjoys mentoring writers, conversing with cats, and passionately discussing the nuances of television and film with anyone who will listen. Follow her on X and email her here at TV Fanatic.