Shadowhunters Season 3B Trailer: Who's Getting Married???

Rachel Foertsch at .
The countdown has begun! With less than a month until the premiere of Shadowhunters Season 3B, Freeform has finally released a trailer for the final episodes. 
And yes, there is a lot to talk about.
Related: Shadowhunters: 11 Book Scenes We Need to See on the Show
If you're behind, remember you can catch up on the show for yourself by watching Shadowhunters online right here at TV Fanatic!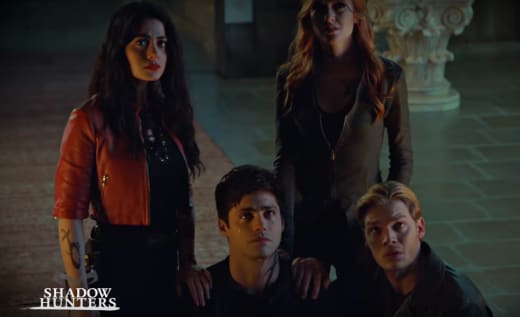 It looks like a wedding is on the horizon, and considering the trailer featured quite a few ship moments, let's take a look at some of the prime suspects. 
The most obvious pairing is, of course, Magnus and Alec. They are the most beloved by the fan base and the most deserving of a wedding. 
Related: Shadowhunters: 11 Times Malec Made Us LOL
They've been to hell and back together, and there's no arguing that they're meant for each other. But it seems like the angst isn't over yet and that near-death experiences are going to keep being thrown their way. 
I won't lose you. I can't.

Alec
Of course, all this might make them realize that death could come at any moment which could push them to get married sooner. At least, that's what we're placing our bets on. 
The next couple is Jace and Clary. They've been in love with each other since the very beginning, and there's nothing they wouldn't do to keep each other safe.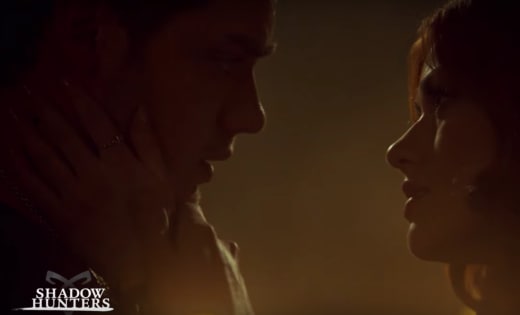 If the trailer says anything about their relationship, it's that they're not planning on splitting up anytime soon. 
I'll love you until I die.

Jace
And considering that Jace now knows what it feels like to lose Clary (as she was presumed dead in the Shadowhunters Mid-Season Finale) who knows what he'll do now that he has her back?
And last but not least we have Simon and Izzy. But can we just take a moment to freak out about them first?
These two have been literally years in the making, and we couldn't be more excited to see Shadowhunters finally go down that road.
Romances built on friendship are always the best ones, so we have no doubt that the show is going to do their storyline and relationship justice. 
Related: Shadowhunters: 13 Reasons We Ship Sizzy
And speaking of Sizzy, what exactly is going on in this picture?
While our hearts are screaming about Izzy holding Simon like that, they're also breaking because why is Izzy holding Simon like that???
Come back to me, Simon. You have so much more to live for.

Isabelle
Let's be real, these two probably aren't getting married, but we definitely wouldn't object if they did. Right now, just seeing them alive (hopefully) and together is enough. 
If we were betting on it, we would put our money on a Malec wedding.
Related: Shadowhunters: 31 of Our Favorite Malec Moments
But of course, Shadowhunters always likes to throw us off our game and go for the unexpected. It's more than possible that none of these couples are getting married. And who knows what this wedding actually means?
Check out the promo for yourself below and hit the comments to let us know who you think the married couple is!