YOU Preview: Welcome to YOUr Newest Obsession!

Jasmine Blu at .
What would you do for love?
If the answer is "anything," then you're in great albeit creepy company. 
Lifetime's new, sexy, thrilling series, YOU, premieres September 9, and let's say you don't want to miss it.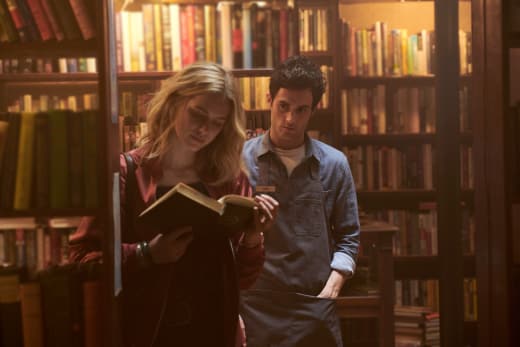 YOU is based on the best-selling novel of the same name and brought to you by some of the finest people behind Riverdale. In a way, it's fitting as it has a dark, twisted, and mysterious quality that will have you glued to the television and mesmerized.
YOU stars Gossip Girl's Penn Badgley as Joe Goldberg, a bookstore manager with an obsessive streak. He's not a nice guy, he's a Nice Guy. We know the type. He's the one who thinks he's above the fray and better than others surrounding him, but feels entitled to the attention and love from the object of his desire.
Related: Buffy the Vampire Slayer Rewatch: The Zeppo
He's in an irresistible sweet spot between endearing and psychotic. Joe is a bookstore clerk by day and your not-so-friendly neighborhood stalker by night. Based on the trailer, we don't know if it's his first trip to the rodeo as far as stalking, seduction, deception, and murder, but he's going to excel at it. 
If we don't learn anything from the promo, we learn that Joe is willing to do anything, and I mean anything for love. At least for his twisted version of love. 
Elizabeth Lail stars as Guinevere Beck, who goes by Beck, also known as Joe's obsession. She's a student and lover of great literature, and that must be all it takes to make Joe fall into a crazy, twisted type of love.
Related: Get Great Selection of New & Classic Movies with the Lifetime Movie Club via Prime Video Channels!  
If it sounds like the makings of a Lifetime movie, then you're not far off. That likely explains the network it falls on and why the series was renewed for a second season before it even aired.
It's a psychological thriller, a twisted romance, and suspense wrapped up in one. It's teased as a 21st Century love story where the lines blur between healthy pursuit and obsession.
It's an exploration of what's real and fake as Joe seemingly utilizes all the resources available to him via social media profiles and technology to quietly insert himself into every aspect of Beck's life as he tries to decipher what's real about her and what's a front. 
Even the promo should have you reconsidering your digital footprint and reevaluating how much information you share with the masses on a daily basis. 
The creepy shots of Badgley as Joe feverishly combs through Beck's profiles or lurks in the shadows and outskirts of Beck's surroundings are tantalizing, all while set to a haunting rendition of Cheap Trick's "I Want You to Want Me."
Flashes of him playing dashing knight in sadistic dark armor to Beck on train tracks already sets a tone, and their sweet and steamy moments already make it difficult to decipher the real from the fantasy because there is no doubt that Joe is the type to fantasize about his manic pixie dream girl. 
There is a violent tone with Joe seemingly positioning himself so that nothing and no one, including Beck's suitors or friends will come between them. One of whom is Beck's close friend Peach, played by Pretty Little Liars' Shay Mitchell who appears to be in love with Beck too.
At least that's what we can assume from an especially eerie and menacing shot of Joe spying on Peach who is spying on an unsuspecting Beck. How deliciously twisted is that?!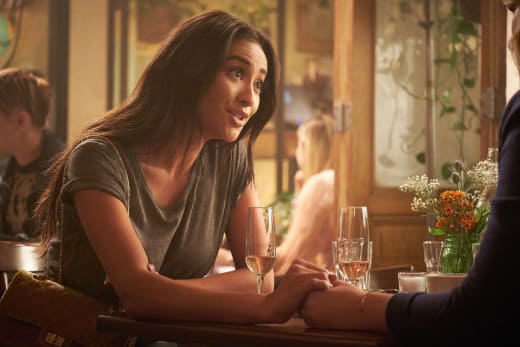 Is it wrong to 'ship Beck and Joe deep down? Oh, most definitely, but YOU promises to be batshit crazy enough to pull this warped anti-love story off with flair.
The only thing crazier than stepping into the mindset of a functioning sociopathic stalker is viewers being so engrossed in the tale that they don't want to leave.
Related: To the Boy We Loved Before: 46 Times Noah Centineo Dazzled Us on The Fosters
So, what do you think, Fanatics? Are you ready to join us in the wicked, depraved, sexy, fun world of YOU? Hit the comments below!
YOU premieres September 9 at 10/9c on Lifetime.
Check out the spine-tingling trailer below, and then join us this sinful Sunday for a full review!