Like any roller coaster, the relationship between Spencer Pratt and Heidi Montag really has its share of staged photos. Er, we mean ups and downs.
If you thought the pictures of them frolicking on the beach were cheesy, or if you thought Spencer 's Free Paris Hilton campaign was the last you'd hear of him this week, well, you don't give Spencer Pratt enough credit.

Say what you will, the guy keeps his greasy ass in the news.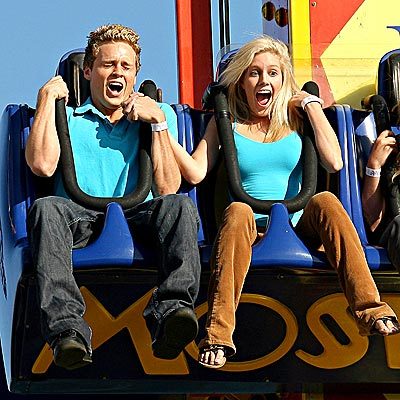 Wearing matching turquoise tops, The Hills power couple goes for a fun ride at the Santa Monica Pier Thursday. Sadly, we assume Spencer made it off the ride with all faculties intact.

The looks on their faces say it all. Heidi Montag wants so badly to be a star and look the part - convincingly frightened, like an actress, as well as stereotypically blonde and beautiful. Spencer, meanwhile, is too busy praying his 15 minutes of fame aren't up, and coming up with new PR schemes to get famous, that he can't be bothered to open his eyes.

No word on whether they tried any of the other rides at the pier, but excuse us, because we have to go take a ride ourselves... on the porcelain bus.

Matt Richenthal is the Editor in Chief of TV Fanatic. Follow him on Twitter and on Google+.

Tags: Reality TV