Another Brothers & Sisters Bombshell: Calista Flockhart to Recur on "Reduced Schedule" Next Season
by Steve Marsi at . Comments
First, the good news. Brothers & Sisters star Calista Flockhart will be back next season.
Now the bad news. She will do so on a "reduced schedule," according to this EW story.
This comes on the heels of reports of Rob Lowe leaving the show in May. Now his TV spouse is apparently making a partial exit of her own. Are these two things related?
An ABC spokesperson said only that Flockhart "will remain a series regular." So she's still a member of the cast next year, but will miss a significant number of episodes.
A Brothers & Sisters source says Flockhart's lighter workload was a contributing factor in Lowe's decision to leave the show, which he already felt was under-utilizing him.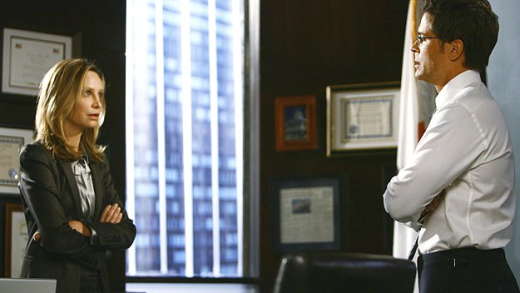 The McAllisters have been awesome this season, likely their last together.

The idea of Kitty McAllister appearing on fewer episodes next season further marginalized Lowe, who plays Kitty's husband Robert, and he negotiated an "amicable" exit.

Lowe is also in talks to star in a new show for ABC next fall.

How do you feel about this Brothers & Sisters casting news, and how do you think it will play out in the remainder of the ABC drama's fourth season?

Our guess? Robert has another heart attack it in a dramatic season finale, while Kitty goes on to win election to the U.S. Senate and is simply around California less.

The fact that we always see Robert in L.A., as opposed to D.C., has always been somewhat puzzling to us given his job. Maybe this will make a bit more sense at least.

Steve Marsi is the Managing Editor of TV Fanatic. Follow him on Google+ or email him here.

Tags: Brothers & Sisters, Casting News, Spoilers