The Mentalist Review: "Bleeding Heart"
at . Comments
Last night's episode, "Bleeding Heart," had a different twist on the way it was filmed. Half of the show pretty much consisted of an The Office-type of documentary style.
This approach has become very popular and we think it's either a hit or miss. For us, it was a hit. Why? We liked being able to see a more vulnerable side to the characters. Jane showed his anger, which we hardly ever get to see and we think it lead to having Van Pelt and Rigsby come out about their relationship.
As much as we did like the documentary style for this week's episode, we're happy that it was a one time deal.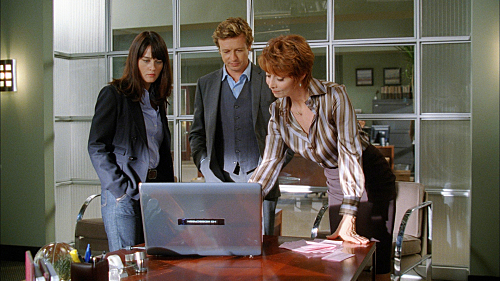 We found it quite funny how dense Lisbon is about not knowing that Van Pelt and Rigsby were an item. She is a great dtective that can think quick on her feet, but throw in the big L word and she's completely oblivious to it. It seems as though she has shut down the ability to have those feelings. She is the type of woman that puts 110% of herself into her job, leaving no room for anything else.
With that being said, we still believe that Lisbon will eventually let her guard down when the right man comes along. And we have a feeling that that man is right in front of her face - with his uber sexy wavy blonde hair, great smile, and... well, you get the point!
Sharon Lawrence playing the mayor was perfect. Only our one complaint was that her role wasn't as big as we would have liked to see it. Maybe a cat fight could have broken out between her and Lisbon? Or an anger-based flashback with her assistant? We do give the writers props for the scenes between her and Simon Baker's character. There definitely was a great heat of anger that boiled between them and we loved every minute of it.
Lastly, are we the only ones waiting for more Red John story lines? It's been long enough! Now that we have a two week wait until the next installment of The Mentalist, one can only hope for even just a little something something. Until then, we leave you with a couple of The Mentalist quotes from last night.
Lisbon: So what's the deal, I thought you would be the most comfortable in front of cameras.
Jane: The last time I was in front of cameras things didn't turn out so well. | permalink
Van Pelt:Trying to hide the truth chips away at your spirit. | permalink
Chief Donner: Is he sniffing her?
Lisbon: Yes
Chief Donner: You pay him to sniff people? | permalink
Tags: The Mentalist, Reviews
Want more The Mentalist?
Sign up for our daily newsletter and receive the latest tv news delivered to your inbox for free!
More From TV Fanatic
It's select ensemble vs. elite in a dance rematch this week on Dance Moms. Who came home with the victory? Read on to find out!
On tonight's Tyrant, Jamal and the Sheik meet for negotiations. Will they come to an agreement?
It's time to reunite on The Real Housewives of New York City. Read all about this special episode now.
Who can be trusted? On tonight's Covert Affairs, it's clear that it's important to trust others, but also a huge gamble.
---