Greek Review: "The Tortoise & The Hair"
by LL at . Comments
The latest episode of Greek, titled "The Tortoise & The Hair" focused on the Cartwrights and their allegorical struggles to get ahead in their careers. Casey contemplates a career in politics, while Rusty deals with an advisor looking to settle an old score.
Check out our recap for all the details from this episode!
Dan Castellaneta returns as Rusty's advisor, Professor Hastings. In the engineering race, Hastings is definitely the "hasty" hare - he's trying to get ahead of himself with Rusty's self-healing wire, promoting it left and right without taking the necessary caution because he is so set on shoving this invention in the face of a former colleague.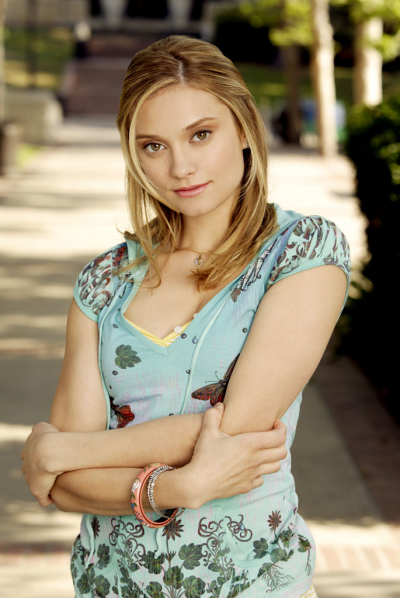 Hastings is also "The Hair" - he sports a fine toupee in this episode - apparently, having a full head of hair is another way for him to get back at a colleague that screwed him over so many years ago. Already cautious, Rusty is forced to slow down even further when his assistant, former crusher Dana, points out flaws in the design.
Rusty realizes that if he's going to make waves with his invention, he's going to have to pace himself and get this design down right. There's no use rushing to end up with a product that doesn't work.
Although most college students start thinking about career plans early in their college tenure, the CRU crowd has kind of a late start, since they are midway through their last semester at college and Casey is only now worried about planning her future. She was bit by the politics bug, and despite a catastrophic summer internship in DC, she still thinks she can see herself in politics.
But all this planning for a professional future requires her to address her personal future with Cappie, and that means they need to discuss the "G" word: yes, "Graduation."
A quote from this episode really boils the problem down for us:
Casey: Something I was a part of is actually going to the President of the United States to become a law.
Cappie: I painted flames on my turtle. | permalink
Casey has big plans for her future. Cappie has big plans for right now. He has made it abundantly clear that he doesn't want to leave college - he's having too good a time. So what does that mean for their future together?
When we saw the super hot campaign manager Joel appear, we were sure that he was going to be the threat to Cappie and Casey's relationship. Joel is undeniably attractive, mature, and ambitious - the perfect combo to be pitted against Cappie. A different Casey Cartwright may have crushed on him big time.

But this time it was different - Casey was all business. And maybe this time Cappie is different too. He showed us that he was ready to deal with his fears about leaving college - maybe he's going to do whatever it takes to make this relationship with Casey work! What do you think?
Check out other great quotes from this week's episode:
Ashleigh: What the hell is going on here? It looks like GQ crashed into Men's Health and spilled hot guys all over our living room. | permalink
Evan: Hey Case, how's it going?
Casey: Not great. People either don't know why they should register, don't know why they should register now, or they think that I'm a front for Scientology. It was so much easier getting signatures for the Undie Run.
Rebecca: You're telling me college students are more into getting naked than voting? I'm shocked! | permalink
Beaver: I think my turtle just died. Nope, just pooped.
Other KT: Maybe the lighter weight will speed him up. Less wind resistance.
Beaver: Or maybe that's just part of his strategy, like James Bond so that everyone behind him'll spin out on his poop slick. | permalink
Casey: Let me tell you something, Joel. Slimeballs like you are the reason why politics suck. Everybody's in it for what they can get. You know what? You're not getting me. I'm not having sex with you.
Other Campaigner: So are we all still going back to your apartment for the debriefing?
Casey: Wait, you're going back to his apartment too? All of you? Please say you're planning some really weird orgy. | permalink
Tags: Greek, Reviews
Want more Greek?
Sign up for our daily newsletter and receive the latest tv news delivered to your inbox for free!
More From TV Fanatic
Who can be trusted? On tonight's Covert Affairs, it's clear that it's important to trust others, but also a huge gamble.
Jane and Maura get drawn into the world of rare books and coded confessions when a book seller hiding a secret is murdered on Rizzoli & Isles.
On Perception, Daniel and Kate investigate an art heist. Also, Daniel must make a decision about his love life.
Things on Pretty Little Liars looked pretty darn bleak this week as Hanna's friends started to get sick of her but Zack couldn't get enough. Read the review for more insight into the latest installment!
---