This week's Human Target episode, Run, was one that didn't disappoint.  As the weeks pass by, one cannot help but like Chance's character more and more.  There is something about his cool demeanor, never getting worked up even when his life is on the line. 
How does Christopher Chance remain so composed when facing such dangerous situations? 
On this week's episode, Chance is hired by a district attorney, Allison Russo.  She needs Chance's protection against practically every dirty cop in the city. 
Can you believe Chance was hired to protect her from the people that are supposed to be on the good side!  Kind of ironic, don't you think?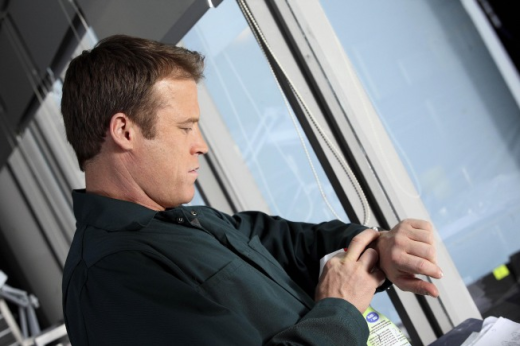 We also know that Chance wasn't always fighting the bad guys.  Hopefully we will learn more about his shady past sooner than later.
You've got to love Chance's entertaining one liners, like when Allison had to take her clothes off to look for a tracker.  Chance turns to her and casually asks her to put her clothes on because it is distracting… adding a bit of comedy to a sticky situation! 
All the women so far have taken a liking to Christopher Chance… but can you really blame them?  He seems to have it all and some looks to spare.  But so far, Chance hasn't really shown any interest in any of them. Will he ever find his perfect partner in crime, so to speak? 
Guerrero is able to solve any problem at hand, like how he dealt with Allison's ingested tracker.  How does this guy come up with these things? Maybe he is the true MacGyver of this show.
Again, nothing about Chance's past was revealed on this week's episode.  We still are looking forward to learning more about Katherine's death and her ties to Chance.  Why has Chance dedicated his life to defending the greater good? 
One cannot help but slowly fall in love with Christopher Chance! We look forward to next week's installment and learning more about him.
Until then, we leave you with a few of our favorite Human Target quotes from this week.
Allison: In less than 48 hours you got me talking about the one thing I haven't talked to anyone about in my entire life.
Chance: I saw your underpants too. | permalink
Allison: This is your plan, to paint a bull's eye on my back and see who takes a shot at me.
Chance: And us, well hopefully more me than you.
Allison: A lot of people survive your plans, do they?
Chance: Oh, you'd be surprised. | permalink
Allison: Can you explain something to me about you associate. He's not a lawyer, he's not a doctor, and he's certainly not a cop. What the hell is he?
Winston: ... | permalink
Chance: Can you put some clothes on, it's distracting! | permalink
Tags: Human Target, Reviews
Want more Human Target?
Sign up for our daily newsletter and receive the latest tv news delivered to your inbox for free!
More From TV Fanatic
Join us for the rewatch of Gossip Girl Season 2 Episode 11. Remember this fun episode of The CW hit?
On Murder in the First, Cindy's husband ends up dead and that forces the police into overdrive. Will his confession hold up?
On tonight's Under the Dome, Rebecca wants to release a deadly virus into the population. Will she do it? And how many would die?
Fritz is offered a new job with the LAPD on this episode of Major Crimes. Read on for more.
---