The Mentalist Review: "18-5-4"
at . Comments
Last night The Mentalist really brought it!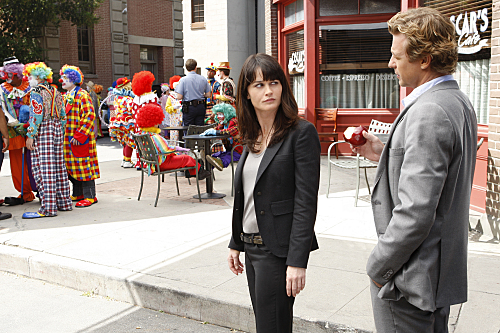 "18-5-4" had everything we loved about this show - yet, we must say, we could have done without the uber creepy clown that killed Noah in the beginning! Did you check out his face? It almost looked like an evil clown version of Chucky! Which did give us nightmares! Yes, I am a bit of a scaredy-cat! Especially when it involves clowns! They give me the super creeps!
We LOVED having Fisher Stevens guest star last night! His character was witty, smart, and cunning - literally the perfect opponent for Jane. Plus, he has high up connections and tons of money. We really hope they bring him back for at least another chess game!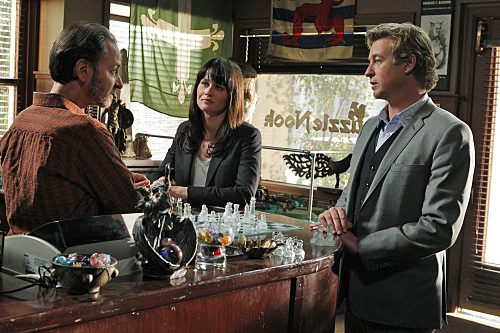 The ongoing chess game had to be our favorite part of the episode - the two of them just ranting off chess moves in their heads really showed us the level of genius Jane is! This guy really is a great package - not only is he incredibly gorgeous, but smart too! We knew Jane is a smart guy, but last night he really brought his A game!
Oliver was also quite the comical character. He brought a good amount of crazy humor in to lighten up the show. We liked that Jane was able to piece it together that Oliver wasn't going to Brazil, but was at the beach. Each week, we try to piece the puzzles together with Jane and we were right about this one too!
We do have to admit we were a bit stumped on Daphne being the killer. We really thought that when they caught Tolman and brought him in for questioning - it was case closed! Good thing Jane, like in his chess game, is always one step ahead!
This was one of our favorite episodes all season - but we really are missing more Red John action! With only a couple more episodes left - are the writers going to wait until the season finale?! That's just plain mean!
What did you think of last night's episode? Did you know that Daphne was the killer all along? Leave your thoughts below - we love hearing from you!
Follow the jump to read a few of our favorite The Mentalist quotes from last night - and please let us know if we missed any!
Jane: You are the queen of my heart, Grace. | permalink
Jane: Alert the quantum lords. | permalink
Lisbon: Its funny how well you two got along.
Jane: Well, I have the same amount of trouble with those pesky quantum lords. | permalink
Oliver: He's not my dad. He's a cyber clone sent by the Galactic quantum lords.
Jane: Oh them. They are always up to something shady. | permalink
Jane: Enough Mr. Tolman. Tell me the truth or I will pop ya.
Annika: Don't even think about it.
Jane: It's soft. It's just a hand. Just a hand.
Tolman: Annika, put the gun down.
Lisbon: Why do you have an armed body guard, Mr. Bundte? | permalink
Cho: We are like the FBI only more conveniently located. | permalink
Tags: The Mentalist, Reviews
Want more The Mentalist?
Sign up for our daily newsletter and receive the latest tv news delivered to your inbox for free!