Season one of Justified wrapped up last night with the season finale "Bulletville" and the show certainly lived up to the name.  Beyond the proliferation of violence punctuated by gun shots, we were treated to a well done episode of television that skillfully wrapped up a number of major story lines while leaving us open ended for the start of season two this fall. 
The season finale started off with a bang, but not the gun shot kind – those would come later.  Walton Goggins continued his masterful performance as Boyd Crowder with a well written and acted scene with Joelle Carter as Ava Crowder. 
Although we never suspected that Ava would actually shoot her shotgun at Boyd, Joelle channeled her inner-Timothy Olyphant by listening to Boyd without believing a word he said.  Boyd on the other hand, professed his sincere sorrow for how he had treated her and promised to leave her alone.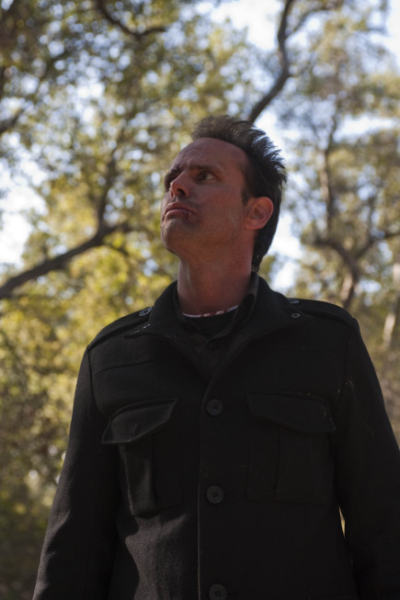 The scene itself was not necessary to the overall story of the finale or the season itself, but personified how well done Justified can be when the right characters interact with each other.  The writing this season has been splendid exhibited by the literally hundreds of fantastic quotes we've been able to take away from the script.  Beyond Chief Mullen, Raylan, Ava, Boyd or any other characters great one liners, the dialogue has rarely felt forced or unnatural, even if a bit over the top.
The finale was an extension of the opening scene with all of the show's main characters and best actors working with each other in a number of different scenes that ranged from violent and action packed to simple, such as the opening.  This is certainly Justified, and television, at its best – when an ensemble of actors and characters work well together to form a complex show. 
That is not to say that Justified's story line was all that complicated.  At its core, it was not.  A bend-the-rules lawman comes into a broken town and spars with the crooked family who tries to run an illegal operation.
Where the show becomes more interesting is how the writers have been able to create different storylines between the main characters on the show.  Certainly the episode "
Fathers and Sons
" addressed this idea in detail by articulating the difficult relationship between Arlo and Raylan and Bo and Boyd.  The two pair struggle between the anger at their kin's disagreement with their lifestyle and the inherent feelings of sympathy for one's flesh and blood. 
Beyond just the fathers and sons, there has been riveting relationship development to watch between Raylan and Boyd, Arlo and Bo, Raylan and Ava, Raylan and Winona, Ava and Winona amongst others.  The most interesting one to me, and certainly the one most explored, is the ever changing relationship between Raylan and Boyd.
The season culminated in a great line from Boyd: "No, Raylan.  I am going to bet my life on you being the only friend I have left in this world."  Walton Goggins delivers it with the twinge of skepticism that he has done all season long playing the reborn Boyd Crowder.  What makes it so interesting, however, is how it keeps us guessing as to where Raylan and Boyd will go in season two.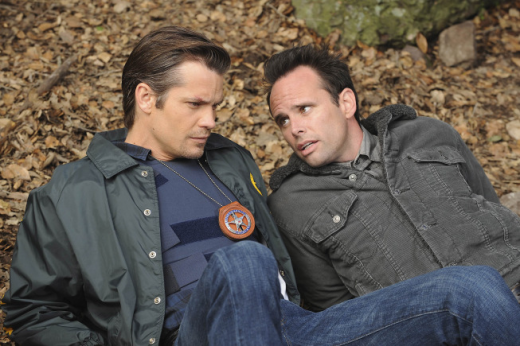 It certainly seems as if Boyd will try to take on the cartel (by himself!) for killing his father.  Certainly Raylan has a vested interest in keeping them at bay as well.  But, can Raylan, a sworn officer of the United States, sit by and watch Boyd act as a vigilante ("Hmmmm, maybe he's Batman")?  Although Raylan has never had a problem bending the law in his time with the Marshals, this seems like something beyond what Raylan could turn a blind eye to.

Focusing more on the finale itself, their relationship remained undetermined even when it appeared finally resolved.  While driving to Bo's cabin, Raylan comments to Boyd that he was actually serious about his mental and emotional conversion away from a life of crime.  Channeling the confusion of a religious man who feels let down by life's seemingly arbitrary nature, Boyd professes that he's no longer sure of what he is. 

We must expect that heading into season two, Boyd will be a mix of the man he was to in the premiere and the man who spent the majority of the season as a spiritual leader.  The former, Raylan could not live with.  The latter, Raylan ultimately came around to.  Boyd, the man in the middle?  I certainly anticipate he'll present Raylan with a number of difficult situations to deal with. 

We want to hear from the viewers of Justified and the readers of this review.  What did you enjoy about the finale?  Where do you think season two is headed?  What do you want to see happen with the characters?  Let us know in the comments section.

What did you think of season one of Justified?




Tags: Justified, Reviews