Careful, Pretty Little Liars.
If you keep concluding episodes with the teases of a dead character, you better deliver one of these weeks. Otherwise, you risk losing credibility.
On "The Homecoming Hanger," we quickly learned what everyone already knew: Emily is alive. She simply fell during her dash from the dance last week. A bit anticlimactic, but not surprising.
Now, the show has left us wondering if Toby has perished. We strongly doubt it, but we wouldn't mind if this really is the case. PLL has gone out of its way to make Toby act like a total creep around everyone except Emily. He's just a one dimensional, contrived character.
Still, I strongly doubt he's gone. But the show can't keep foreshadowing possible deaths without soon delivering on one. The only question: Who will it be?!?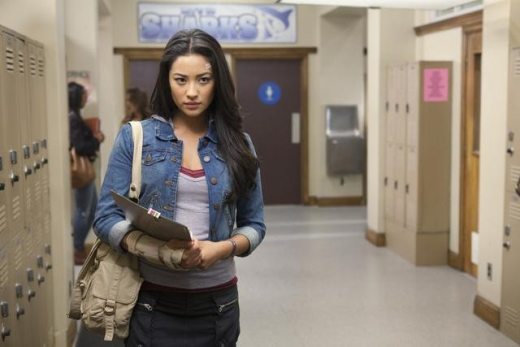 Elsewhere, the episode moved certain romances ahead. We can sum up our thoughts on each in just a few words:

Spencer and Alex: HOT! But what happened to Wren? Might he soon return and cause problems for these two?

Emily and Maya: NOT! The forced interactions between this pair has been a turn off from the beginning.

Hanna and Sean: Just wrong! The latter definitely has a dark side, and it will be interesting to see it come out when Hanna eventually goes for Lucas. We all know she won't be able to resist his dorky charm much longer, right?

There was no romance of any kind in Aria's life, of course. Her parents are separated and Ezra might be leaving town. Quick tidbit on that front: the substitute teacher at the blackboard was played by Pretty Little Liars author Sara Shepard.

I like the characters of both Ezra and Aria, but they can be boring together and this week served as a much-needed break between them.

In the end, we almost got through an entire episode with hearing from A. But then she chimed in regarding Toby and we're left to keep wondering about the identity of the stalker.

Could she play a role in the country club? It's clear the employees there have issues with many residents of Rosewood.

Let me reiterate: if you've read the books, please refrain from leaving any spoilers or comments about what happens in them. There's a place for that in our PLL forum and it's unfair to ruin storylines for those of us only familiar with the TV show. Thank you.

So, what did you think of the episode?

Matt Richenthal is the Editor in Chief of TV Fanatic. Follow him on Twitter and on Google+.

Tags: Pretty Little Liars, Reviews
Want more Pretty Little Liars?
Sign up for our daily newsletter and receive the latest tv news delivered to your inbox for free!
More From TV Fanatic
This week on The Last Ship, Danny gets sick and the crew begins to panic. Is it the virus? Meanwhile, Rachel's vaccine trials continue to fail.
Who was able to successfully problem solve on The Rachael Ray Show this week? Find out now in our review of Food Network Star.
The Masons are reunited on Falling Skies Season 4 Episode 6. Will it be a happy or contentious reunion?
What took place on The Real Housewives of New Jersey Review this week? Read our rundown to find out!
---