Welcome back, Upper East Siders, to another edition of TVF's Gossip Girl Round Table, where our panel reflects on the events of Monday's episode, "The Undergraduates."
Below, Gossip Guy and Mister Meester and our fearless leader DANdy take on a variety of topics, from Juliet's mystery agenda to Eva's secret and Blair's bitchiness ...
~~~~~~~~~~~~~~~~~~~~~~~~~~~~~~
1. What was your favorite Gossip Girl quote from last night?

Gossip Guy: Definitely Blair going over Serena's laundry list of men, including multiple trips to Brooklyn. Close second was Blair comparing Juliet to catfish.
Mister Meester: Georgina explaining the full baby plot line to us in one breath. It was the most ridiculous story ever, yet not, because it's Georgina. Classic.
DANdy: It was just a name within a quote, but I smirked at Georgina's references to the scorned Russian Oksana. I think there's another shady Russian by that same name who has spawned a child with a certain Jew-hating violent actor ...
2. Which roommate situation will unravel first: Chuck and Eva, Dan and Vanessa, or Blair and Serena?

Gossip Guy: It might just be wishful thinking, but I'm going with Danessa. I clearly see a fight over bath mat breaking them up next week, sending V off of the show for good. Trust me, the bath mat is that ugly.
Mister Meester: In order of implosion: Chuck-Eva, Danessa and BS. Chuck and Eva barely know each other. Dan wants to put it to someone else. Blair and Serena fight a lot, but always get back together eventually. Plus, they don't have to share a bed.
DANdy: Sadly, their initials say it all. It's utter BS if anyone believes these on-and-off again BFFs can survive under the same roof. Good luck handling the carnage, Dorota.
3. Eva: Sweet and innocent, or hiding something?
Gossip Guy: This is Gossip Girl, everyone is hiding something. I guess in this case we'll go with the obvious, she's just another social climber looking at the Bass fortune.
Mister Meester: I read too many Gossip Girl spoilers to answer this one objectively. But let's just say sweet, kind, unassuming Eva may have a trick or two up her sleeve.
DANdy: I refuse to believe that someone named after the love of Wall-E's life could be anything except sweet and innocent.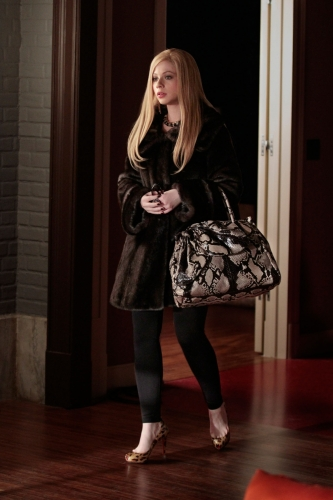 AND STAY OUT: Have we seen the last of Geor-gina Sparks?


4. Will Georgina be back?


Gossip Guy: Georgina is like a bad case of herpes. Just when everything seems perfect again for our cast, she'll have to return to stir up some trouble.

Mister Meester: Okay, allow me to vent about this whole plot briefly. Even if we accept the entire ruse to convince Oksana the baby was Dan's and not Sergei's, Georgina takes off for a matter of days, then comes back, wants the kid and Dan just acquiesces? He had no legal control over Milo, no. But what about his moral compass? Watching him fight to keep the baby from Georgina, or her disappearing for a long stretch, whereabouts unknown, would have been much more compelling. This was wasted potential in my opinion. It's like the producers got tired of G and ushered her out. If she does come back, she deserves much better.

DANdy: Sigh. Let's hope not. Did anyone really believe Milo was Dan's son? At this point, there's nothing even shocking about Georgina's story lines because we're preparing for nothing but lies and deceit. She's a great character with a great name, but her run should be over.

5. Who is Juliet's incarcerated pal?


Gossip Guy: I dunno, but sucks to be him 'cause Nate is totally going to bang his girlfriend while he continues to fight off inmates. Did you see that kiss? You can't fake that kind of passion. Especially when Chace Crawford is one of the two actors. Seriously, dude can't act.

Mister Meester: This might be straight out of left field, but Juliet's mention of Pete Fairman got me thinking. If the alumni didn't really block Serena from Hamilton House because of the whole sex tape / killing someone thing, how would Juliet have known about it? Perhaps this incarcerated hunk is connected to Pete somehow. Could explain why Serena is the target ...

DANdy: Hmm... he's in a minimum security prison for a white collar crime. He has a romantic attachment to Juliet. My best guess: he's a former Bass Industries employee who is now set on avenging the family of his former employer, while trying to remain safe in jail and not take it in the ... Bass.

What do you think? Sound off in the comments!

Steve Marsi is the Managing Editor of TV Fanatic. Follow him on Google+ or email him here.

Tags: Gossip Girl, Round Tables