Every bizarre and outlandish antic we've come to know and love about the Botwins throughout the years was jam-packed into one ridiculously outrageous half-hour in last night's episode, "Boomerang."
It amazes me how the writers can still surprise me to this very day. By the end of the half-hour, I was sitting there speechless with only one question on my mind: How in the heck will Nancy get herself and her loved ones out of yet another mess?!?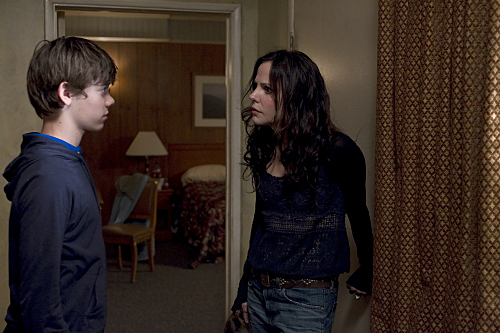 Esteban's goons are able to track down where they are hiding, thanks to two equal parts. One being Doug's ability to track down Andy's cell phone (BTW, didn't he wreck that thing?) and another being Andy's move of registering his minivan in Sean's name. Normally, you might be able to let Andy go by saying he was stoned, but has he even really been smoking that much?
One of the most hilarious scenes from last night's episode had to be Doug digging his own grave and having his life spared because the minivan people called Andy's cell phone about the flat tire. Coincidence, God... same thing, right? Well, as fortune has it, Esteban's goons believed it was an act of God to keep this fella alive. Phew! For a second there, I really believed my favorite character was a goner!
Poor Silas. I think Shane got it right when he told him that he is the blond sheep of the family. He finally realizes how good he could have it if he just would have stayed on the normal teenage course and, yet again, the rug he's standing on gets ripped right out from under him.
Meanwhile... step aside, Dina Lohan. Nancy gets the award for being the world's worst mom. Silas doesn't have any choice in staying and as much as that scene from the first episode this season showed Silas choosing to stay, I doubt if he left, Nancy would have let him leave.
It would have been comical to watch Nancy kick her co-worker's butt. All we got to see is her slam the door and come out with tousled hair and a bloody nose.
Shane decides to take matters yet again into his own hands when dealing with the SAHMs.  Naturally, blackmail doesn't cut it and before you can say I told you so, these ladies bring the authorities to their humble abode to check on Stevie's living conditions.
Who would of thought sh*t would have hit the fan the way it did in the last couple minutes? Did you expect to see Nancy's co-worker at the door when she opened it? Now that Cesar has Shane, what do you think is going to happen?
Until next week, we leave you with a few of our favorite Weeds quotes below:
Shane: Mom, the f**kers got me. | permalink
Andy: He peed on my pee - we crossed streams. | permalink
Nancy: (to Doug) What the f**k are you doing here? | permalink
Andy: (to Nancy) You're an evil succubus and I'll see you soon. | permalink
Andy: You and I will never right. Just say we'll never.
Nancy: They all die Andy. I like you too much to want you to die.
Andy: Holy cow, you're right! They do all die. You're p***y's a death sentence. A penis fly trap. You're Dr. Kavagian.
Nancy: All right then!
Andy: Wait - Esteban's not dead.
Nancy: Not yet. | permalink
Shane: Cat like reflexes.
Silas: Perfect considering you're a total p***y.
Shane: Tell that to Pilar. | permalink
Nancy: How did you know Shane's? Nevermind. Goodbye Seattle. It never even rained. What a rip-off. | permalink
Tags: Weeds, Reviews
Want more Weeds?
Sign up for our daily newsletter and receive the latest tv news delivered to your inbox for free!
More From TV Fanatic
On tonight's The Bridge, Marco is made an offer that he initially refuses. Will he agree to go after Fausto?
Things go from bad to worse for Molly on Extant as she tries to escape the prying eyes of the ISEA but chooses the worst place for safety. Read on for a full review.
Mike is on a war path on Graceland... but is he headed in the right direction? Read our review of "Los Malos" now to find out!
On Suits, Rachel tells Mike about the kiss. Where did it go from there? Find out now!
---