Desperate Housewives Review: Child Swapping and Pizza Joint Smoking
by Hillary Malone at .
An entertaining and classic episode of Desperate Housewives this week.
The ladies are sinking into their characters this season, and the drama is about to unfold.  The series is easing into things this time around, but it's all about to unfold with what will be the biggest scandal of the season: the child swap.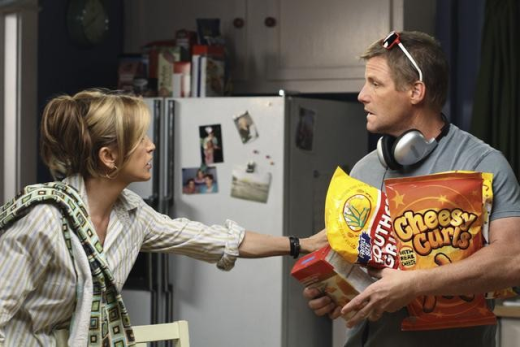 [Photo: ABC]

On "Truly Content," Gaby sucked us in with her serious tone, a far cry from her usual caddy and fashion-focused ways.  We're really pulling for the Solice family this time around, but surely Gaby will create even more scandal soon in order to keep her family intact.

Beth, Paul's prison wife, equally intrigues us.  We hear about her sad childhood and learn of her lonely lack of a daddy issue.  That certainly explains why she picked up a man behind bars for being a "lady killer."  Not that the writing on the wall isn't obvious on this one, but soon, I'm sure, she will be the next lady he indeed kills... and we don't mean with kindness.

Desperate Bree steps out to hook a man, and amusingly enough has no sweet clue how to reel him in.  Trying to help her out, Renee visits her closet only to find a slew of cardigan sets. "Are you sure this is a closet and not a portal to the 1950's?" she asks.

Bree, selecting one for her manhunt, claims: "This is a cocktail cardigan, look closely, the buttons are shiny."  We love Bree's spin on the 1950's housewife, but this coy lady won't stay demure for long – she is in it to win it, and her affections for Keith the sexy man slave, won't be put aside so that Renee can get her claws into him.

The battle is on.

Let's get back to those Solices: 

I realize that it only makes sense to have this family be the one involved in the child swap because there wasn't much else going on in their lives in terms of a storyline... but really? Does it make the most sense that a child swap occurred with one of the only non-Caucasian families on the block?

Don't get me wrong, Gaby and Carlos play the distraught parents as well as the next door neighbors, but let's be honest: there are not that many Juanitas playing at the playground in Fairview, or at least not on the Lane. 

Amazingly enough, though, while Gaby is at the mall, she looks around and sees 10 different adorable kiddos that could pass for her daughter. Hmmm, we must only be getting a very small glimpse of the population in this town.  The Pleasantville atmosphere of Wisteria Lane is apparently quite sheltered from the rest of the village.

However, there is now a desire to be pothead on the Lane.  Tom gets a second chance to be the cool guy that he never was in college with his medical marijuana. Turns out savvy Lynette gave him Oregano to smoke.  Indeed, he was smoking a pizza joint. 

Carlos, who apparently was the cool guy in college, figured this one out.  Good thing, because Tom was starting to get a bit annoying with his baked persona.

All in all, a good reflection of the Housewives this week, Susan's vacuum dust bra wearing act and all. Browse through the best Desperate Housewives quotes from the episode and sound off on it now!



Tags: Desperate Housewives, Reviews
From Around the Web