This episode belonged to Manny.
And his poor, confused soul.
On an installment aptly titled "Earthquake," Phil continued his hilarious, bumbling ways and Nathan Lane guest-starred in a typical Nathan Lane role - but every word out of Manny's mouth had me cracking up the most, from his warning to Jay about playing "fast and loose" with his soul, to the health class mix-up that resulted in too much menstruation knowledge.
Sorry, kid. That's rough.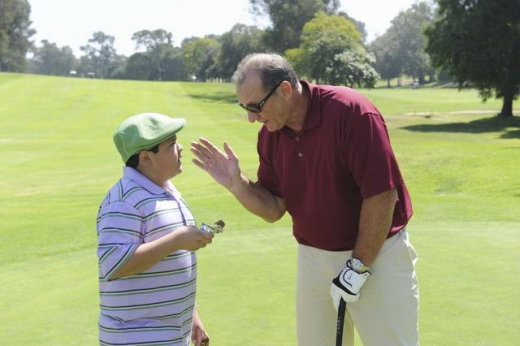 [Photo: ABC]
Mitchell was also given a few great quips, referring to Cam as a "mob wife" for happily going along with his partner's lies and making the simple comment that it "won't look good for the gays" if the couple is found dead in its fancy attire.
Lane was pretty much the same character as he played in The Bird Cage and was probably an unnecessary addition to the episode. I would have been happy just watching Jay and Manny on the golf course for a half hour, sprinkled in with the occasional shots of Phil running around, clueless as usual, and Luke delivering entirely un-Manny lines such as:
Luke: I got scared because the cabinet didn't fall down. | permalink
Luke: I brought you some soda, but I couldn't find any straws, so you'll have to drink it like cats. | permalink
Check out some of the funniest
Modern Family quotes
from the installment now:
Phil: I'm like Shirley Temple and that black guy in that movie.
Plumber: Bill Bojangles Robinson.
Phil: Bill Bojangles Robinson, I said it first! | permalink
Alex: You're never alone when you have books. | permalink
Cam [on dating Pepper]: It was the nineties, we'd just lost Princess Di. I was at sea. | permalink
Mitchell: If we're found dressed like this, it won't look good for the gays. | permalink
Manny: Some things you can't forget you've heard. Do you know what menstruation is? I do! | permalink
Phil: It's like they say, sometimes God closes a door, but sometimes he closes it so hard, you can't get your wife out. | permalink
Jay: I'm probably going to have a Latino kid carry my clubs anyway, might as well be you. | permalink
Matt Richenthal is the Editor in Chief of TV Fanatic. Follow him on Twitter and on Google+.

Tags: Modern Family, Reviews
Want more Modern Family?
Sign up for our daily newsletter and receive the latest tv news delivered to your inbox for free!
More From TV Fanatic
On tonight's Gang Related, Ryan was forced to make a difficult decision. Which side did he chose?
On the latest episode of Satisfaction, Neil learns an important lesson about being honest with himself from Adriana while Grace struggles on her new job. Read on for analysis.
On Rookie Blue, Oliver turns down extending his contract as Acting Staff Sergeant until Duncan's dismissal hearing turns unpredictable. Read on for more.
On tonight's The Bridge, Marco is made an offer that he initially refuses. Will he agree to go after Fausto?
---