Elves, dishonest fathers and a couple instances of infidelity gave our staff plenty to analyze from the final 90210 episode of the year.
In this edition of the TV Fanatic Round Table, we get into various aspects of "Holiday Madness" and encourage reader feedback on each one...
What was your favorite scene from the episode?
Matt R.: Mr. Canon waiting creepily for Naomi inside her apartment. Will he attack her? Will we even see her again in 90210. Oh... wait. Of course we will. The show has already spoiled this cliffhanger by showing us shots of Naomi in its January promo. Good move, CW.
Steve M.: Ivy and the pinata, that was great. Talk about a call back to my childhood! How old is too old to have one of those at one's birthday party? Because I may need to go out and purchase one.
Arlene G.: Teddy and Ian going at it on the stairs, unaware that Dixon spotted them.  Hot damn!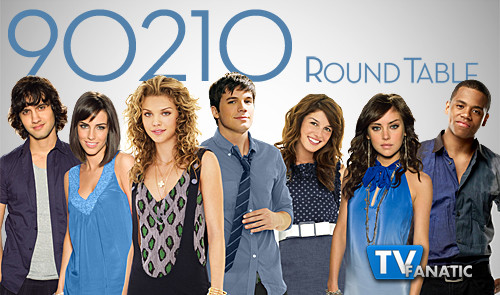 Worse case of cheating: Navid with Silver or Annie with Liam?
Matt R.: Navid... because there's no reason for it. Adrianna clearly sucks, so man up and dump her. Then, you can cozy up to the girl who's truly been there for you through your family upheaval.

Steve M.: Exactly, Matt. Adrianna swore she'd change one week, and then was a billion times worse the very next week. Just break up with her. That's what a real man would do. It's a cop out to say it's okay to kiss Silver just because Adrianna is acting the way she is. If you're in a relationship, you're in it for better or worse until you end it.

Arlene G.: Annie with Liam.  I thought she really had the hots for Charlie, but I guess the embers were still burning deep down for Liam.  Charlie's a cool guy so I felt bad for him.

The Mr. Canon cliffhanger: Shocking or predictable?Matt R.

: Shocking in its predictability. With just a minute remaining in the episode, and the camera on Naomi, it was clear Mr. Canon would be the supposedly big reveal. So clear, in fact, that I figured the show couldn't possibly use it as the midseason cliffhanger. There had to be some twist aside from the return of a character we all knew was coming back, right? Wrong. This was it.

Steve M.: Predictable, and very lame. Why can't 90210 give us something new and buzz-worthy to discuss over the next few weeks? Mr. Canon isn't an example of well-written, layered storytelling - it's an example of drawing out a plot just for the sake of drawing it out. Think about it: what has actually happened with it since the second or third episode of the season?

Arlene G.: Can I say both? I knew that Mr. Cannon would be making an appearance again in Naomi's life at some point, but I thought it would be more of a May cliffhanger appearance.  It was sort of shocking to see him lurking in the shadows in Naomi's apt.  Dude just gives me the creeps.

What are your hopes for the second half of the season?
Matt R.: The execution of Annie. Any kind of storyline for Dixon. More of Deb and Ryan, I actually like them together. Overall, honestly, just something legitimately surprising. At the very least, I want to turn off the TV one Monday night and think: I did NOT see that coming! When was the last time 90210 gave us such a development?

Steve M.: I'd like to see the show feel more realistic. Why does every single meeting, meal and party take place at the fictional beach club? Why did Adrianna look up her story on imaginary site Gossip Dawgz? Something as small as showing us a shot of TMZ or The Hollywood Gossip would go a long way toward making the show seem more current.

Arlene G.: Of all the storylines, the ones I'm hoping to see are Teddy finally having the balls to announce to the gang he's here, he's queer and all of them better get used to it.  I hope he also confronts his dad and tells him to suck it!  I'm hoping Naomi kicks that creep Cannon in the balls and sends him straight to prison.  And I'm hoping Adrianna loses her record deal and gets her comeuppance because her diva act came too fast too soon and she needs to be taken down a notch.

Matt Richenthal is the Editor in Chief of TV Fanatic. Follow him on Twitter and on Google+.

Tags: 90210, Round Tables