This week's Criminal Minds episode featured the debut of Rachel Nichols as FBI cadet Ashley Seaver. Anticipating many viewers' preconceived hatred of Seaver after the dubious exit of popular J.J., the episode seemed tailored to make us NOT hate her.
As a result, the resolution of "What Happens at Home" was fairly predictable. You had a feeling from the onset that she would be in a pivotal situation at the end, showcasing her profiling and negotiating chops. Lo and behold that's exactly what happened.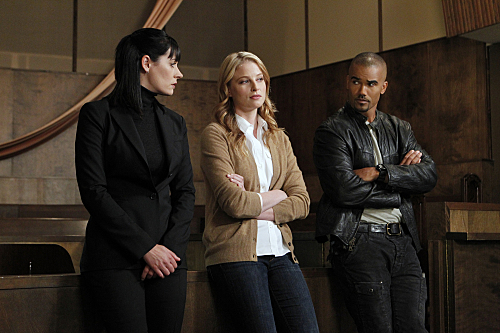 Seaver (center) with Prentiss and Morgan.
It's impossible to assess her on the basis of one episode, or predict how Ashley will mesh with the team over the rest of the season, but Nichols held her own in the episode.
The outpouring of love for A.J. Cook after J.J.'s final episode makes it hard to embrace the new character without some degree of bitterness and questioning of the network.
A lot of us wish there was no casting shakeup to begin with, but we are where we are right now, and after Wednesday, we're intrigued by what Seaver brings to the table.
In a gated New Mexico community - the kind of place people live precisely so they don't have to worry about this sort of thing - an UnSub has been slaying women at night.
In their homes. Security camera footage reveals that no one entered or left the community around the time of the murders, either, making for nightmares across the board.
Before re-joining the team, Hotch first stops by a training area to meet recruit Seaver, a young agent with a unique perspective. Ashley's father was a notorious serial killer.
With the case hinging on pinpointing the suspect in a community where everyone knows and trusts each other, he feels he needs her help profiling the families of UnSubs.
With Seaver in tow, the BAU organizes a town meeting to see if they can flesh out anything suspicious. It worked, tragically, when a fourth woman winds up dead during it.
This killer is so cocky that he just narrowed the suspect list to a few dozen no-shows. While the dust settles from that, Seager decides to speak with the family of victim #3.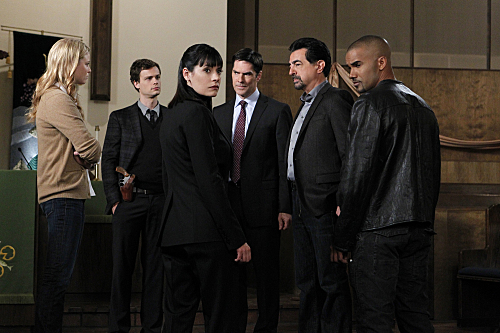 The new-look BAU.

She's got spunk, disobeying an order and venturing away from the team for a little solo investigating. Naturally, this leads us to the night's killer, with Ashley on her own.

The breakthrough comes when Seaver mentions to the victim's husband that the killer's family will be very sorry for what he did. The husband, Drew, flies off the handle.

Ashley knows what the family will think because she was the family in a similar case. Predictable and a bit melodramatic for sure, but that is why Hotch brought her in.

Aware that she's now staring down the killer in a life-or-death situation, her own childhood is the weapon she uses to get out of it in a quick-thinking, soul-bearing scene.

She admits that she still loves her dad despite all the unspeakable things he did, and coming clean is the only way to salvage what's left of the relationships he holds dear.

This was not the best the show has to offer in terms of plot, but did serve as a strong introduction to the new team member. The rest of the season should be interesting.

The BAU has always been a family, so it's hard to embrace a new member overnight. These things can take years, lifetimes. But we can see the potential there for sure.

What did you think of last night's Criminal Minds? Discuss!

Steve Marsi is the Managing Editor of TV Fanatic. Follow him on Google+ or email him here.

Tags: Criminal Minds, Reviews
Want more Criminal Minds?
Sign up for our daily newsletter and receive the latest tv news delivered to your inbox for free!
More From TV Fanatic
On tonight's Gang Related, Ryan was forced to make a difficult decision. Which side did he chose?
On the latest episode of Satisfaction, Neil learns an important lesson about being honest with himself from Adriana while Grace struggles on her new job. Read on for analysis.
On Rookie Blue, Oliver turns down extending his contract as Acting Staff Sergeant until Duncan's dismissal hearing turns unpredictable. Read on for more.
On tonight's The Bridge, Marco is made an offer that he initially refuses. Will he agree to go after Fausto?
---