Welcome back to the weekly TVF Gossip Girl Round Table, where our panel breaks down the previous night's episode (see our review from earlier this morning).
Below, lead Gossip Girl writer Mister Meester joins editor-in-chief DANdy and TV Fanatic CEO Gossip Guy to discuss topics from "The Kids Are Not All Right" ...
~~~~~~~~~~~~~~~~~~~~~~~~~~~~~~
1. What was your favorite Gossip Girl quote from last night?

Gossip Guy: I love all witty Dair banter, but if I had to pick one? When Blair told Dan his grandfather should have been buried in the tie.
Mister Meester: Blair: "I tried to be Indra Nooyi, and while I admit that choice might have been a bit random, the other choice was to be my mother and I didn't want that." Dan: "Why? You care about fashion the way that most people care about, well, anything. You used to send girls home from Constance crying for wearing tights as pants." Remember that? It was awesome.
DANdy: Easy. When Blair referred to Dan as a "friend" in that conversation to her mom. Never thought I'd see the day.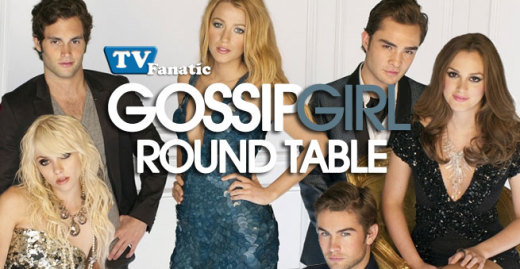 2. Harder to believe, not a single gratuitous Serena cleavage shot, or African-Americans on Gossip Girl?

Gossip Guy: Please, the closest thing V does to being useful is filling that role. And even that she only quarter asses. Now let's talk the serious breaking news of lack of boobage. Can we get the dictator of taste on fixing this wardrobe malfunction?
Mister Meester: While minorities are scarce, it's not unprecedented (miss you, Isabel). I can't recall another Gossip Girl without S' chest on display, however. Luckily!
DANdy: The lack of a cleavage shot, obvi. I wouldn't have believed the latter prior to January 2008, but with Obama in the White House, anything is possible now!
3. Bass Industries story line: Loads of potential, or snooze-worthy?
Gossip Guy: Oh I'm sorry, I was just resting my eyes. What was the question?
Mister Meester: Snoozefest so far, but add in a little sexual blackmail, the return of Jack Bass and the second downfall of The Captain, and you've got potential.
DANdy: Snooze-worthy? Oh, because Lily slept with the elder Thorpe and Chuck is now doing the daughter? I see what you did there, Round Tabler! Well played.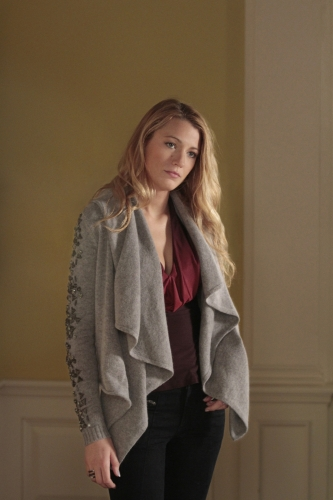 COVER-UP: Serena kept things under wraps this week.


4. Who will kiss first, Dan and Blair or Serena and Ben?


Gossip Guy: Please, anyone putting out faster than Serena? I'm pretty sure she found a way to sleep with Ben on the way to the coffee shop.

Mister Meester: Serena and Ben. This is a girl willing to blackmail her own mom, and who cabbed it to Staten Island without a ride back just to see him. This is a guy so excited at the mere chance of her arrival that he was in good, low-key spirits just hanging around outside the prison he'd been locked in for years (in a nice new coat, natch). Clearly they're on the fast track!

DANdy: I'll go with Dan and Blair only because Serena and Ben will likely skip right past kissing and go straight for the bedroom... if you know what I mean!

5. In honor of Vanessa (we missed you, NOT) and a certain guy slowly becoming useless himself, rate last night from 1-10 on the RUFUS Uselessness Scale.


Gossip Guy: While Rufus couldn't touch V's uselessness, the poor guy hasn't been relevant since season one, or possibly his Lincoln Hawk days. But kudos for the man remembering Lily's impressively large list. For that impressive feat alone, I'm knocking him down to 3.

Mister Meester: 7. Is Rufus auditioning for a role on The Real House Husbands of the Upper East Side? He hasn't had a story with much clout since like 2009.

DANdy: 10. At this point, I figure Rufus stands for Really Unnecessary Focus Unless Serena is also in the room and wearing a tight shirt.

What do you think? Sound off in the comments!

Steve Marsi is the Managing Editor of TV Fanatic. Follow him on Google+ or email him here.

Tags: Gossip Girl, Round Tables