Californication Review: "Lawyers, Guns, and Money"
by Chris O'Hara at .
On "Lawyers, Guns and Money," Hank Moody doing a PSA was a rich concept. It would be akin to seeing if Charlie Sheen is available to talk about the dangers of hookers and blow because, like they say, "The More You Know."
My worst fear came to fruition on this episode, though, as apparently we have seen the last of Sasha. There are so many things I will miss about her, but two stand out.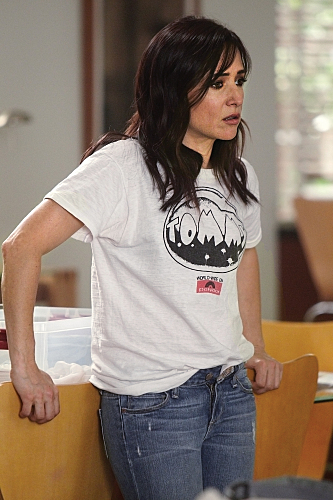 Karen prescribed the perfect remedy for Hank's social malady: get his head out of his ass. Hank lost his charm switch, but it also seemed like he lost something else. I got the feeling that he very easily could have just packed it in and gone off the deep end.

Hank always struck me as the guy who would try anything twice. I don't think we'll see him in the ER again any time soon, but Karen's concern was justified. If he can't hold onto the one good thing in his life, he really will be lost. Abby was right, Hank has been looking for punishment instead of forgiveness. Karen has seen the real Hank, though. In pleading his case to Abby for him, not only did she talk Abby back onto the case, she also talked her right into Hank's bed.

While Karen worried about losing her man, Marcy seemed like she found herself a new one. I liked how Stu shared the story about his humble beginnings and how he got his break into showbiz. Marcy playfully slapped his leg when she learned he worked on

Urban Cowboy

, one of her favorite guilty pleasure films, and the faintest sparks started to fly.

Great call out by her on Stu for using the "old fake yawn surreptitious grope combo."

Elsewhere, Eddie Nero exploded back into our lives, as he went all Terry Tate on Hank in the bar. Eddie missed him some Moody. It reminded me of the way Astro used to pounce on George Jetson when he got home from work. With Sasha literally out of the picture, I was happy to see Eddie return and particularly loved how he called Charlie "Goldilocks."

Eddie claimed he was no pretender, but rather a true artist. An artist who prepared for a role that won him his Oscar by taking another man in his mouth and apparently playing his skin flute like Kenny G on ecstasy. This scene was capped off by the great historical reference to the phrase, "Shit from Shinola."

Just when I didn't think things could get any weirder and amazing at the same time, Eddie uttered that he thought it was imperative that they kill someone on their night out together. Just a hobo or something, no big whoop. Classic!

Becca's talk with Hank outside the tattoo parlor was excellent. She totally should be the one out getting messed up with her friends, while Hank and Karen are at home on the couch nervously waiting by the phone. Great reference by her when she described Hank's behavior of sleeping with teenagers and prancing around like a poor man's Bukowski.

Eddie smoothed things over with her, though, as he apparently had no issues locating his charm switch. Then, he delivered one of the greatest lines in the show's history. Finally, someone saw Hank for what he really is, "a guy trying to keep it together while falling apart." He proceeded to ramble off a host of other things that seemed more in character, such as "it's Cassavetes meets Judy Bloom," but that moment just before was special just like the rest of this episode.

Until next week remember: Tomorrow's another day.

Tags: Californication, Reviews
From Around the Web