Now I get it. Last week was the calm before the Ron Swanson-based storm.
Indeed, my take on a mediocre episode of Parks and Recreation last Thursday was partly based on its minimal use of everyone's favorite, mustache-wearing government employee. Fortunately, that absence was rectified on Ron & Tammy, Part 2."
And then some. And then some more.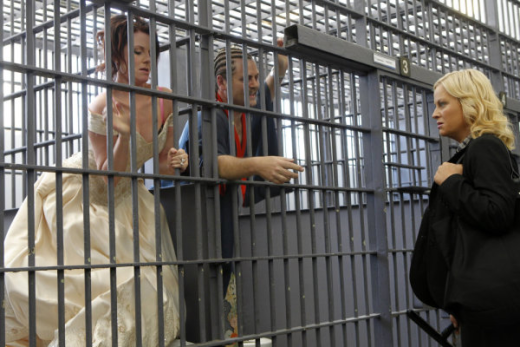 Within a single half hour, Ron dropped two F bombs; lamented the loss of Wendy and her burgeoning whittling skills; mocked Canada; got cornrows; had his facial hair rubbed off (due to friction); donned a kimono; went to jail; and carried Tom away like a baby.
That's what happens when you reunite with an ex-wife who was referred to as both a "she-demon" and a "monstrous parasite" during the episode.
The Ron/Tammy relationship is a well
Parks and Recreation
can only go to so often, but it worked wonders here for a couple reasons:
The dynamic between real-life spouses Megan Mullally and Nick Offerman.
The balance this installment struck between the couple's over-the-top antics and the heart it showed in other areas.
While Ron was sticking his tongue between bars and into Tammy's mouth, Ben was realizing more and more that Leslie Knope is one impressive woman. It's not easy dealing with someone such as Chief Trumple, a character that slayed me with every dry word out of his mouth. But Leslie has mastered the political game in Pawnee, and the chief succinctly summed up why:

All of her motivations are based around the best interests of those around her. In this way, she differs greatly from Michael Scott.

Granted, the comparisons between The Office and Parks and Recreation have mostly stopped, as the latter established its own, hilarious world about halfway through season two. But it's still worth mentioning any time such a clear contrast comes up. For all of Michael's positive character traits, he's an immature, self-centered individual at his core.

Leslie, conversely, can come at things in an unusual manner. But she always means well, much to Ben's ever-growing surprise.

Then there's Andy. Sweet, well-intentioned, air-headed Andy. I loved his heartfelt, cliche-filled, utterly naive speech to Ron during the intervention; and his FBI-penned note to Chris about Andy. Sounds like it was Maclin's call to pull April away, he mumbled. Amazing stuff.

Overall... Ron and Tammy going at it. Leslie's exasperation over calzones. Jerry's presence at the intervention and bridal party. Chris wrote it best in his Post-It to April: "Great job," Parks and Recreation. Great job.

Matt Richenthal is the Editor in Chief of TV Fanatic. Follow him on Twitter and on Google+.

Tags: Parks and Recreation, Reviews