Royal Pains Review: "Fight or Flight"
at . Comments
If anyone has been a huge fan of Paige and Evan, "Fight or Flight," may be have been the best episode of the season, if not the series.
Both Paige and Evan are equally adorable. Put them together? It's like watching a sickeningly charming model couple.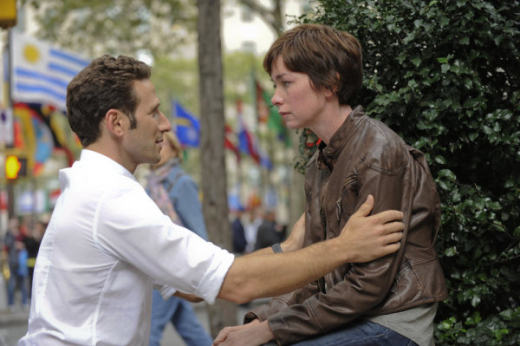 However, like us mere mortal couples, Evan and Paige ran into a relationship bump in the road: the latter snores like an evil demon.

As the episode progressed, we learn that Evan's feelings must be strong for Paige because he will stop at nothing to figure out how to cure her snoring. He even goes as far as sewing a tennis ball to the backside of a very sexy and super expensive piece of lingerie. 

By the end of the hour, these two lovebirds finally admit their love for each other. 

AWW

. Was I the only one reaching for the box of tissues? Evan nailed that crazy little thing we call love by telling Paige that she's perfect. Not literally perfect, but all her imperfections make her perfect for him.

Elsewhere, Marissa and Boris eventually make it back after being M.I.A. for the last couple weeks. Can't say I was too excited about their return.

All this build up and anticipation for Boris' reaction to learning that Marissa is pregnant with his child and we get nothing. It's obvious that Boris isn't thrilled with the news because he is afraid that the child will carry the same illness that haunts him.

I guess I was just expecting more from the writers with this anti-climatic scene. Especially since Marissa has been tip toeing around to telling Boris about the pregnancy for a long while.

Boris instead reacted by kicking Hank and Evan out of his home. This scene was a bit surprising, but not really that shocking. It was obvious that he is just projecting his anger onto Hank.

I doubt that Hank and Evan will be homeless for long. If they're not living in Boris' mansion, they can always shack-up with their women.

Speaking of, Hank and Jill have yet to discuss what transpired last week. But they did show up to Divya's wedding party together. Does this mean that they are back on?

Divya and Raj are steps away from being Mr. and Mrs. I've gone back and forth with my feelings on this relationship. Raj has been nothing but a good man to Divya. But is a good man all you need to be happy in a marriage? Yes, he loves her and she likes him, but where is the passion?

Now that the chips have fallen, Divya let it slip that she kissed one of her patients. Whoa! Who knew she'd let that cat out of the bag? I still believe that Raj is willing to go through with the wedding because he views it as a business transaction. Hopefully, this will be the light Divya needs to see that Raj clearly is not the one.

All in all, this week's episode kept me thoroughly entertained and wanting more. Leave your thoughts and predictions for next week's season finale below.

Tags: Royal Pains, Reviews